Full body massages are the epitome of relaxation after long and tiring work days. However, only a few people have time to go to a massage therapist.
How about spending some time lounging in your very personal massage chair?
With massage chairs, you can get a massage that is just as soothing as one from a skilled masseuse, thanks to the numerous techniques included in the chair's technology.
Although they are ubiquitous at shopping centres and airports, you may purchase a massage chair for personal use. Doing so will help you save a great deal of money by avoiding paying a fortune for a massage each time you want one. It will easily relieve your achy muscles and joints as you relax and enjoy.
So which massage chair is the best in Australia, given the wide range available on the market?
This guide will walk you through the 10 Massage Chairs in Australia, offering expert advice regarding your lifestyle and price range preferences. Additionally, we'll address various frequent queries you could have when buying your massage chair.
Take a seat, unwind, and keep reading!
The Top 10 Massage Chairs Available In Australia (Plus an Affordable Alternative)
Livemor Electric Massage Chair
HOMASA Massage Chair
Artiss Electric Leather Recliner
Artiss Massage Chair
Super Long Massage Chair
Advwin Leather Recliner
Levede Massage Chair
Ogawa Smart Jazz OG5570
Mason Taylor 8003 Massage Chair
Palermo Massage Sofa
Sotion Vibrating Massage Chair Pad (Alternative)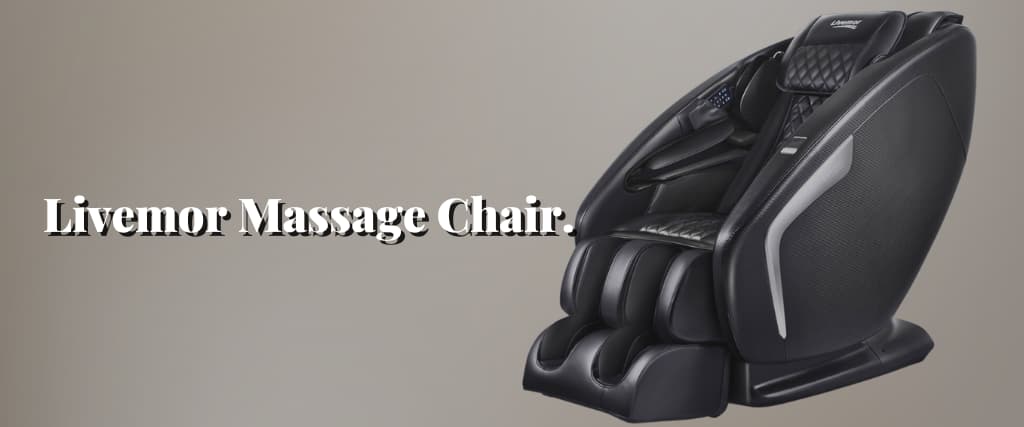 1. Livemor Massage Chair.
The Livemor massage chair is a terrific purchase if you want the ultimate massage chair offering multiple modes.
It includes 36 nodes to provide the best massage and 44 airbags that support your whole body. You can select the type of massage that best suits your preferences from the 12 available massage packages.
Additionally, its zero-gravity feature will provide you with the most reviving and soothing massage at the push of a button.
The Livemor electric massage chair has a sleep mode that allows you to relax while the chair gently taps and cradles you as you sleep. It also includes a heated massage feature for superb shiatsu healing to loosen up your tense muscles.
Drawback
Installing the Livemor electric massage chair in your home may need considerable physical effort due to its large size and weight.
Verdict.
Livemor electric massage chair's many massage programs that are easily modifiable via remote control make it ideal for a soothing massage. Its effectiveness when providing cutting-edge massage therapies and healing sessions is sure to leave an impression.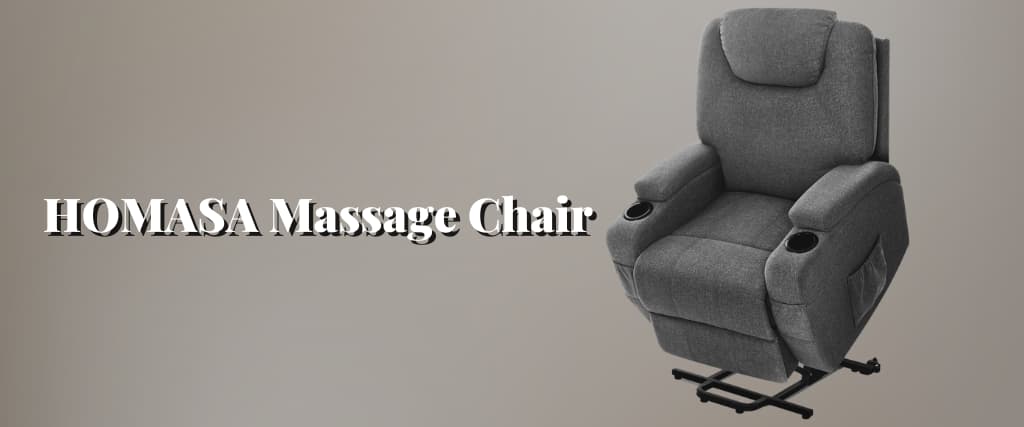 2. HOMASA Massage Chair
The HOMASA massage chair has twenty-four airbags for the most soothing massage. It includes top-notch massage techniques to massage the back, legs, head, and feet by kneading, rolling, and tapping.
Additionally, the 22 inbuilt nodes allow it to provide shiatsu massages, meaning you can use this chair as your new professional massage therapist, so forget about paying for pricey massage experts and spa services.
The twelve shiatsu nodes also provide shiatsu healing and deep tissue massages to improve blood flow and reduce muscle pain and tension.
This massage chair boasts zero-gravity technology that enables you to unwind in a 180° posture to ease back pain and lessen stress on your spine. Additionally, the HOMASA massage chair has a smart remote to customise its features.
Drawback.
It can be challenging to set the neck and head pillows properly.
Verdict.
Due to its excellent massage, the zero-gravity HOMASA black massage chair may be the ideal massage treatment to eliminate lingering backaches.
Through its various massage techniques, you can rely on the chair to soothe and relieve sore muscles on your head, arms, shoulders, back, waist, hip, leg, calf, or foot.‍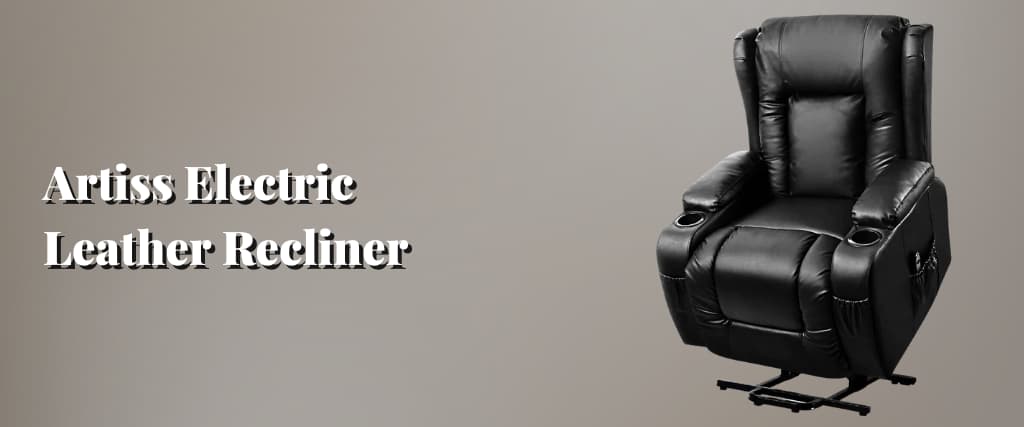 3. Artiss Electric Leather Recliner
With its various massage choices, the Artiss Leather Recliner provides a soothing massage to ease tension and reduce stress. It has a two-point heated massage feature that enables deep muscle treatment by improving blood flow and lowering blood pressure, allowing you to relax and enjoy the massage.
Plus, the upscale black leather upholstery on it exudes luxury. The recliner is also highly solid and has a strong steel frame that can comfortably withstand up to 180 kilograms.
The Artiss Electric Lounge Leather Recliner features two cup holders and two sizable side pockets, meaning you can unwind with a massage as you sip your preferred drink.
Drawback
If you need help with this massage chair, contacting the customer service team could be difficult because the manufacturer provides terrible customer service.
Verdict
The Artiss Electric Lounge Leather Recliner is an excellent choice if you seek a massage chair with cutting-edge heating to ease stress and tension. Additionally, it improves your home's aesthetic look, which is unquestionably a plus!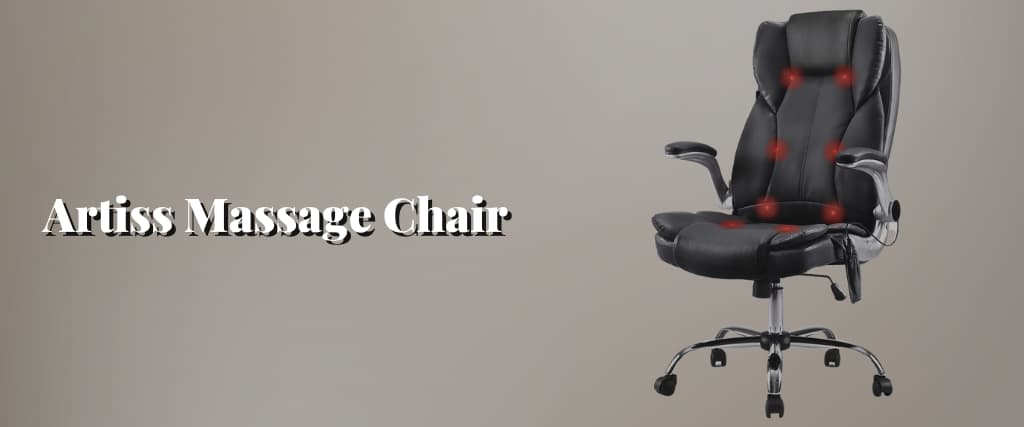 4. Artiss Massage Chair
Are you looking forward to lounging on your patio on weekend afternoons as you enjoy a relaxing massage? This Artiss massage chair is exactly what you need.
This recliner provides improved pain relief due to its two-point heating feature and excellent heat treatment. Additionally, it gives a fantastic massage that is just as therapeutic as one from a professional massage therapist, thanks to its eight-point massage feature. Its sophisticated heat mechanism can also be quite effective at reducing tension.
Even better, the chair has a customisable back and footrest, allowing you to receive comfortable massages in any position. You should not be concerned about the recliner collapsing because the chair has a sturdy steel structure and a 180 kg maximum weight capacity.
Its visual appeal is further enhanced by the generously padded seat and the velvety upholstery made of linen cloth.
Drawback
The Artiss fabric-heated massage chair features a recliner that operates manually. This can be problematic since it needs more remote control choices.
Verdict
The Artiss fabric-heated massage chair, one of the best massage chairs available, provides the best stress-relieving and soothing massage that can be enjoyed while unwinding at home on a lazy afternoon. Anyone who wants a recliner to install on their deck or patio for those lazy afternoons should give this a go.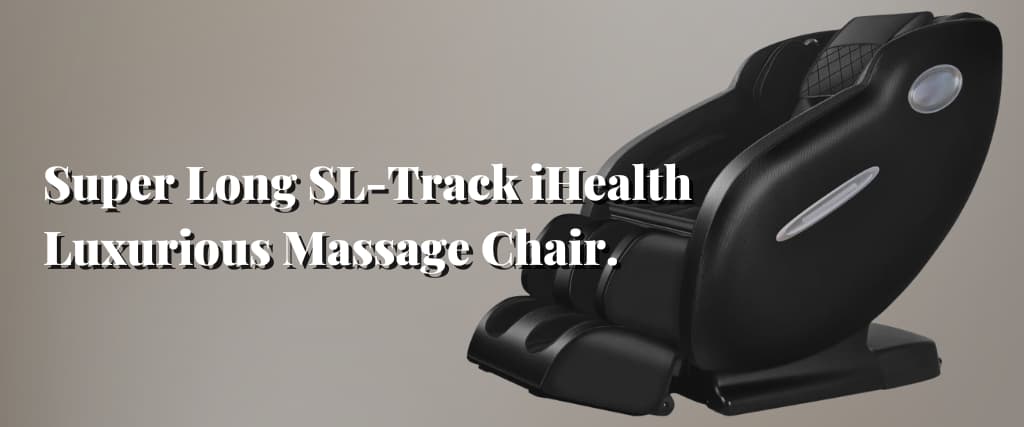 5. Super Long SL-Track iHealth Luxurious Massage Chair.
The Super Long Massage Chair is ideal for anyone who wants to improve their health, lifestyle, and well-being. With its remarkable twelve modes, you can get a relaxing massage for your hands, lower back, legs, and hip.
What's more, the massage chair has in-built Bluetooth technology that allows you to listen to your favourite music as you sit back and enjoy the massage. It uses its AI Body Detect to soothingly hug your body in place, paying attention to your body shape and curves.
We especially loved the hand massages as they are commendably gentle.
Drawback
Assembling the chair is tedious and time-consuming.
It is also very bulky.
Verdict
With impressive modes targeting stress areas, the built-in Bluetooth technology that lets you listen to music, and the body detect technology that detects your shape and body curves, this Luxurious Massage Chair is undoubtedly in a league of its own. We strongly recommend it to anyone who wants a relaxing massage at the end of their busy work day.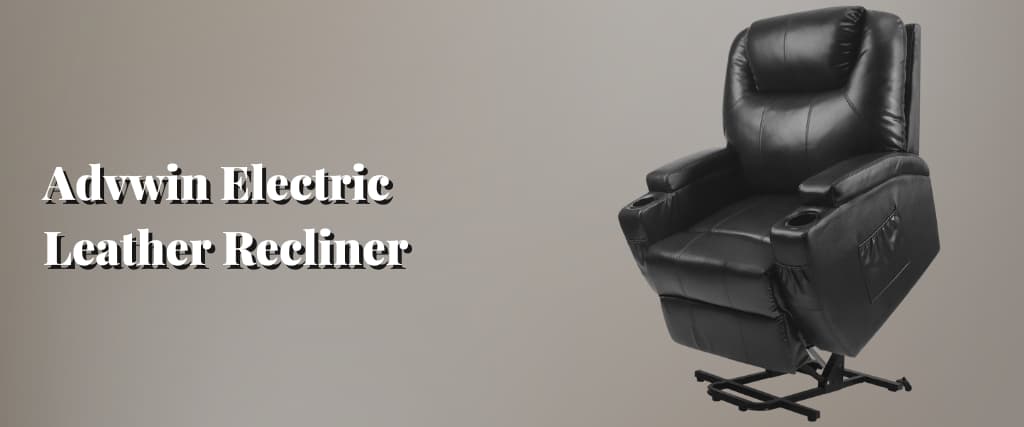 6. Advwin Electric Leather Recliner
Next on the selection is the Advwin massage chair, which provides comprehensive massage therapy to reduce stress and loosen up your tense muscles.
It also has eight-point massage technology and a heating system. You can use every point individually to loosen your shoulder muscles, treat backaches, and release stress. Your thighs, lumbar muscles, and back are all massaged thoroughly.
The chair has a 360° swivel mechanism, which allows you to rotate it however you desire. Additionally, its 160° recliner provides the best lumbar and back support. A smart remote makes regulating the massage chair's two intensity levels and five modes straightforward.
Drawback
You must spend some time putting the four sections of the Advwin chair together because it comes disassembled.
Verdict
Following a long and strenuous workday, this Advwin product provides a relaxing massage that you may enjoy with no fuss. Its sophisticated heating feature and several massage settings ease muscle tension and release pressure.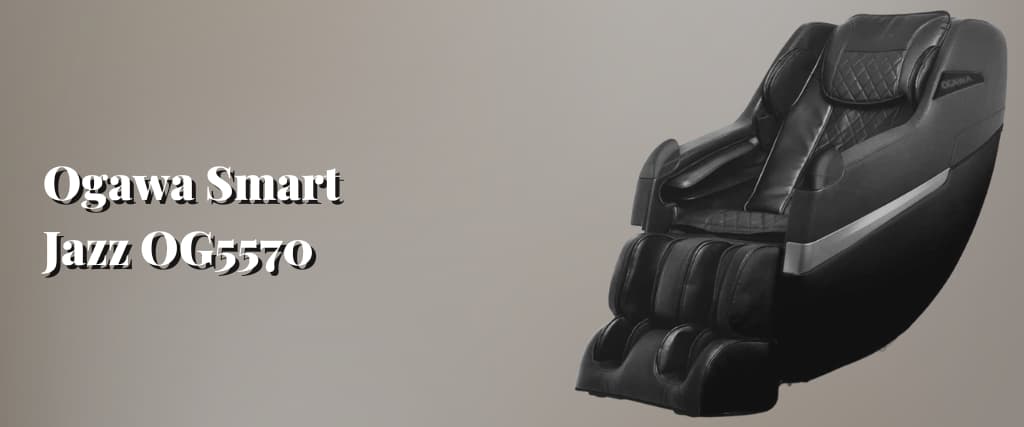 7. Ogawa Smart Jazz OG5570
This massage chair has an appealing, modern capsule-like build. Enjoy peak relaxation in the comfort of your own home with its inbuilt airbags, heated functionality for a therapeutic thermotherapy session, and the comprehensive collection of massage options. It combines its seven massage programs with four techniques to make you love this chair.
Drawback
Assembling the chair is tedious and time-consuming.
It is also very bulky.
Verdict
The modern aesthetic design, impeccable heating technology, and targeted massage programs are impressive. It's definitely worth your money.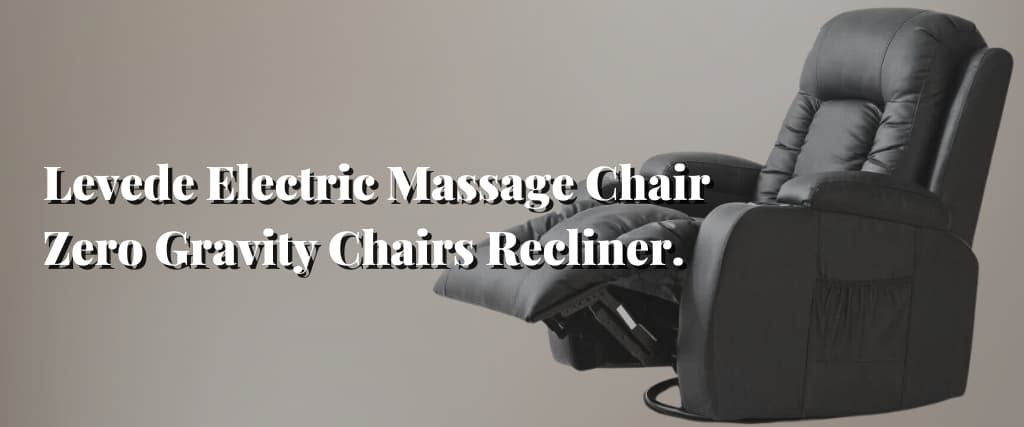 8. Levede Electric Massage Chair Zero Gravity Chairs Recliner.
Are you looking for a way to enjoy your alone time better? Get the most comfortable massages with the Levede Massage Chair Recliner!
The recliner's leather finish gives it a lustrous feel, and its contemporary design ensures a space-saving massage chair that can double as a lounge seat. It has comfortable armrests padded with thick cushions, a 360° swivel base, and heated massage functionality to address target areas and help relieve stress and tension.
Drawback
The recliner's back is not high enough and might be uncomfortable for tall people.
Verdict
The Levede Electric Zero Gravity Massage Chair is exactly what you need if you want a comfortable lounge seat that won't take up too much space.
Furthermore, its thick cushioning and padded armrests offer a comfortable and therapeutic experience as you enjoy a heated massage.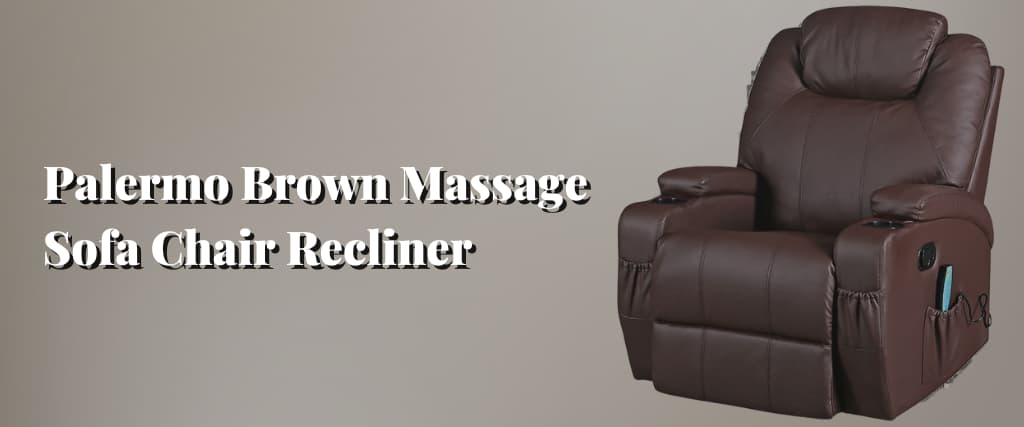 9. Palermo Brown Massage Sofa Chair Recliner
At first glance, the Palermo Massage Sofa looks like your typical lounge sofa. But there's more than meets the eye.
The massage chair has a reclinable back from 140 to 90°s, an 8-point heating massage functionality, and a smart remote controller. It also has side pockets and cup holders so you can keep anything you need close by.
Drawback
Assembling the chair is tedious and time-consuming.
It is also very bulky.
Verdict
The Palermo Brown Massage Sofa Chair will blow your mind with its 8-point heated massage function. Recline your seat and grab your favourite drink from the cup holder as you enjoy a soothing massage and play around with its 360° swivel base.
10. Mason Taylor 8003 Electric Massage Chair
The Mason Taylor 8003 will exceed all your expectations. This elegant beauty has a modern, smooth design that complements your room's aesthetic appeal.
With its thirty-four modes and four intensity adjustment levels, you can be sure to get the massage you desire as you customise it to match your preferences.
The massage chair also has zero gravity functionality that helps relieve back pain and release tension in your lower and upper back. And maybe the last feature you'll love is that it has wheels, so you can move it around your house.
Drawback
Assembling the chair is tedious and time-consuming.
Verdict
After a strenuous workday, the Mason Taylor 8003 Electric Full Body Massage Chair will help you relieve any built-up muscle fatigue with its 34 modes. It will also improve your home's aesthetic look!
‍11. Sotion Vibrating Massage Chair Pad
Are full-fledged contemporary massage chairs outside your budget? Here's your affordable alternative — the Sotion chair pad.
You can place the chair pad on any bed or armchair of your choice and experience a relaxing massage that rivals one from a massage chair. The Sotion chair pad also has multilayer bags and two massaging nodes that offer heat functionality and compression to massage your back, neck, hips, thighs, and waist.
The chair pad's heat functionality provides a therapeutic massage to improve blood flow and relieve aching muscles. Its thermostat protects from overheating, and the massager provides three intensities in numerous zones to help your body relax. You can use the remote control to customise the massage to your liking by varying the intensities.
Drawback
This chair pad offers compression and vibration management but lacks roller balls and kneading massage techniques.
Verdict
Anyone looking for a massage in the comfort of their own home and at their convenience but wants to avoid buying an expensive, heavy massage chair should try this Sotion chair pad. 
What Criteria to Consider When Purchasing a Massage Chair
Consider some of the following things before investing in a massage chair because they are relatively expensive.
1. Massage Techniques
Although a massage chair doesn't have all the sophisticated massage techniques that a professional masseuse would, the more costly massage chairs can still provide a variety of alternatives.
A massage chair, however, cannot decide which massage method will be most appropriate for you, unlike your professional therapist. Therefore, it's usually better to pick a massage chair that provides various massage techniques.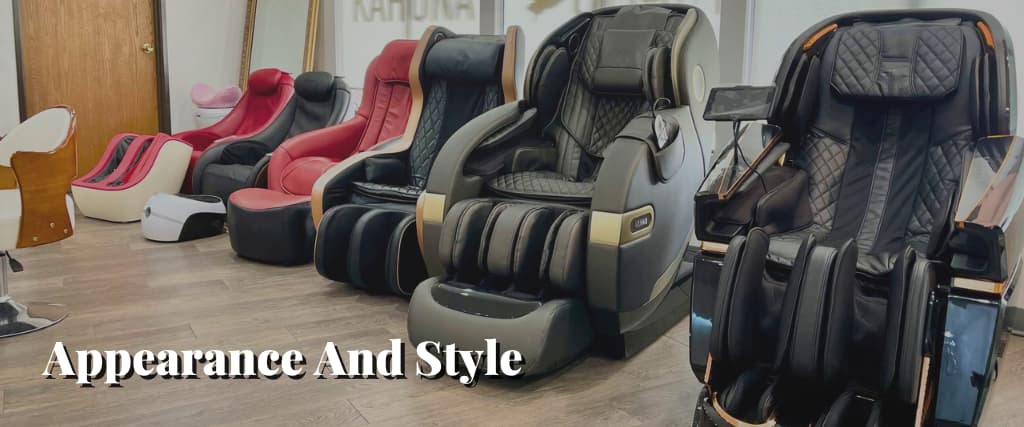 2. Appearance And Style
If you install a massage chair in the sitting room, it could look out of place because they are typically relatively large. However, installing a massage chair on a sizable patio can be a good option.
The contemporary appearance of expensive massage chairs might complement your patio's attractiveness. However, if you want to place the massage chair in your living room, you should choose a model that looks like a conventional armchair or recliner.
3. Heat Function
By boosting blood circulation, heat helps provide intense muscle treatment that is useful in reducing stress and relaxing muscles in your body.
Many massage chairs have advanced heat functions that work with various massage techniques. So, before buying a massage chair, it's highly advisable to examine its heat function.
4. Affordability
Several massage chairs cost more than others since they have more sophisticated heat functions or massaging techniques.
You'll probably get a more intensive massage if you spend more money on a massage chair. Therefore, it's crucial to consider your wants and funds when purchasing a massage chair.
Those who suffer from excruciating back pain or aching muscles that require frequent massages can select an expensive massage chair. Nevertheless, choose a less expensive model rather than spending hundreds of dollars if you only intend to receive massages occasionally.
So, in the end, everything depends on your choices and financial situation.
FAQs
After reading our review of the top ten massage chairs in Australia and getting familiar with the various massage techniques and qualities of a good armchair, you probably have numerous questions related to the topic.
The section below answers the most common FAQs about massage chairs. Have a look and clear any lingering doubts!
1. How often should you use massage chairs?
Most people use their massage chairs twice per day, with every massage session lasting approximately forty minutes. We advise you to get full body massages lasting forty minutes before you start your workday and in the evenings after work to release any built-up muscle tension.
However, ensure an air session 24 hours after using your massage chairs roller components. This allows the body's muscles to relax and rest appropriately.
You can also get a stretch session in the evenings so that your tense muscles loosen up and release stress. Play around with massage settings and use all the massage intensities and modes to eliminate persistent backache.
If you have chronic headaches, use your massage chair regularly. Use the head and neck pillows to support your head correctly and get comfortable. Adjust the modes and intensities to get the ideal massage for your headache.
Those who suffer from poor backs can also use massage chairs daily. Massage chairs provide intense muscle therapies by adjusting their heat function. Daily massages will help keep every muscle relaxed and healthy, boosting blood circulation and eliminating the need to hire a professional masseuse.
2. What material makes the exterior of massage chairs?
It is crucial to check a massage chair's exterior material and upholstery before making the purchase. Massage chairs typically have linen fabric and faux leather as the outer material, but some more expensive luxury chairs have genuine leather material.
Naturally, the exterior material of a massage chair is a factor that determines its cost. A massage chair with a faux leather exterior is usually more expensive than one with a linen fabric exterior.
Also, faux leather has antimicrobial qualities that ensure you don't get any allergic reactions from the massage chair's fabric. You can also clean faux leather easily without ruining the chair's upholstery.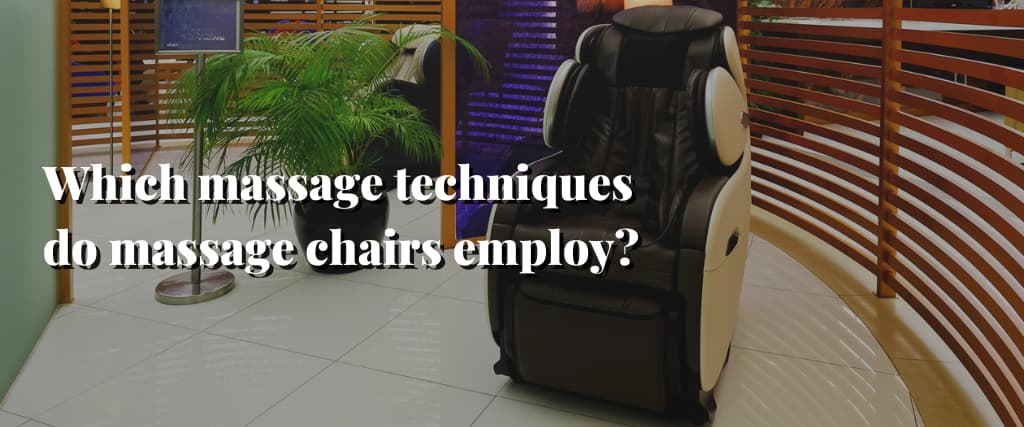 3. Which massage techniques do massage chairs employ?
In the massage chairs described above, you can notice that each has various massaging techniques. They include compression, vibrations, rolling, and kneading. Different modes will target and address stress areas in the body to provide a therapeutic and soothing massage by employing various techniques.
Additionally, you will find that many chairs have roller components and air cells. Air cells are air pockets and polyurethane airbags with a tiny compressor. They apply pressure gently throughout your body.
Roller components use wheels, knobs, and rods to mirror a professional masseuse's techniques and hand movements as they massage your lower and upper back and release all the pent-up muscle tension.
4. How does compression on your arms and legs relieve stress?
After a long day, your arms and legs' muscles are likely overworked and become rather sore and stiff. You can considerably benefit from stress relief and muscle relaxation by lightly compressing these aching muscles in the limbs.
Each massage chair has multi-layered air pockets and airbags with a compressor that applies light pressure to your legs and arms to loosen up tight muscles.
Additionally, the massage chair's heating feature, when compression is applied, serves to provide deep muscular therapy to improve blood flow, relax your muscles, and reduce stress. You may thus use massage chairs at home to obtain the most pleasant and relaxing massage by combining heat functionality with air compression.
5. How do you vary the intensity of a body massage?
Nearly every massage chair has a smart remote controller that you can use to change the modes and intensities to suit your preferences. For generalised muscular treatment and gentle massages, electric recliner massage chairs offer a variety of massage intensities and modes.
You can use the remote controller to change the massage settings and intensify the massage if you frequently have back or muscular pain. You can also select the settings, whether you like rolling massages or a basic air compression massage.
The intensity of the massage can also be decreased if you prefer a light neck massage to reduce tension and soothe the delicate neck muscles. Consequently, managing the modes and intensity is simple if you have a smart remote with your massage chair.
6. What is zero gravity?
NASA originally developed zero gravity to describe a situation where the body's weight and pressure are distributed equally. Therefore, if you are in a zero-gravity pose, gravitational effects will spread throughout your body evenly without placing undue stress on one particular portion.
Simply put, you are in a zero gravity pose when you recline at a nearly 180° inclination with your knees at a position a bit higher than your heart. It's the ideal posture for resting since there is no force of gravity on your body, and all the muscles are relaxing.
By placing your body in a comparable position, a massage chair with zero-gravity capabilities aids in stress relief for the entire body.
7. What are shiatsu massages?
Shiatsu massage is available in many massage chairs to ease tension and exhaustion. It uses pressure to release tension or eliminate discomfort in specific body areas. These massages are performed by licensed therapists using their thumbs, palms, and various hand motions.
Roller components in massage chairs use kneading and rolling motions to simulate the therapist's hand movements and give you a calming shiatsu massage. Although massage chairs use mechanical massage techniques, their gentle shiatsu massage is quite efficient in easing sore muscles.
Final Verdict
We have now completed our analysis of the top massage chairs available in the country. After reviewing our selection, you should be able to understand the features of these chairs and the advantages of using one. With the ultimate massage chair, you can finally say goodbye to those pricey spa appointments and enjoy soothing and revitalising massages in your home.
If you're interested in our suggestion, we highly urge you to choose the Homasa Massage Chair. It offers zero-gravity technology and provides a superb shiatsu massage. If you prefer a sophisticated heated function, pick the Livemor Massage Chair.
Was this article helpful?