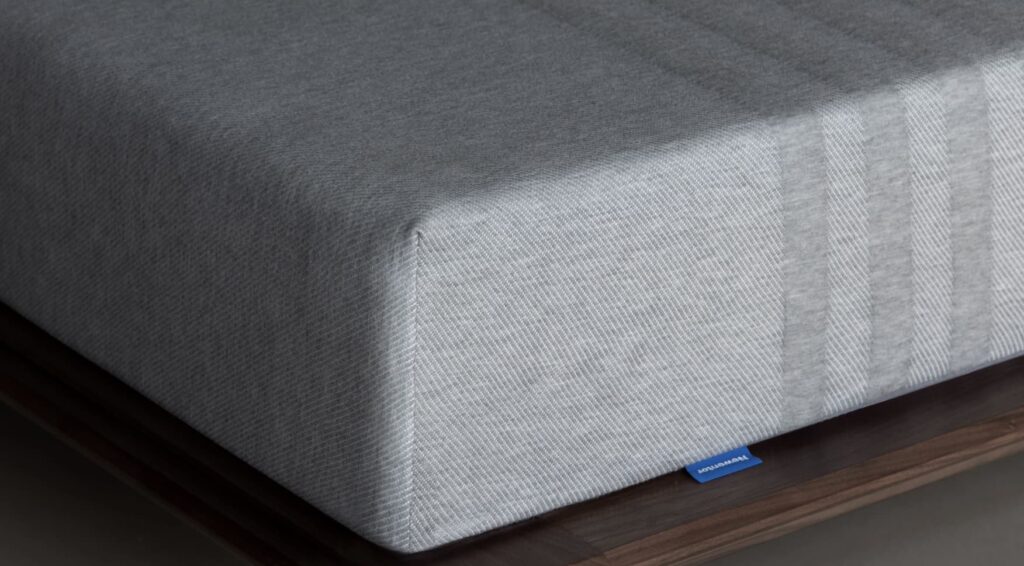 If you're currently shopping for a mattress, the Newentor Hesperis mattress is definitely one that you should consider having a look at.
In this post, we will talk about this mattress in detail, including its pricing, why we love it and discuss some of its important features.
So, let's begin!
A quick overview
Type: Memory foam
Firmness: Medium
Colour: Grey
Height: 22 cm
Warranty period: 10 years
Trial duration: 120 days
Price range: From $546 (Single) to $1,480 (Super King size)
Shipping: Free (for Australia)
Certifications: OEKO-Tex certified
What is the Newentor mattress made up of?
The Newentor Hesperis mattress is made up of five individual layers and components. Let's go through each one.
1. Natural Coconut Cover
This mattress comes with a natural bamboo and coconut fibre non-toxic cover that doesn't retain heat.
The best thing about this cover is that it's exceptionally soft on the skin, breathable, antibacterial, mite-resistant, and eco-friendly.
Plus, because it's machine washable, washing it is super convenient. Just be sure to keep the temperature under the recommended 30°C.
Lastly, the cover is removable, which allows for flipping of the inner foam layers.
2. Gel-Visco Memory Foam
After the cover, the first foam layer in the Newentor Hesperis mattress is a 4 cm thick layer of Gel-Visco memory foam.
This layer does an outstanding job maintaining a stable temperature, unlike most other mattresses in the same price range.
Additionally, its pressure-relief design does a great job soothing sore muscles.
3. Q-Stretch Foam
Below the Gel-Visco memory foam layer lies a 2 cm thick high-density Q-stretch foam layer.
This layer is noticeably firmer than the first foam layer and provides your body with some much-needed support when you're lying down or getting up.
Its firm nature also helps prevent the mattress from collapsing and keeps your spine aligned and healthy.
4. Highly Elastic Comfort Foam
Making up the bulk of the mattress and acting as its main support is a 16 cm thick, highly elastic comfort foam layer. This layer is responsible for the majority of the mattress's firmness.
The thing we loved most about this layer was the presence of seven ergonomic pressure zones made using a unique cutting process during its manufacturing.
This design allows the mattress to conform to your spine's curves and keep it optimally aligned.
5. Anti-Slip bottom
Lastly, the underside of the Newentor mattress contains an anti-slip bottom made up of grippy materials, which help in keeping the mattress firmly in its place on the bed.
This layer ensures that the mattress doesn't move around at night during sleep.
What are the sizes available?
This mattress comes in seven different sizes, meaning it should accommodate all of your sleeping arrangements.
The available sizes include:
Single
Long Single
King Single
Double
Queen
King
Super King
Packaging and delivery
Similar to other "bed in a box" products, the Newentor Hesperis mattress can be bought online through their website. And the best part? You don't have to pay for delivery!
It comes in a secure, compact box and is lighter in weight than most other "mattress in a box" alternatives.
It also comes with a complete set of instructions that help you unbox your mattress safely. All you have to do is unwrap it, roll it open, and move it to the designated bed.
The box also comes with a cutter to help with the unwrapping process. But while a cutter can be handy, it can end up cutting the mattress or your skin if you're not careful enough. That's why it's recommended to skip the cutters and use a pair of scissors instead.
It's also preferred to give the mattress ample time (ideally 72 hours) after unpacking to decompress and get into the right shape. But if you're short on time, you can get it ready by bedtime if you unbox it during the morning.
Lastly, we noticed that this mattress doesn't have the usual plastic or chemical smell that comes with many other mattresses. It might come with some smell, but opening the windows for a few minutes should help eliminate most of it.
Comfort level
The Newentor mattress provides varying degrees of support depending on where you lie on it due to its seven zones of firmness.
It is soft-medium in firmness, starting at the top of the mattress where the head lies. The middle part of the mattress — where your back or abdomen go — is medium-hard in firmness. Finally, it gradually gets softer towards the bottom end of the mattress.
All-in-all, the mattress is soft-medium in firmness and is excellent for almost all types of sleepers, including stomach, back, and side sleepers.
Why do we like it?
There are many reasons why we think the Newentor mattress is great value for money. But here are four of the biggest reasons why we think you should consider trying it.
1. Customisable firmness
Due to the presence of 3 different foam layers, you can create a firmness level that fits your needs and wants by unzipping and rearranging the individual foam layers.
Just keep in mind to use a slow, gentle motion instead of a forceful one when unzipping — you wouldn't want it to get stuck!
2. Built-in air circulation
The Newentor mattress comes with a built-in air circulation design. The presence of pin-core holes allows air to freely flow through the foam layers, letting it breathe and keeping your body temperature cool throughout the night.
3. Ergonomic design with 7-zone body support
The mattress is cut into seven different sections that support your body's seven major pressure points, including the feet, calves, thighs, hips, waist, shoulders, and head.
This ergonomic design provides optimal support to your spine in every sleeping posture and helps relieve your body's pressure points.
4. Solid trial period
The company offers a long trial period that lasts up to 120 days. If you don't find the mattress to your liking, the company will refund the total price.
And the cherry on top? All returned mattresses go to local charities.
The Takeaway
Overall, this mattress is an excellent option if you're shopping for an all-foam mattress at a reasonable price. It's lightweight and you can adjust the firmness to your preference.
The fabric used in the mattress and cover is also OEKO-TEX certified and eco-friendly, making it an even more appealing option.
Was this article helpful?