Most campers enjoy lying under the stars and taking it easy on their trips. A good camping mattress will make all the difference, and some models are so plush you could forget you're not sleeping in your bed.
However, Australian camping mattresses come in different materials, weights, sizes, and more, making it overwhelming for hikers to decide on the best bed.
Camping mattresses should be sturdy to withstand harsh outdoor terrains and serve you for a while. Unfortunately, many sub-standard beds are on the market today, and you'll need some expertise or help to buy the best product.
This post has compiled a comprehensive guide to camping mattresses to assist you in navigating the many options and deciding on the finest Australian bed for camping.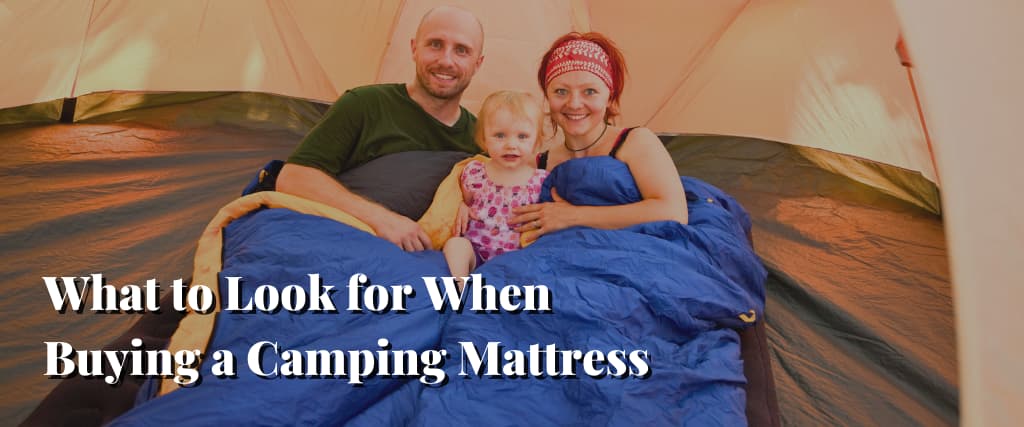 What to Look for When Buying a Camping Mattress
Beds are the first step toward a restful night's sleep. Comfort is the most critical thing when sleeping, whether at home on a soft mattress or camping for the weekend with a tent and sleeping bag. When purchasing any outdoor equipment, you must know what you need.
Types of Camp Mattress
Choosing the right mattress for camping begins with figuring out what mattress you prefer. The three most common options are air beds, self-inflating mattresses, and foam camp mats or pads. Let's briefly discuss the benefits and drawbacks of each type.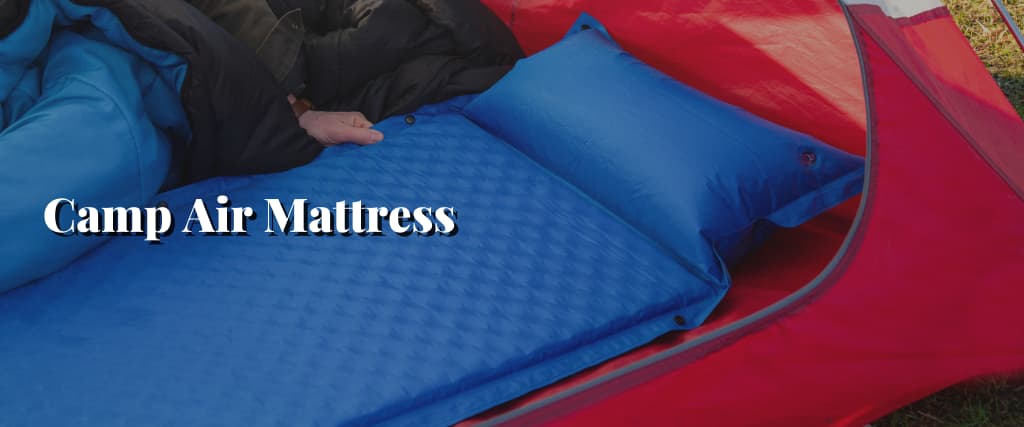 Camp Air Mattress
The air mattress is the most used mattress for camping. Air beds can be inflated in two ways: with a pumper or the old-fashioned way, by blowing air into it with one's mouth.
Air mattresses designed specifically for camping are available for various prices, from the very inexpensive to the extravagant.
Most cheap hiking air mattresses are sub-standard and uncomfortable; they will have you tossing all night.
The more expensive ones feature numerous layers, raising you from the ground and providing more excellent stability, so you don't bounce around.
An air mattress designed for camping is typically more portable, lightweight, and inexpensive than even the most advanced self-inflating mattress. Most individuals agree they are less comfortable and require some sort of pump. Some are also difficult to inflate and can be tough to deflate.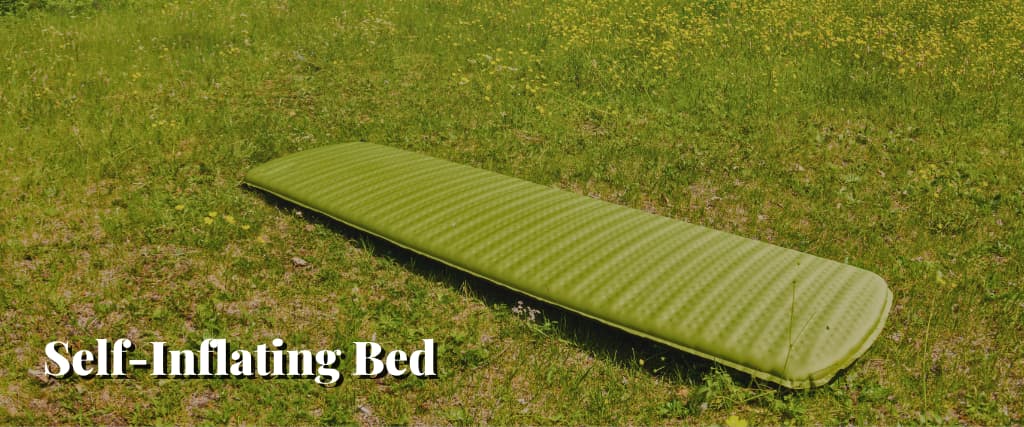 Self-Inflating Bed
The popularity of self-inflating beds is on the rise. These air mattresses are top-rated among campers and travellers who fancy spending nights in remote locations.
When the valve is opened, the air is sucked into the foam's open cells inside a self-inflating camping bed. The finest self-inflating camping bed is made from foam, not air, making it more comfortable than a hiking blow-up bed. However, this makes the self-inflating mattress larger and heavier.
Self-inflating camping mattresses are your best bet if money and storage are not your concern. Those looking for the finest swag bed Australia offers, the finest hiking trailer bed, or the best hiking bed often opt for an inflatable mattress.
Foam Mats or Pads
A foam mattress has a closed-cell construction; you don't have to hand-inflate them before use. It's as simple as unfolding the mattress and getting started.
A bed pad is ideal for camping since it is affordable, easy to transport, and puncture-resistant. However, getting a good night's sleep on even the most luxurious bed is hard. Most people sleeping on a foam mat will have the same experience as if they had slept on the floor because they are thin.
If you're going hiking to your campground, buying a foam mat is recommended if you need to minimise the weight of your gear. Besides, if you care about getting enough rest each night, you should invest in an airbed or a self-inflating bed.
Size
While most camping mattresses come in the standard single, queen, double, and king sizes, you should confirm the measurements to be sure.
Some beds fall short in the length department, which is primarily a concern for tall people.
Consider your body weight in determining the ideal mattress size. There is a weight limit on some mattresses (especially air mattresses). Nobody wants to find themselves sleeping on the floor at midnight because their air mattress bursts.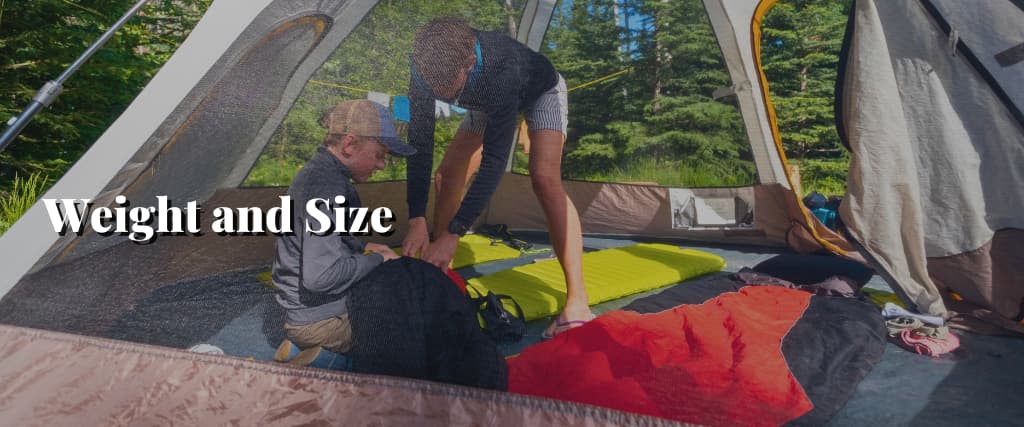 Weight and Size
Consider how much room the truck has to ferry your camping bed. Consider a bed or foam pad if you have little room. If you're not limited by storage space, buy the largest and most comfortable camping air mattress.
Mattresses can vary significantly in size and weight, even within the same general category. Don't buy one in the delusional notion that you can simply toss several into the trunk. Instead, plan and ensure that you have adequate capacity to move the mattresses you are considering buying.
Durability
durability is the next vital factor to consider. Next, you need to consider how long it will last. And it often boils down to your budget.
You should spend some money on a high-quality camping mattress if you intend to use it for multiple trips. Buying a cheap camping bed might seem like a good idea at the time, but in the long run, it won't be worth it because you'll replace it after only a few uses, and it won't be comfy anyhow.
Choose thick textiles if you want a durable and comfortable camping bed. One easy way to tell the quality of a fabric is to look at its denier rating; a number like 150D is typical. The greater the amount, the more resistant the cloth is to tears and punctures.
Mattress Insulation
Far beyond a place to rest, your mattress is essential in keeping you warm. The greater the R-value of the bedding, the better it will shield you from the chilliness emanating from beneath.
However, R-value may be useless when hiking during the warmest months. Consider it closely if you plan to camp in the cooler months. Go for an R rating of at least three if you need something to serve you well all year (barring the coldest months).
Putting a foam pad beneath an air bed or self-inflating bed is another technique to increase insulation. It prevents the mattress from directly touching the floor.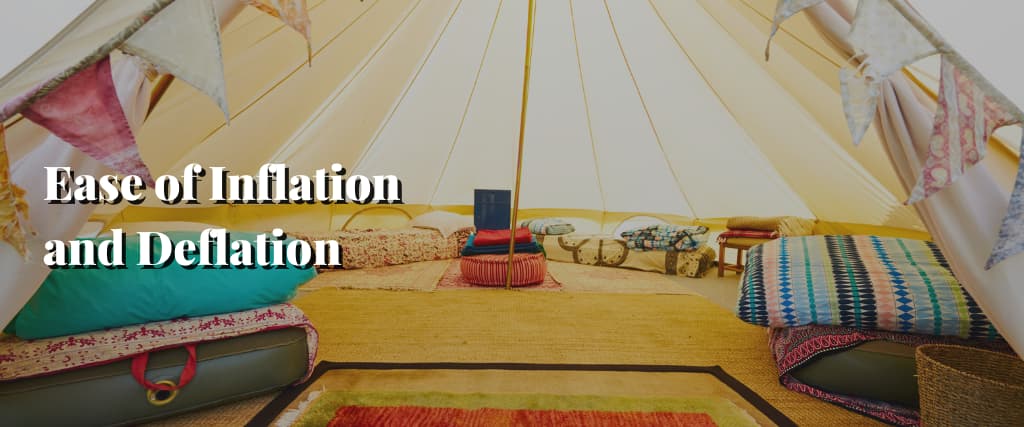 Ease of Inflation and Deflation
While this may not be a big deal if you're looking for a foam mat, it's something to consider if you want an air bed or a self-inflated mattress. The price of an air mattress is usually proportional to how simple it is to inflate and deflate. Hence, the higher the price, the more room for inflation.
A camping bed with numerous deflation points is helpful for packing, even though you'll only need one to inflate the end. Unfortunately, these mattresses take a lot of time to deflate.
Also, consider air mattresses that have a pump already installed. You won't need to haul an extra pump or move the bed to an electrical outlet to inflate it.
Thickness
Determine the depth of the bed you're thinking about buying. The amount of air you put into an air mattress will determine its firmness. It is recommended that even the finest inflatable camping mattresses only be inflated to 80% to 90% of their capacity (especially when used for the first time).
The ideal camping foam mattress will be thick enough to give insulation and comfort without being too cumbersome to carry (though this may be fine if you won't be doing any hiking).
Budget
A camping mattress can cost anything from $20 to a few hundred dollars.
If you want the plushest camping mattress, you must shell out some cash. Even if you can't afford the fanciest accommodation, many fantastic options at the lower end of the scale will provide a sufficiently pleasant place to rest for a few nights.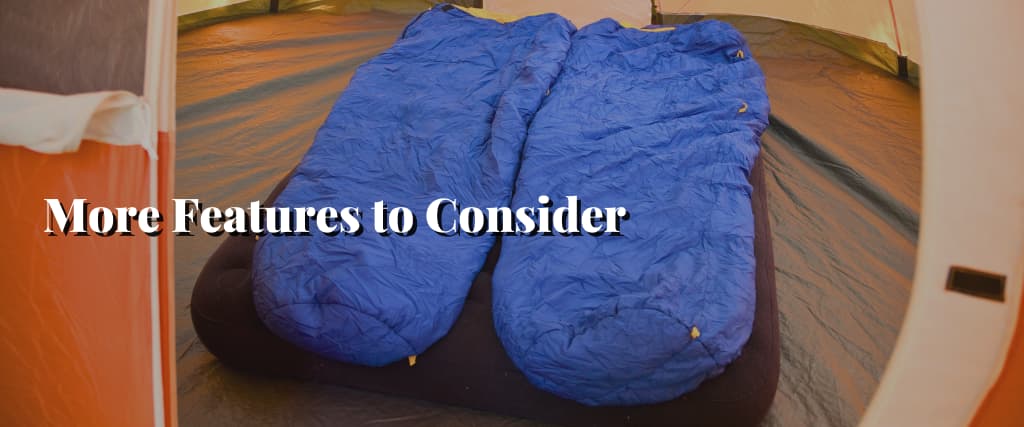 More Features to Consider
Built-in pillow: Provides convenience, as there is no need to pack a pillow
Carry bag: Most of the finest ultralight camping beds will include one convenient for moving your mattress.
Comfort: nobody wants to have a horrible sleep experience. Check out some testimonials to understand how comfy previous buyers found the mattress.
The Best Camping Beds in Australia (as of 2023)
Before shopping for a camping mattress, you should figure out what bed you'd like. Experts have researched and reviewed the top camping mattresses available in Australia to assist you in making an informed decision.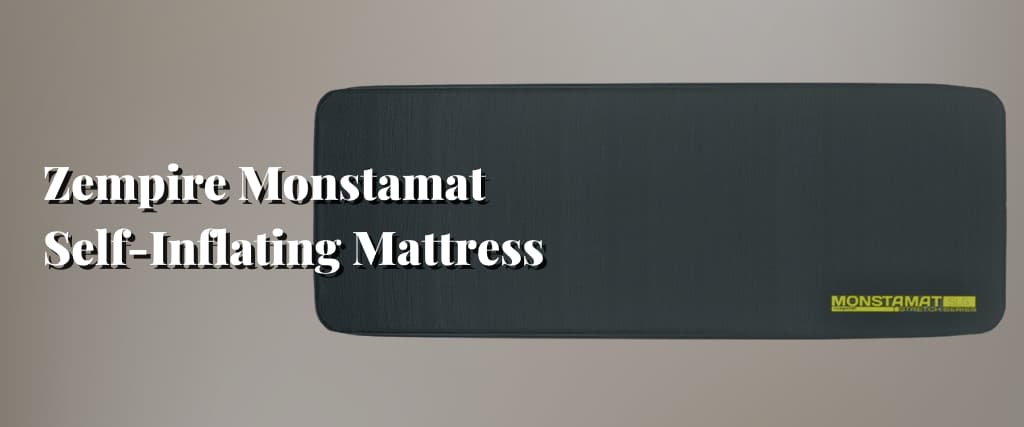 1. Zempire Monstamat Self-Inflating Mattress
Specs:
Type: Self-Inflating
measurement : 198 x 68 x 10 cm
Sizes: Single, Twin, or King Single
Weight: 3.2 kg
These self-inflating mats have been voted the best camping mattress in 2023 thanks to their high-quality, lightweight, and portability.
Most hikers also love the Zempire Monstamat mattress for its commendable comfort levels. With their superior construction and design, it is no surprise that Zempire Monstamat mattresses are among the most expensive camping mattresses on the market today and the most costly in this roundup.
The Zempire mattress is completely bonded foam, so you won't have to worry about winds. It is a ten a cm thick, full-size, self-inflating bed with a durable 75D foundation wrapped with soft, stretchy material for luxury. The engineers behind the Zempire self-inflating mattress prioritised durability and comfort when designing it.
The mattress's 360-degree valve allows for speedy inflation, and the same valve can be easily flipped for fast deflation when it's time for packing. This finest inflatable camp bed has an R-value of 9.5, so you'll feel warm and cozy even on cold evenings. It weighs only 5kg, is compact, and includes a travel bag and a tension strap for convenience.
Pros
Thick, ultralight, and comfortable
Stretchy fabric and heavy-duty base.
360-degree one-way valve for faster deflation and inflation
Includes a repair kit, travel case, and tension strap for more accessible transportation
Cons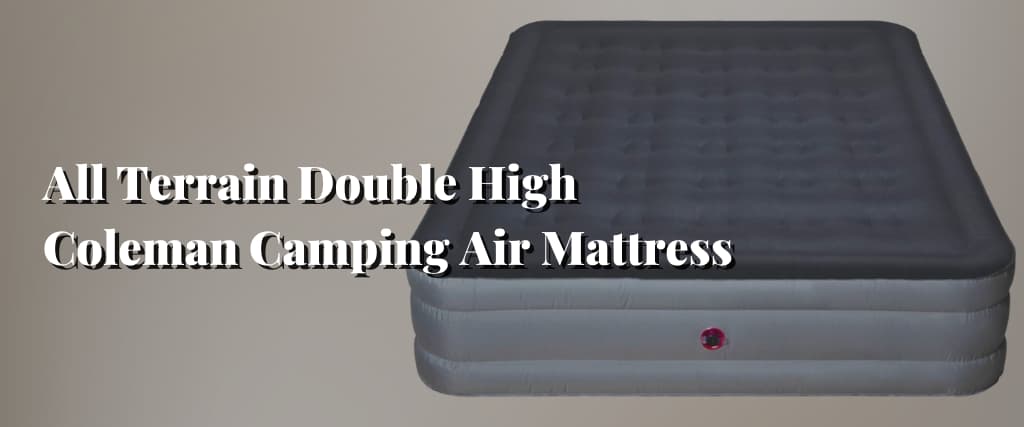 2. All Terrain Double High Coleman Camping Air Mattress
Specs:
Type: Air
Measurement: 198 x 152 x 38 cm
Sizes: Queen and Double
Weight: 3.8 kg (for the Queen size)
This Coleman air bed is your best bet if you want something that will last you many years. It can withstand rough outdoor conditions, is incredibly light, and can be folded into a remarkably compact package.
Coleman's puncture protection bonded fabric, used in their All Terrain series of air beds, is at least 47% more puncture resilient, 30% lighter, and 26% more stretch resilient than their regular airbed fabric. Furthermore, the double lock ensures that there will be no leaks during the night, so you won't have to worry about spending another night on the floor.
These air beds are designed to keep you comfy all night long thanks to their bonded fabric layers, which keep the air in place, and their topmost part of brushing polyester, which is laminated to the PVC.
A typical queen-size bed weighs just 5kgs, is incredibly compact when rolled up, and can be stowed away in a hidden compartment. This portable air mattress fits regular bedsheets, making it ideal for travel.
The Coleman beds are available in various sizes, including XL single, queen, and single high.
Undoubtedly, these are among the finest air beds for outdoor use.
Pros:
Pocket-friendly
Ultralight
Wrap 'N' Roll Storage
Double lock (leak-free valve)
Coleman's regular airbeds are 30% lighter, 47% more puncture-resistant, and 25% more stretch-resistant than regular airbeds.
Cons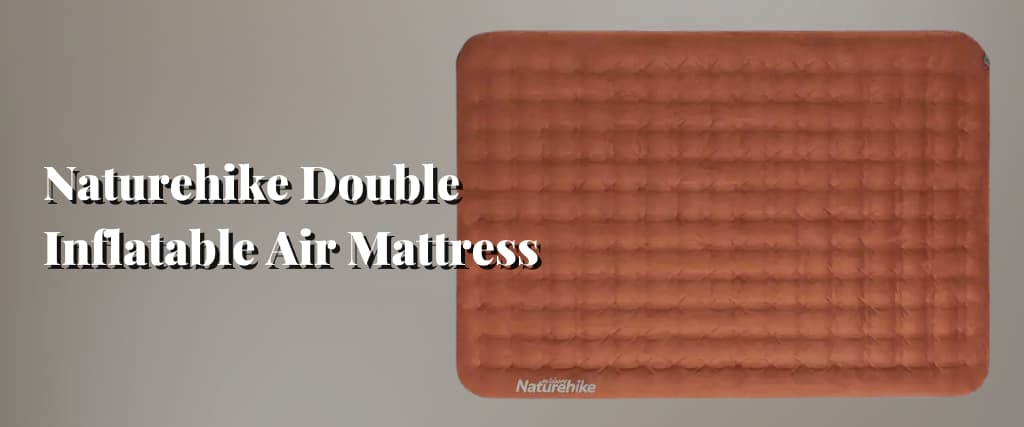 3. Naturehike Double Inflatable Air Mattress
Specs:
Type: Air
Measurement: 210 x 135 x 13 cm
Sizes: Double and Single
Weight: 1.6 kg (for Double)
This double inflatable Air Mattress is your ideal option if you're looking for the most comfortable blow-up mattress camping bed. Its superior quality makes it far more unique than any alternative air mattress. Although air mattresses are only sometimes considered exceptionally comfortable, this one is an exception thanks to its multi-point pressure supports, which distribute weight evenly to make it feel as soft as your bed at home.
The bed is made from a blend of TPU and nylon; the nylon is for water resistance, and TPU ensures that it serves you for a long. Most hikers appreciate how firm this mattress remains even when two people occupy it; unlike many others, it doesn't sink in the middle. You'll need a pump, which you'll have to buy as it's not included in the package.
With exact dimensions are 210 x 135 x 13 cm, the added thickness of your mattress will make for a restful night's sleep even on uneven ground. This item is hard to beat for a couple looking for a camping mattress in terms of pricing and quality.
Pros
Long, thick, but lightweight mat
Inflated by an electric pump, dry bag, and foot pump.
A double air valve allows fast inflation and deflation.
Cons
Lack of baffles, which is not the best for cold weather.
3. Coleman Quick Bed  
Specs:
Type: Air
Dimensions: 187 x 99 x 24 cm
Sizes: Double, Queen, and XL Single,
Weight: 3 kg (for XL Single size)
This top-rated Coleman air bed offers the best features for a camping mattress. They come in three sizes a queen, a double, and an extra large single. The PVC material used in their construction is long-lasting, and pumping them to full size is a breeze.
The mattress's adaptability allows you to use it for camping or roll it out for guests. It has an antibacterial surface that prevents the growth of germs and mould, mildew, and fungus—crucial qualities in a camping bed.
Moreover, the bag comes with a carry bag. However, the bed has no pump; you must buy one separately. This Coleman mattress has received positive feedback, and you can be sure that you will get a fantastic night's sleep on this mattress for a low price.
You should check whether you're in the market for the best double camp bed, the finest single-airbed for camping, or even a queen-size alternative.
Pros
Low-cost camping air mattress
Constructed of antimicrobial material that resists mould, odour, etc.
Coleman QuickPump is easy to inflate and deflate.
A double-lock valve airtight system.
Cons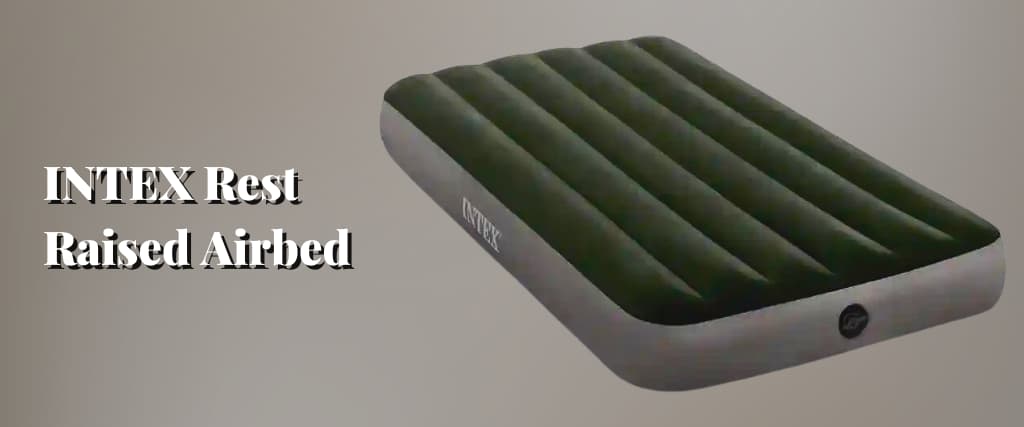 4. INTEX Rest Raised Airbed
Specs
Type: Air
Measurement: 203 x 152 x 42 cm
Sizes: Queen
Weight: 6.7 kg
The raised airbed is the perfect low-cost camping mat for two people.
The built-in pumper on this queen-sized inflatable mattress makes it easy to inflate or deflate the bed quickly. If you take this pump on the road, you'll need a generator to provide AC power.
This mattress includes a solid fibre-tech interior and an integrated pillow, making it the best camping bed for Australians experiencing back issues. When inflated, it provides a robust and supportive feel and can be deflated to your preference.
The INTEX Rest bed is the finest camping air option for couples since it is simple to set up, compresses to a manageable size, and comes with its travel bag.
Pros
The built-in pumper pumps up in 3.5 minutes.
Supportive and firm.
Free travel bag
Cons
5. WELLAX UltraThick FlexFoam Sleeping Pad
Specs:
Type: Self Inflating
Measurement: 195 x 71 x 7.6 cm
Sizes: Single
Weight: 2.7kg
This Wallax model mattress can double as a soft and cozy bed, making it one of the finest camping mats. It is the best option for those looking for a top-notch single-person inflatable mattress for hiking.
The thick camp bed is three inches wide, double the depth of most other alternatives, and is made of foam on the inside and waterproof material on the outside. Furthermore, it has an R-value of 9 or above, making it extremely warm and cozy even in the coldest weather.
Wellax Ultra bed may be stored away in its carrying case by rolling it up like a backpack despite weighing 2.7 kilograms and being relatively bulky in size. However, this one comes with a hefty price tag, like many of Australia's best camp mattresses.
Pros
the thickest inflatable Australian mattress, three inches
Integrated pillow
repair kit
Cons
7.Sea to Summit Camp Mat
Specs:
Type: Self Inflating
Measurement : 183 x 51 x 3.8 cm
Sizes: Regular or Large
Weight: 0.78 kg
This mattress might be your best option if you're looking for a self-inflating, ultralight camping mat. It has custom dimensions of 183 x 63 x 3.8 cm.
This mat has an R-value of 4.2, making it suitable for most camping situations in Australia. It was created explicitly with the rugged terrain of Australian camping surroundings in mind, so you can rest assured that you're getting a high-quality product.
This mattress, a self-inflating sleeping mat, has a thickness of 3.8 cm from the ground and incorporates innovative technologies to minimise its size and weight by 20% without compromising its comfort level. It has anti-slip prints on the top and bottom to prevent sliding on uneven ground, which most hikers will know is helpful!
The Sea camp mat is a terrific alternative if you're seeking something robust and light (just 1.15kg) that will keep you comfy while you enjoy your hiking vacation. It has received the most outstanding ratings among self-inflating camping mattresses.
Pros
Self-inflating valve.
Four-season insulation: 5.2 R-value
A two-way multifunctional valve allows fast inflation and deflation.
Cons
8. Triphunter Gears Quiet Self-Inflating Mattress
Specs:
Type: Self Inflating
Measurement: 185 x 55 x 3.8 cm
Sizes: Single
Weight: 1kg
You may use this waterproof, air-filled camping mattress in any climate. The R-value is modest at 4.3; thus, you may use it with the correct gear and clothing in cold weather.
Camp mats come in various thicknesses, but this one is 1.5 inches thick to give you the best sleeping experience possible. Even side sleepers will have an easier time getting comfortable on flat surfaces.
There are a variety of inexpensive camping mattresses to choose from. Still, this one stands out for being lightweight yet providing adequate warmth and compressing into a convenient carrying bag.
Not the highest rate of inflation. The most significant advantage of this lightweight camping mat is its low cost, making it an excellent choice for those on a tight budget who still require a comfortable camping mat for occasional use.
Pros
Felt fine despite the rocky terrain
It comes with a repair kit
Extremely low-priced and feathery
Drawbacks:
Not particularly pleasant for extended use.
9. Oztrail Leisure Self-Inflating Mattress
Specs:
Type: Self Inflating
Measurement: 195 x 150 x 10 cm
Sizes: Double, Queen, and King
Weight: 10 kg
The self-inflating mattresses from OZtrail come in various sizes to accommodate the whole family.
The brushed velour exterior of the Oztrail Leisure mats provides a comfortable place to lay. Furthermore, it has a fine addition to the high-density open-cell foam interior, ideal for good support and a restful night's sleep.
The broad air channels and double-sided flip-valve design makes inflating and deflating them a breeze. The valves also prevent air from escaping if the mattress is punctured or left open.
Ton the downsides, this mattress is only 10 centimetres thick and unexpectedly heavy, coming in at 10kg. If you're concerned about weight, look into the older Zempire or BlackWolf mattresses.
The mattress features a one-year guarantee, storage bands, a repair kit, and a convenient travel bag are also included with each of these mattresses.
The Oztrail Leisure mattresses are also available in double and single king sizes in addition to this queen.
Pros
Easy to inflate/deflate.
High-density
It rolls easily and comes with a bag.
Cons
10. Oztrail Swag Mats
Specs:
Type: Mat
Measurement: 190 x 80 x 7.5 cm
Sizes: Single Jumbo
Weight: 4 kg
The Oztrail mats are the best alternative to the traditional foam camp bed. They are available in two thicknesses: 50mm or 75mm. These are the ideal compact camp bed or swag bed alternatives because they are ultralight and pack down little.
These high-density foam beds have an airy polycotton cover and are made of open-cell foam so that you can breathe better at night. If you're worried about dirt and moisture seeping into your mattress, you may rest easy knowing the base is water-resistant.
Select from 75mm in regular or giant sizes or the thinner 50mm in standard or large sizes. The breadth of a regular bed is 60cm, whereas a large mattress is 80cm. The beds weigh a mere 4 kilograms, and their included webbing strap and D-ring locking make them highly portable.
While the swag mats aren't as luxurious as the self-inflating beds in this round-up, they're perfect if you're looking for something inexpensive, portable, and light for your next camping trip.
Pros
Budget-friendly
Comfortable 7.5 cm cell foam mattress.
The easy-to-clean and water-proof base fabric keeps ground moisture out.
Nylon straps strap with D-ring locks for compact storage and transit
12-month warranty
Cons
Teton ComfortLite Self-Inflating Mattress
Specs
Type: Self Inflating
Measurement: 182.9 x 50.8 x 7.6 cm
Sizes: Regular, XL, and XXL
Weight: 1.6 kg
The Teton ComfortLite deflates for easy transport and then quickly inflates again, saving you the hassle of bringing two separate air pumps. It's ideal if you're looking for the highest quality self-inflating bed in Australia.
This lightweight, compact camping pad can be folded down to just 191 x 61 x 5 cm, making it ideal for solo adventurers. The top is long-lasting and made of a stretchy microfiber material that is simple to clean. Horizontal slats of cored foam add extra comfort and insulation to this mattress, and the non-slip base ensures it stays put wherever you set it down.
Inflating this camp pad is as easy as opening the quick-release valve once you arrive at your destination. Moreover, you can adjust the valve to your preferred degree of inflation with a simple twist.
It can be expanded to become a double-wide or double-height pad and has a convenient carrying bag over your shoulder.
Pros
Pocket-friendly and ultralight
Durable, washable, flexible microfiber shirt.
A non-slip base ensures stability
.A stuff sack with an offset shoulder strap makes carrying it more comfortable.
Cons
Conclusion
There are a few things to remember when shopping for the top camp bed in Australia. Your first step is to select the material you prefer for your mattress. You should also consider your financial constraints, as the cost of camping beds can vary widely.
A camping mattress's pricing is usually a good indicator of its quality, so consider that. As a rule, you get what you pay for when purchasing such items.
Overall, a high-quality camping mattress is a worthwhile investment if you want to rest well on any outdoor excursion.
Was this article helpful?