Sofa beds have come a long way from their dated beginnings, with modern versions offering improved comfort and elegance, making them a perfect addition to any household.
These pieces of furniture are designed to be multipurpose, from beds to upright seats. They should come in handy when hosting friends or family members, but you don't have an extra room where visitors can sleep.
Choosing a sofa bed that best suits you can be daunting. Plus, most sofa bed manufacturers don't make top-quality products. As a result, you need to know the top Australian brands that manufacture the best modern sofa beds that could serve you for years.
Like the rest of your home furnishings, your sofa bed should reflect your unique style and character. Therefore, experts recommend that you shop for your sofa from top brands that guarantee quality and reliability.
This guide will examine various sofa bed models from the leading Australian furniture brands to help you make your purchase decision wisely. Let's get started!
The Top Ten Australian Sofa Beds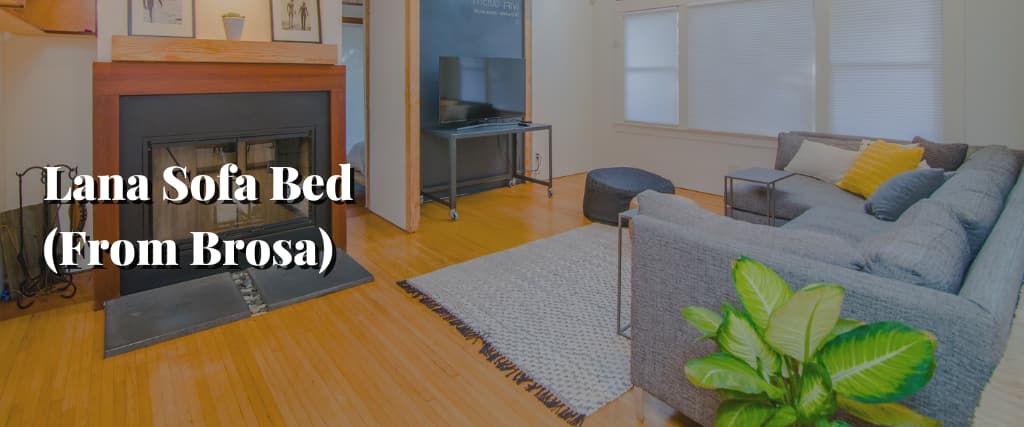 1. Lana Sofa Bed (From Brosa)
Retail Price: $799
Lana lounge is your best option if you love the flashy decor and vibrant tones. It's reputed as Australia's most stylish double couch bed.
This piece will be a show-stopper in any setting. After all, it's made from super-soft foam cushions and coated in a sturdy and super duper velvet binding. Its subtle glitz is enhanced by details like the gold metal shine on the feet and the skillfully disguised folding system.
Furthermore, it can quickly and easily transform into a spacious double bed, ready to be dressed in luxurious linens.
This sofa bed is available in three colours—a rich navy blue, a muted dusty rose, and a deluxe bottle green. This range of colours makes it a great option if you're looking for a couch that stands out in your space.
PROS:
Fashionable and convenient
Ten-year guarantee
It is ideal for tight spaces.
CONS:
Specs
Sofa size: 188 by 87 by 78 cm.
Sofa dimension: 188 by 113 by 78 cm
Cover: Deco Velvet
Return policy: 21-day
Warranty: Ten-year
Delivery fee: $69
Frame Material: Engineered Wood and Solid Pine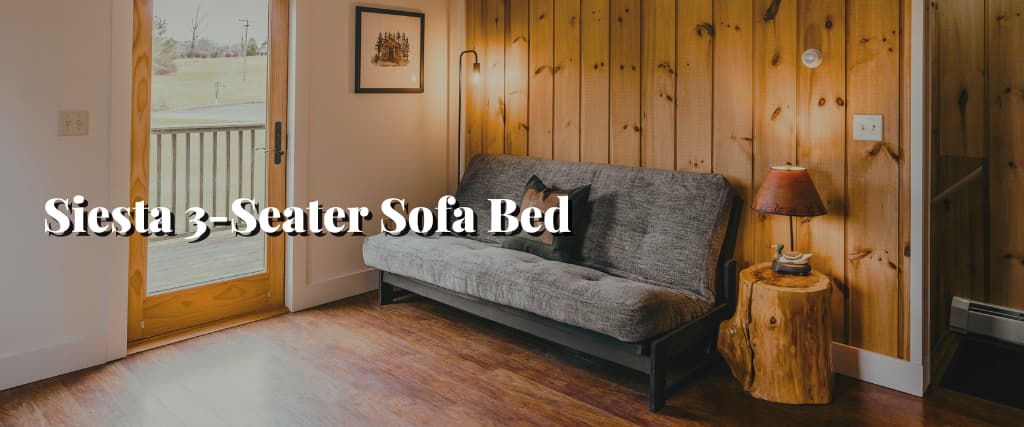 2. Siesta 3-Seater Sofa Bed
Retail Priced: $699
This beautiful Brosa sofa is great for people looking for comfortable furniture pieces.
The sofa's foam cushions measure 9.5 cm, making it comfortable as a bed and a seat. Changing it from a seat (day) to a bed (night) is as simple as pulling out the bottom section.
This sofa bed features a convenient folding design and attractive extras, such as a square quilted accent and a palette of moderate, classic tones.
The Siesta, like all Brosa furnishings, comes with a ten-year warranty. Additionally, the sofa bed has a solid (but soft) wood frame and a durable fabric, ensuring the Siesta will be a permanent fixture in your house.
PROS:
Agreement to revoke within 21 days
Simple to put together
A high-grade polyurethane foam interior
CONS:
Sofas with some colours take longer to deliver
Specs
Sofa size: 182 by 82 by 77 cm
Bed dimensions: 182 by 107.5 by 41 cm
Cover: Pure Polyester
Return policy: 21-day
Warranty: Ten-year
Delivery: $69 (free for orders above $2,000)
Frame material: Engineered Wood & Solid Pine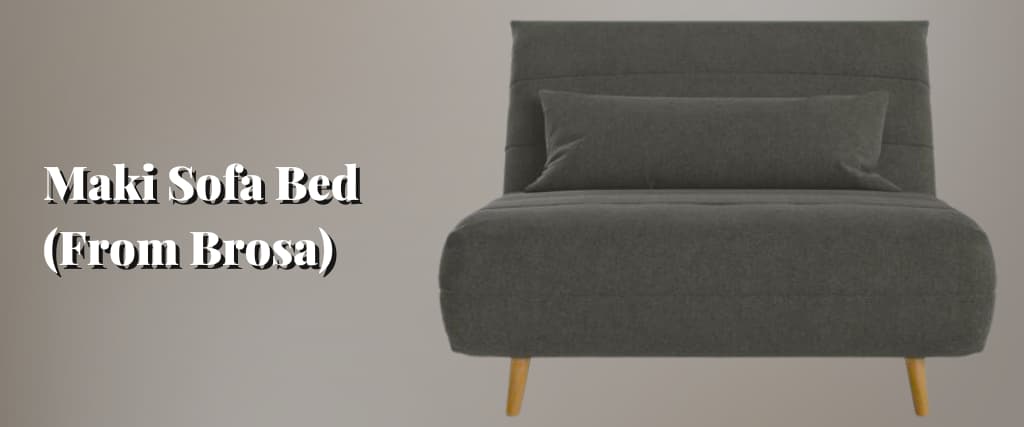 3. Maki Sofa Bed (From Brosa) 
Retail Price: $799
Maki is a foldable sofa designed in the Japanese style; great for small apartments.
This bed is beautiful and practical; it converts from a soft, reclining couch to a snug bed in a flash.
The sofa's foam cushion is coated in polyester, making maintenance a breeze. Its strong birch feet and larch hardwood frame offer solidity and enhance its durability.
Despite its small stature, the Maki commands attention because of its three vibrant colour options and sleek finish options.
Maki is your ideal furniture if you're looking for a stylish and comfortable bed for a home office, workshop, or guest bedroom with limited space.
PROS:
Reasonably priced
Stylish composition
Fast shipment
CONS:
Only one person can sleep
Specs
Sofa size: 120 by 91 by 92 cm
Bed dimensions: 120 by 192 by 42 cm
Cover: Pure Polyester
Frame fabric: Solid Larch
Return policy: 21-day
Warranty: Ten-year
Delivery fee: $69 (free delivery on orders above $2,000)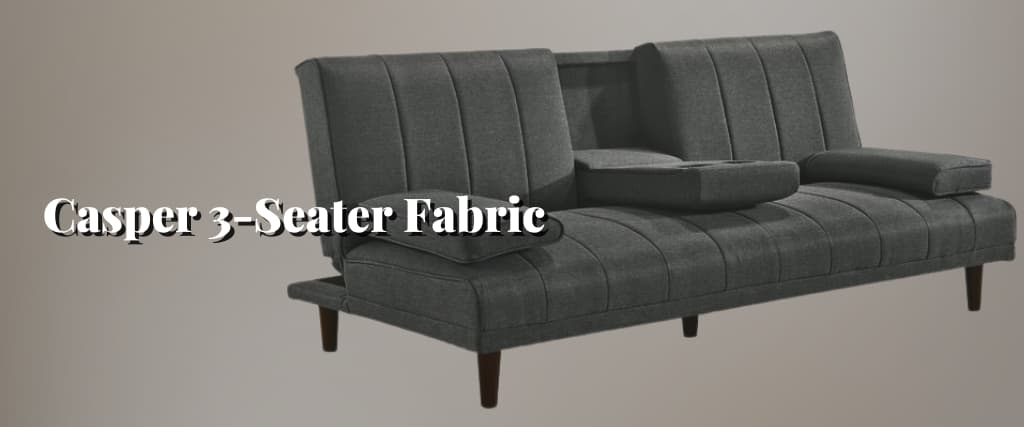 4. Casper 3-Seater Fabric 
Retail price $449.10 to $469
This three-seater from Casper is one of the best sofa beds in Australia.
The furniture was designed with versatility, allowing it to be set to one of three convenient positions.
Its extra-sturdy construction, sturdy rubber feet, and ultra-plush coverings all contribute to the sofa's air of casual sophistication.
The Casper couch bed costs a mere $474 and can be delivered free to most major Australian cities.
E-Living Furniture offers some of the greatest buys now pay later options in the country, so even if you can't afford the full price upfront, you may make payments over time.
PROS:
Adjustable design
Free shipping
Great price
CONS:
Available in just two colours
Specs
Sofa size: 188 by 57 by 35 cm
Bed dimensions: 188 by 103 by 35 cm
Cover: An equal blend of Linen and Polyester
Return policy: 14 days
Warranty: One-year
Delivery fee: Free
Frame material: Hard Eucalyptus Wood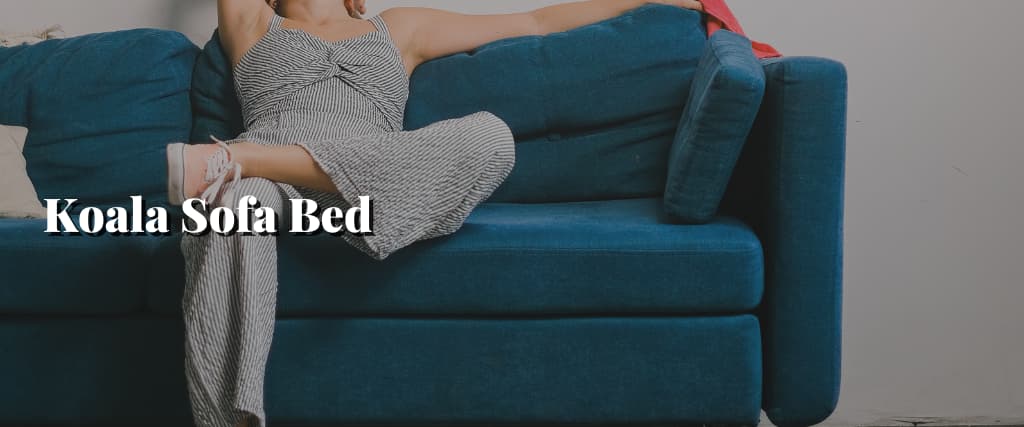 5. Koala Sofa Bed 
Retail price: ranging from $1,249 to $1,699.
Australia is home to some of the world's most excellent pull-out couches, and the Koala bed is right at the top of the list for both style and comfort.
The couch bed's structure is manufactured from poplar plywood, and the cushions are filled with CertiPUR-US-certified foam wrapped in polyester wadding. The bed may be dragged out and placed back into a comfortable chair in only four seconds, and neither steel nor loud mechanics are required.
It's an excellent purchase for the price. The Queen sized sofa bed is offered at a fair price of $1,799, with a five-year guarantee, 120-night trial, and free returns. When you buy the unique Koala bed and your other furniture, the firm covers the shipping costs for both items.
PROS:
Comfy & stylish
Quiet & stress-free conversion
Available in 4 low-key pastel colours
CONS:
Cushions might sink around the edges in time
Specs
Sofa size: 83.5x 205.5 x101cm
Bed dimensions: Queen, Double, and Single
Cover: Mixture of polyester and nylon (88% and 12%, respectively)
Return policy: 120-nights
Warranty: 5-year
Delivery fee: $75-$350 for furniture only (free with mattress)
Frame material: MDF and Poplar plywood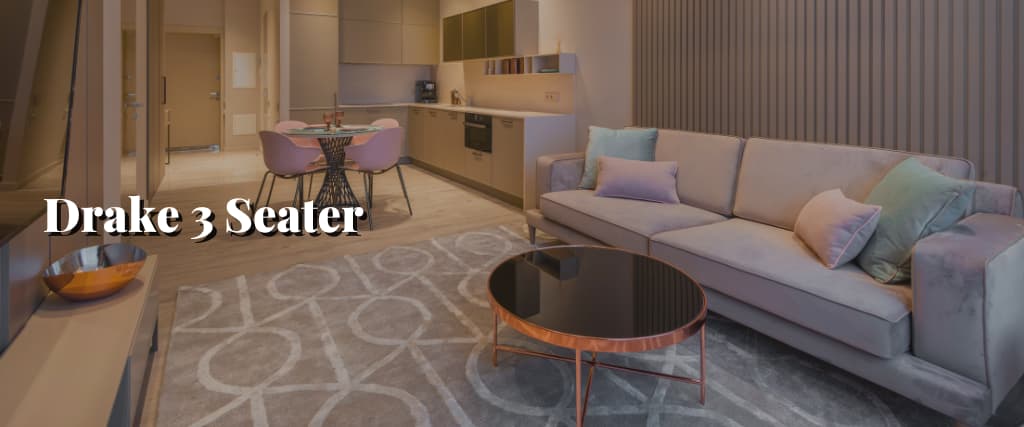 6. Drake 3 Seater  
Retail Price: $999
This excellent piece of furniture is the answer to the problem of a need for more options in couch bed materials and styles.
The Drake is a three-seater sofa that can be outfitted in your choice of over fifty distinct fabrics and textures to suit your every whim in terms of style and comfort. This couch bed comes in various colours and materials, from neutral tones to a cozy tweed weave.
Moreover, the sofa quickly converts into a double spring bed, widely regarded as providing the ideal balance of softness and firmness.
Additionally, the Drake offers superb cost-effectiveness. You may return the couch for free within 30 days if you aren't happy with it, and the guarantee lasts for six years.
PROS:
Created in Australia
Folds into a mattress.
Six-year warranty extension
CONS:
The folding process may first feel rigid
Specs
Sofa size: 193 by 86 by 90cm
Bed dimension: Double-sized
Cover: Pure polyester
Return policy: 30 days
Warranty: six-year
Delivery fee: From $59
Frame material: solid wood, plywood, and metal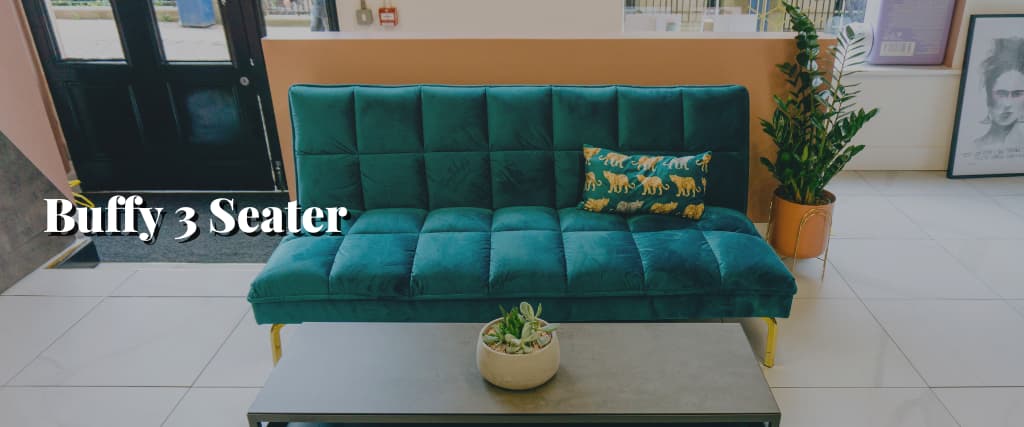 7. Buffy 3 Seater  
Retail price: $494.95
Buffy sofa bed doubles as a recliner chair and a plush bed. It goes for less than $600.
This model's flexible design makes it simple to change into several positions. Moreover, its headrest can fold, and the backrest reclines or transforms into a bed. You may modify the whole bed or the middle portion to your favourite settings to give you far more alternatives.
This sofa can be useful to you whether you plan to relax on lazy weekend afternoons, give your visitors a cozy sleeping surface, or enjoy a cat nap.
Additionally, those seeking both comfort and style won't be let down. This couch bed is as stylish as it is comfortable. It is made of pure silky velvet and features tufted upholstery and robust rubber wood legs.
PROS:
Intense cushioning
It's quite flexible and may assume several different shapes
Cost-free three-day shipment
CONS:
Specs
Sofa size: 190 by 86 by 89 cm
Bed dimensions: 190 by 110 by 47 com
Cover: Pure Silky Velvet
Return policy: 14 days
Warranty: One-year
Delivery fee: Free
Frame material: Hard Plywood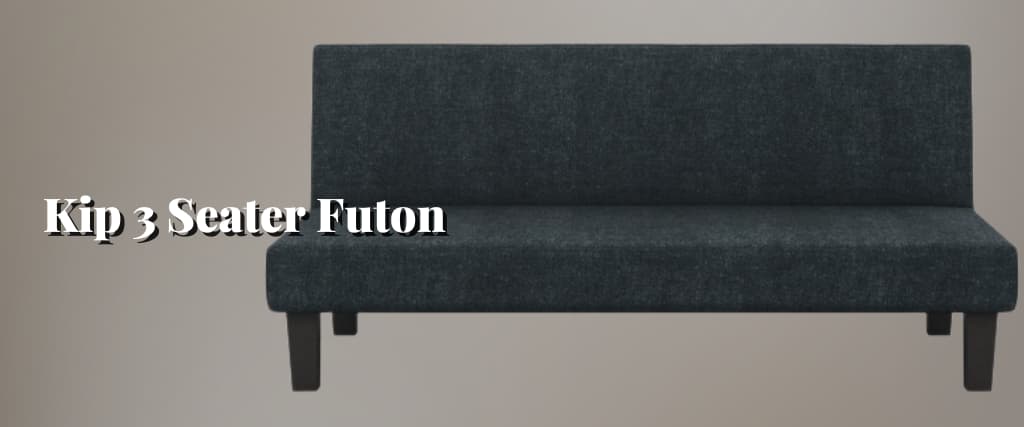 8. Kip 3 Seater Futon  
Retail Price: $299
The Futon, which costs only $299, is the most affordable option on this list of the top Australian sofa beds. Surprisingly, its cheap price doesn't necessarily compromise its qualities, making it a fantastic choice for knowledgeable buyers.
The sofa bed is eminently practical since it can quickly and easily configure your preferences using a simple click-clack system. You may use the futon bed in three ways: upright for general usage, lounging for relaxation and flattened for overnight visitors.
The Kip is compact and comes in vintage denim, making it ideal for smaller places like a cozy reading nook or a modern studio flat.
The bed isn't the comfiest piece out there, so think about alternative possibilities if you desire a sofa bed that you can rest on every night.
PROS:
Changes to three positions
30-day refund policy
No assembly needed
CONS:
The bed doesn't feel comfortable
Specs
Sofa size: 175 by 87 by 78cm
Bed dimensions: 175 by 164 by 78cm
Cover: Polyester
Return policy: 30-day
Warranty: Three-year
Delivery fee: from $59
Frame material: Metal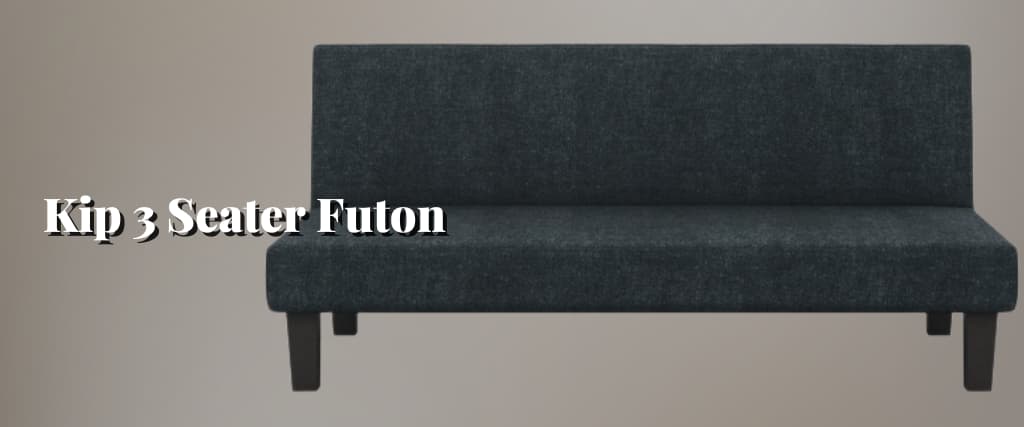 9. Nikko 3-Seater Fabric  
Retail Price: $497.10 – $523.23
This sofa from E-Living Furniture is among the best three-seater lounge chairs out there right now.
This sofa bed has enough room for three adults, yet it's not too big, so it can still fit in your small space.
The sofa bed is an excellent addition to any home because it has sharp lines, contemporary clicks, and sturdy elastomeric feet. Furthermore, it comes in a wide range of colours, from a neutral grey to a deep blue, ensuring that even the choicest shopper can find something they like.
This furniture has high-density covering in the cushions, chair, and arms and a strong wooden frame. With just a few simple moves, it can be turned into a leaning-back sofa or an alluring single bed, offering your visitors a comfortable position, sitting room, or sleep.
PROS:
Durable design
Small and stylish
Low-cost
CONS:
Perhaps the backrest's height is a little too low
Specs
Sofa size: 197 by 76 by 81 cm
Bed dimensions: 170 by 76 by 81 cm
Cover: Mixture of Linen and Polyester (50-50)
Return policy: 14 days
Warranty: one-year
Delivery fee: Free
Frame material: Eucalyptus Wood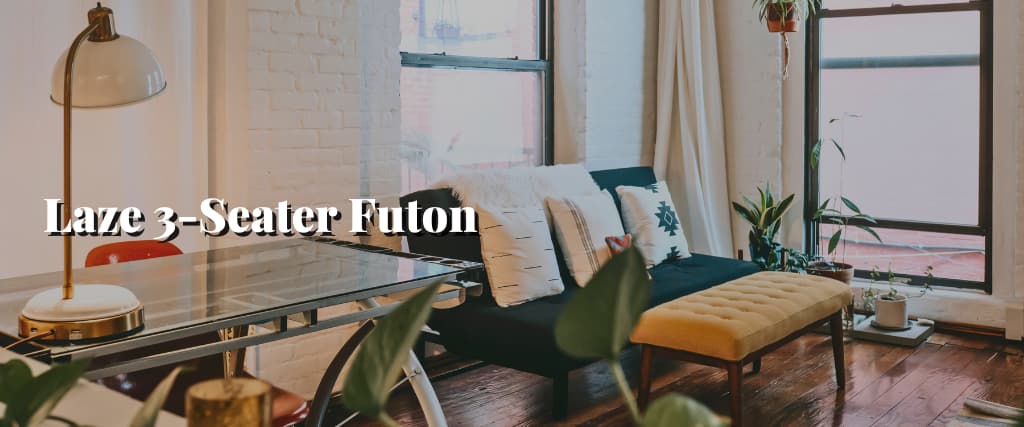 10. Laze 3-Seater Futon  
Retail Price: $499
This bed is the best option if you want the right balance of comfort, design, and usefulness.
The futon fits into any area, whether the sitting room or a second room, due to its lightweight wood frame, basic stone-grey coverings, and uncomplicated design. The tufted material offers a touch of refinement you won't typically find in inexpensive internet furniture.
Additionally, it has a straightforward three-click folding system that allows you to change it from a beautiful lounge to a super-comfy double mattress in a matter of seconds.
The expense of the guarantee is the only drawback. However, because this futon is less expensive than other 3-seaters, it's simple to fit the additional cost into your budget and take advantage of the piece of mind provided by a 3-year company's guarantee.
PROS:
Padded upper layer
Easy to set up
30-day return policy
CONS:
Specs
Sofa size: 188 by 89 by 89 cm
Bed dimension: 188 by 140 by 89 cm
Cover: Pure polyester
Return period: 30-night
Warranty: Three-warranty (for an additional $60)
Delivery fee: From $59
Frame material: Solid timber
Best Buying Tips for Sofa Bed
Now that you know the best sofa beds in Australia, it's time to understand the factors you need to consider when shopping for a sofa bed that will suit you best.
1. The Space It'd Require
Think about how much room you have before you go out and buy a couch bed. You will need a compact, smaller sofa bed if you live in a studio or one-bedroom apartment. Your best pick is a two-seater that is spacious enough to accommodate two people sitting or one person sleeping comfortably.
If you have a designated space for guests or a play area for your children, consider purchasing a sofa bed that is more robust and offers more space.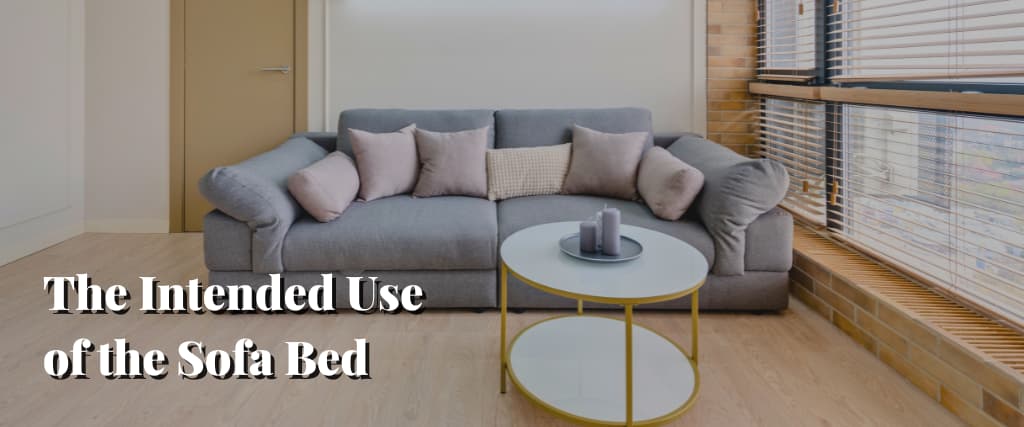 2. The Intended Use of the Sofa Bed
If you want to use the sofa for lounging throughout the day, consider purchasing a one- or two-seat model. On the other hand, convenience should be your first consideration if you plan to lay on it nightly or if you plan to have visitors over in the near future.
Try to get a couch with a generous amount of cushioning and top-notch foam cushions that will contour to the shape of your body while offering support.
3. Trial-Period Policy
When you order a bed, a mattress or the finest bed coverings, one of the most important things you should consider is whether they give you time to try out their product. However, most online stores don't offer a trial period to their buyers.
Fortunately, you can test out sofa beds without taking risks by taking advantage of the trial periods offered by most stores and producers. The longer the duration of the sleep test, the more time you will have to consider all your options.
Also, by reading the firm's return policy, determine whether you can get a full or partial refund.
4. Warranty Terms
In Australia, a standard fold-out sofa, be it a queen-size or a single-size bed, comes with a guarantee that lasts anywhere from one to three years. The policy often covers flaws in the construction and materials. Some even preserve the goods against the typical deterioration that occurs over time.
Before you make your purchase, it is essential to read the guarantee in great detail to determine precisely what your couch is insured for and the time length.
5. Its ease to Convert
Shifting the couch into a bed and vice versa should be simple and quick.
The most basic design is a click-clack system, which enables the couch to convert from an upright posture into a flat-lying space by simply bending the couch's back till it clicks. This type is ideal for people who want a sofa that can serve several purposes.
You could also go with a stacked design (in which the seat cushion unwinds into a napping surface) or choose the pull-out design, which is the most common. With this design, the mattress is installed under the couch cushion, and the bed is assembled by pulling the mattress out from underneath the couch cushion.
6. The Cost
Prices for Australia's most popular sofa beds range from $400 to $700, with some models reaching as expensive as $1,700. Create a spending limit for your acquisition, and then restrict your search to goods that fall inside that price bracket. If you want a better price on the sofa you've picked, it's in your best interest to wait until seasonal or holiday promotions.
Additional Considerations
Find a couch bed whose coverings complement your existing furnishings and aesthetic preferences and are also low maintenance. For example, leather wraps are the simplest to keep (a wet towel is required). On the other hand, cloth coverings are more ventilated but more challenging to clean.
If you suffer from back pain, consider investing in a couch bed with a more substantial foam mattress.
Search for a couch that has a solid frame and feet made of rubber, steel, or wood. Such sofas will likely last longer and be sturdy.
Ready to Lounge?
Home décor aficionados constantly search for the perfect furniture pieces. This guide has come up with some fantastic sofa bed possibilities for you. Also, these modern couch beds bear little resemblance to the spooky ones of yesteryear.
Sofa beds have developed greatly throughout the years. The metal in the previous designs made annoying noises and creek, which were unpleasant to wear. After sleeping on one, you probably needed some serious spine massage from a physiotherapist.
This was not endearing.
These few handpicked models from the best furniture brands in Australia will ensure your investment is worthwhile. Besides their obvious aesthetic effects, the sofa beds in this list are very practical and will serve you for years.
Frequently Asked Questions
1. Are couch beds cozy?
Yes. However, the sofa beds will never match the comfort level offered by the best mattresses in stores. Nevertheless, they can deliver an adequate sleeping area, but you've to choose the most appropriate model for your circumstances.
2. What is the max weight a couch bed can hold?
This varies depending on the type and the structure; a standard couch should support a weight of up to 150 kg per user.
3. How often should I clean my sofa bed?
You should clean your sofa bed at least once a year. But if you have kids, pets, or regular sleepover visitors, you should thoroughly clean your couch bed four to five times a year. You should remove specks on the cushion with a mild spot cleaning and wash the covers regularly to maintain their cleanliness and freshness.
4. How long does a couch bed last?
A well-maintained sofa bed should have a lifespan of around ten years. On the other hand, this is dependent on the components of the structure as well as the level of usage.
5. Which is the top sofa bed for daily use?
You have several excellent choices regarding suitable couches for everyday use; nevertheless, the decision is yours. Check that the sofa bed will fit in your area and simply transform it into a bed.
6. Can you sleep on a sofa bed every night?
Couch beds are convenient for the occasional sleepover, but you should only use them occasionally. To get the most out of your sleep, it's recommended that you invest in a top-quality bed and a mattress that works for your preferred sleeping position and body type.
Was this article helpful?