As a quality-conscious consumer, you care about the quality of your bed sheets. You want to feel comfortable and ensure that you have a good night's sleep. And with a myriad of choices out there, it can be hard to know which ones are best for you.
There are a lot of factors to consider when buying bed sheets. These include the material, the thread count, the kind of weave, and the type of pattern or print you prefer. It isn't easy to decide between so many options available today. However, we've listed the best bed sheets in Australia to help you make a better decision.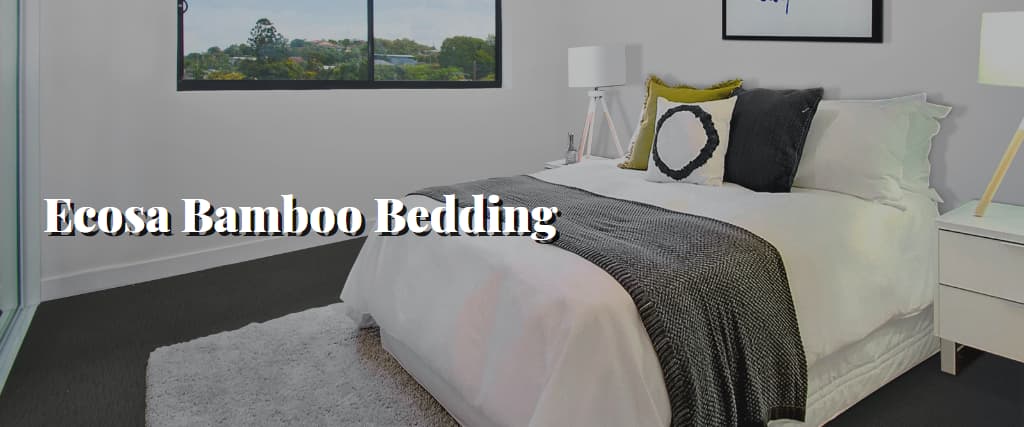 1. Ecosa Bamboo Bedding
At this price point, you can't expect all-natural, soft, comfortable bedding, and yet, Ecosa has outdone everyone. Their bamboo bed sheets are soft, durable, and breathable. They feature 100% organic bamboo fibres that feel soft and smooth on your skin.
Even though the Ecosa bedding isn't particularly thick, it has a whopping 400 thread count, which makes it incredibly comfortable. You'll be able to get a comfortable and cool sleep throughout the night. The Ecosa organic bamboo bedding comes in a variety of sizes and colours, making it easy to find a set that suits your preferences and style.
Furthermore, the Ecosa bamboo sheets aren't treated with any chemicals or dyes – they're hypoallergenic and antibacterial, thanks to their bamboo fibre.
The organic bamboo sheets are also resistant to stains and odours, so you don't have to worry about them smelling. Although you can wash the sheets, you cannot use bleach on them because they're all-natural fibre – only cold wash is recommended.
The sheets are available in 11 colours and come in all standard sizes. Furthermore, they have tags sewn into them that tell you which side is which – quite helpful when making your bed. Lastly, there's a 45-day warranty, so if you don't like the sheets, you can easily return them in this window!
100% organic bamboo fibres for soft, durable, breathable sheets
400 thread count for a super-comfortable sleep
hypoallergenic, antibacterial, and stain resistant
It comes in 11 beautiful colours
Tag is sewn into the sheet indicating which side is which
45-day warranty, so if you don't like the sheet, you can return it easily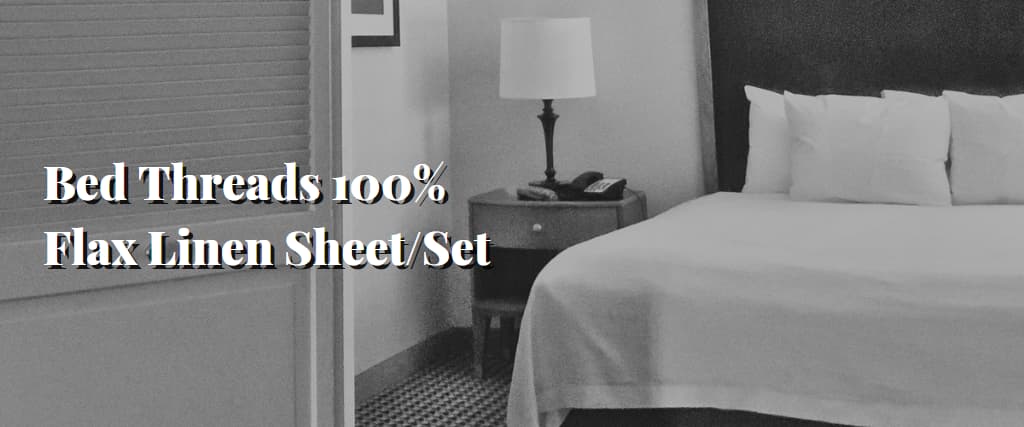 2. Bed Threads 100% Flax Linen Sheet/Set
Bed Threads' 100% flax linen sheets are designed to be the perfect choice for your bedding needs. We love the fact that they come in a variety of colours (16 choices) and are made from a breathable material. Flax is a plant fibre that can be harvested from the stem of the flax plant and is known to be naturally breathable, soft against the skin and moisture absorbent. Moreover, the fact that this bedding is also OEKO-TEX® certified (so, no nasty chemicals) makes it even more appealing.
Bed Threads offers a collection of bedding essentials that features 1 flat sheet, 1 fitted sheet, 2 pillowcases, and a storage sack, while you can also buy the fitted sheet and flat sheet separately. Both types of bed sheets come in a range of colours to complement any style.
The flat sheet and storage sack are generously sized (in terms of width and length) and are designed to be extra soft and comfortable. Since these are pre-washed, they make it easy to transition to the summer without rewashing the entire bedding set. On the other hand, the fitted sheet is smaller in size and perfect for those who like to sleep on a little tightly wrapped bed without compromising the softness of the surface.
If you're looking for a luxurious and indulgent bedding experience that's also affordable, then the Bed Threads flax linen bedding collection is definitely for you. They also have a 14-day return policy.
Made from 100% certified organic flax fibre
OEKO-TEX® certification makes it eco-friendly
Soft, breathable, and moisture absorbent
It comes with a sack for easy storage
available in a whopping 16 colour options
comes with a 14-day return policy
3. Koala Sheets
If you're searching for the overall best value, the Koala Sheets could be a great option. The bed sheets come in 9 colours and three sizes (king, queen, and double), and all feature an Aussie-inspired design. The set includes 2 pillowcases, a flat sheet, and a fitted sheet. It's not a lot of product, but what it does have is quality.
Made from sustainably sourced TENCEL™ lyocell fibres blend, these flat sheets are soft, durable, and easy to care for, with an anti-microbial finish that prevents bacteria growth. The process Koala uses to create TENCEL™ is incredibly eco-friendly, which has also earned the company several awards for low environmental impact. Because of this, the fabric gets higher absorbency than cotton, cooling than linen and softness than silk.
The fibres are sourced from the eucalyptus plant, so there's no fuss about counting the threads like bamboo. All we know is that these sheets are made with a twill weave, which adds weight to them. If you're looking for a bedding set that's also eco-friendly, then these are the best on the market. Koala offers a 120-night sleep trial, which means you can test these sheets and pillowcases without any risk. If you decide to keep them, you have a one-year warranty as well.
Made using TENCEL Lyocell fibres
Anti-microbial finish
The brand leverages the best eco-friendly practices
Higher moisture absorbency and cooling
120-night sleep trial and 1-year warranty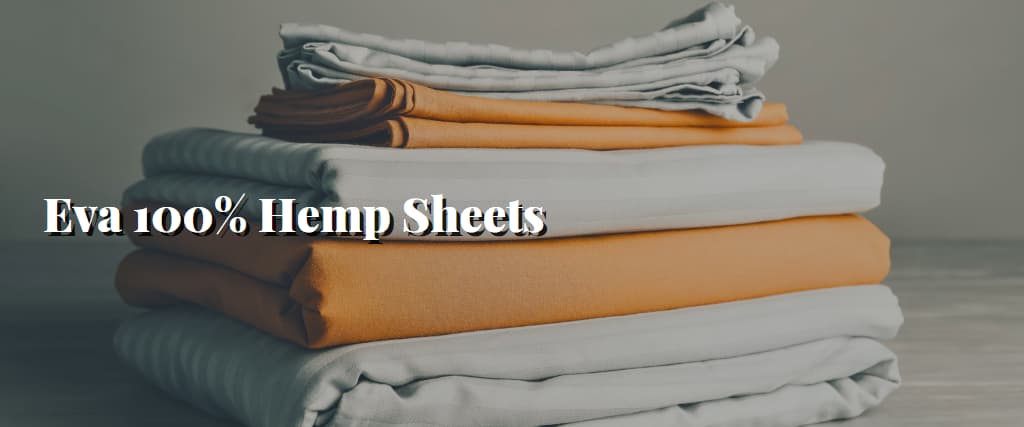 4. Eva 100% Hemp Sheets
This is one of the best bedding options in terms of comfort and durability. The 100% hemp sheets are soft and luxurious, but they're also resistant to moisture, heat, and dirt. Moreover, Eva Hemp Linen is the perfect choice for minimising carbon footprint while maintaining comfort.
Hemp is naturally antibacterial, anti-fungal, and hypoallergenic, so you can sleep in peace without worrying about irritating your skin. It also features a breathable surface that traps air and keeps you cool while sleeping. We think it's the perfect solution for those who want to sleep on a clean and green bed.
Moreover, this premium quality hemp linen has a nice weight and is soft to the touch. It's also breathable, so you won't be waking up drenched in sweat. Unlike many other bedsheets, these hemp sheets are easy to wash and maintain, thanks to their natural fibre content.
The hemp linen comes in 3 sizes and 6 natural inspired colours that'll go well with any kind of decor. The set includes 2 pillow covers, a flat sheet, and a fitted sheet, which is pretty standard with most sheets we've reviewed here.
These sheets have 165grams per sqft weave that adds to their breathability, strength, moisture-wicking, and comfort. We also loved the zip and go feature. Once zipped up, you can rest assured that your bedding won't move around as you sleep. Lastly, you get a 120-night sleep trial and a whopping 1-year warranty afterwards.
Made with TENCEL™ lyocell fibres
An anti-microbial finish keeps bacteria at bay
Soft, durable, and eco-friendly
Highly durable 165gm/sqft weaving
Available in 9 colours and 3 sizes
120-night sleep trial and a 1-year warranty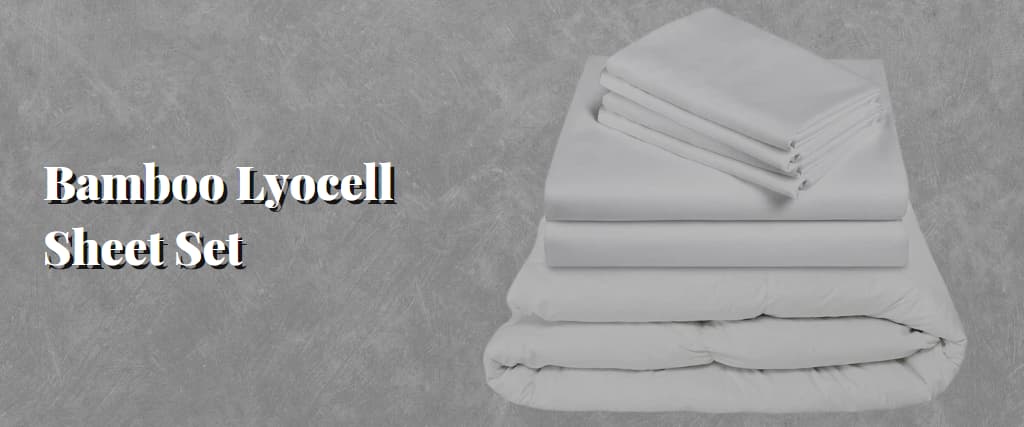 5. Bamboo Lyocell Sheet Set
This Bamboo Lyocell Sheet Set is one of our favourite bamboo sheets. We love how soft and silky it feels against your skin, and even though it's a 300 thread count, Ettitude compares its silken feel to that of a 1,000 thread count sheet. The best feature of this sheet is unequivocally its breathability, making it the best for those hot and humid Aussie summers.
Furthermore, the Ettitude Bamboo Lyocell sheet set features Oeko-Tex® Standard certification, which means it doesn't contain any harmful substances such as formaldehyde, phthalates, lead, dioxins or cadmium, so it's safe to use.
This Lyocell sheet set is also hypoallergenic, and since it's a natural fibre, you will have to wash it using a gentle detergent in cold water. It comes with a fitted sheet, flat sheet, and 2x pillowcases.
The sheet also features 11 vibrant colour options and is available in six sizes. You also get a risk-free 30-night trial.
Perfect for hot Aussie summer nights
Oeko-Tex® Standard certification
Anti-microbial and resistant to mould and mildew
300 thread count with an incredibly silky and soft feel
6 sizes and 11 vibrant colours to choose from
Risk-free 30-night trial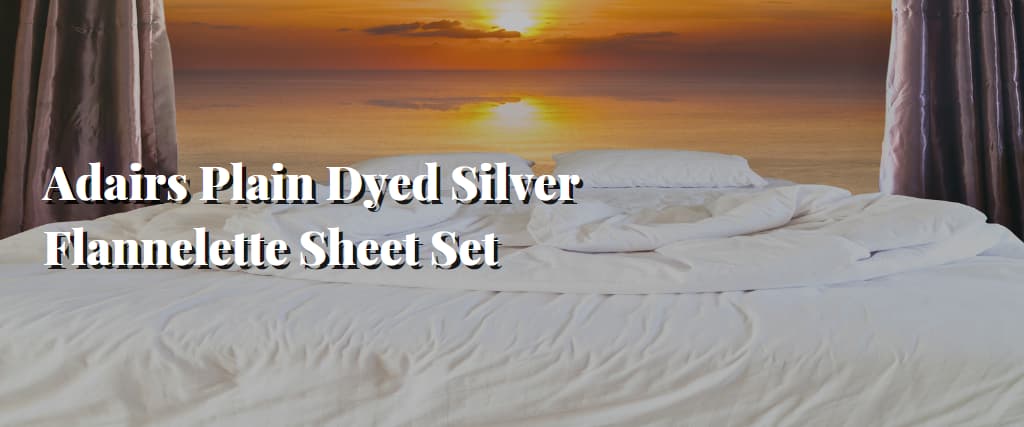 6. Adairs Plain Dyed Silver Flannelette Sheet Set
The Adair Plain Dyed Silver Flannelette Sheet Set is a nice upgrade from your old cotton sheets and comforter set. We love the sheet set for its cosy feel and easy to use quality. This flannel is made from 100% cotton and offers a flat texture that feels comforting and soft while acting as a great insulator. This makes it a great value-for-money, especially if you're looking to create a nice cosy winter sleep experience.
The Adairs Plain Dyed Flannelette Sheet Set features five colour options, all of which are solid on both sides, which is pretty rare for sheet sets. This means you can just throw it on and go. Plus, you won't need to bother picking out a matching pillowcase since the flannelette sheets come with a standard pillowcase. The fabric feels soft and comfortable to the touch, and it's fairly thick, which makes it ideal for providing you with warmth during cold nights.
These sheets are a good value option for those who want to save on bedding while also looking for an eco-friendly option. You get a set of 3 cotton bedding items – fitted sheet, flat sheet, and standard pillowcase. All of them come in a set of 5 sizes and 5 colour options. You also get a 60-day return policy in case you don't like them.
Excellent insulating properties – perfect for winters
Made from 100% cotton
Flat fabric texture that's soft and comfy
Available in five colours and five sizes
It comes with a 60-day return policy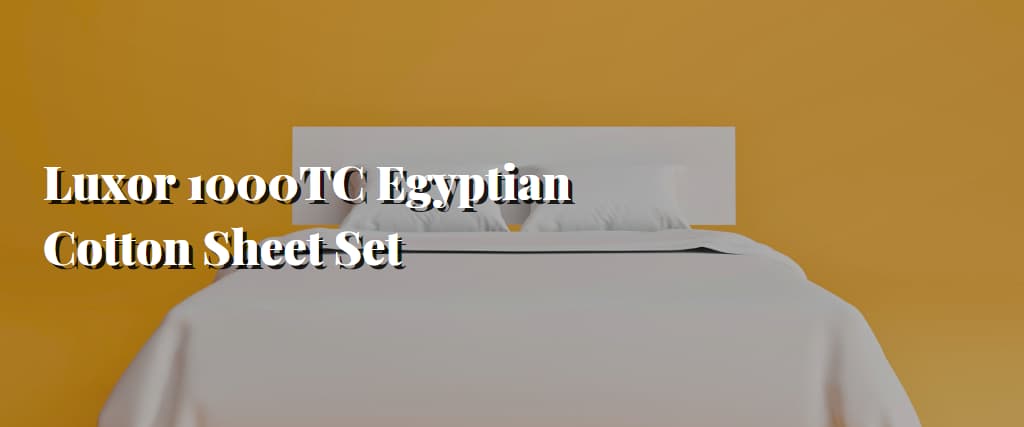 7. Luxor 1000TC Egyptian Cotton Sheet Set
It's amazing how much a good bed can change a room. A lot of people have their own special preferences when it comes to their bedroom, and the Luxor Egyptian cotton bedding is sure to create a distinctive look for your home. They're an Australian-based company that was started with the sale of luxury bed linen and has since expanded to include bedding accessories, pillowcases, duvets, and sheets – all made from 100% Egyptian cotton.
Their 1000 thread count Egyptian cotton bed sheet set comes in five sizes and 11 beautiful colours ranging from crisp white to soft aquamarine and pink. It also includes a fitted sheet, flat sheet, and pillowcases. This set also features Luxor's unique 'soft-touch' technology. This means the bedsheet is made from a high-quality sateen material that's soft to the touch and gives the sheets a subtle sheen.
The fabric is very breathable, so it won't cause you to feel hot while sleeping. The extra-deep fitted sheet, beautifully crafted flat sheet and pillowcases will make it a unique sleeping experience that feels like a luxurious blanket on your skin. The 1000TC Egyptian cotton sheets are also easy to wash and have hypoallergenic properties, making them excellent for people with allergies or sensitivities.
In terms of style, these sheets will certainly stand out from the crowd. With their rich, smooth, and silky texture, they will bring a touch of class to your room. Their stylish design will also complement any decorative motif that you choose for your home. Luxor Egyptian cotton bedding is easy to care for, as it can be machine washed in warm water.
Thanks to its 100% Egyptian cotton, you can also rest assured that these sheets won't shrink or feel scratchy against your skin. You also get a trial for 30 days in case you change your mind.
Made from 100% Egyptian cotton
Easy care fabric
Hypoallergenic properties keep morning allergies away
Soft-touch technology enhances
30-day return policy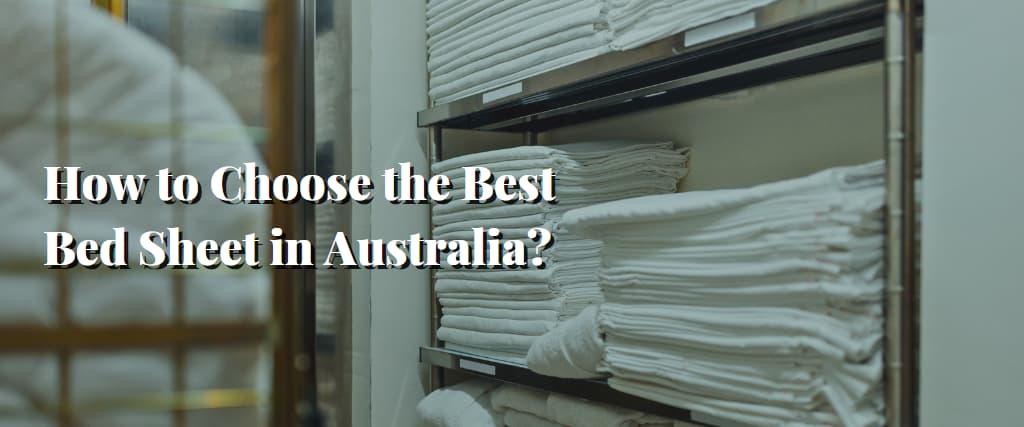 How to Choose the Best Bed Sheet in Australia?
With a myriad of choices in the market, it is imperative that you know what you need in bedding. Brands will throw a lot of jargon at you, try to talk in 'technical' terms and give a fancy name to useless things. So to ensure you get a bang for your Aussie bucks, here are a few things you need to consider to pick the best Australian bed sheet:
Material:
The weave method of the fabric ultimately decides how the sheet will feel against your skin. Since you may not know which material has which kind of feel, here's a list of the most common weave methods and their effects:
Sateen weave offers a slippery, silk-like feel and has a glossier finish
Percale has a smooth feel and a matte finish
Twill weave is similar to the jeans weave but a lot softer than that. It is a little heavier than Percale and Sateen and will drape over your body
Thread Count:
A sheet's most generally used metric for quality is perhaps the thread count. The general rule is that the higher it is, the more durable it is going to be.
Although it is a good way to check the sheet's quality, having a higher thread count doesn't guarantee a premium product. Still, anything between 280 and 400 threads is typically a good choice.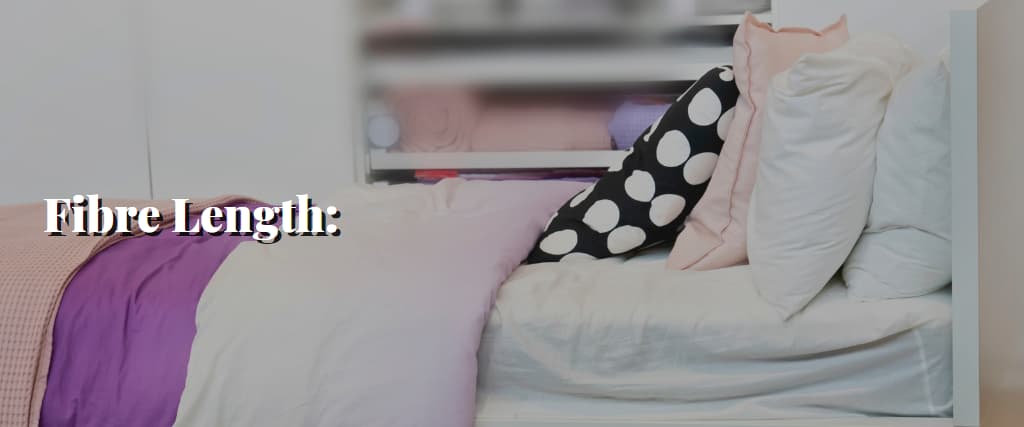 Fibre Length:
One of the most reliable methods to determine a sheet's quality is the length of its woven fibres. The longer fibres a sheet has, the more durable and smoother its fabric will be. Longer fibre sheets last longer and offer a better feel against the skin.
This is a better way to judge the quality and durability of a sheet than the thread count; you can take Egyptian cotton as an example, which is popular because of its long fibres.
Size:
Although this may seem pretty obvious, we still want to mention it here because even if you get a size according to your bed's dimensions, it may shrink down after a few washes.
So be sure to get a fitted sheet with a deep pocket or if you're getting a flat sheet, get the one with extra material.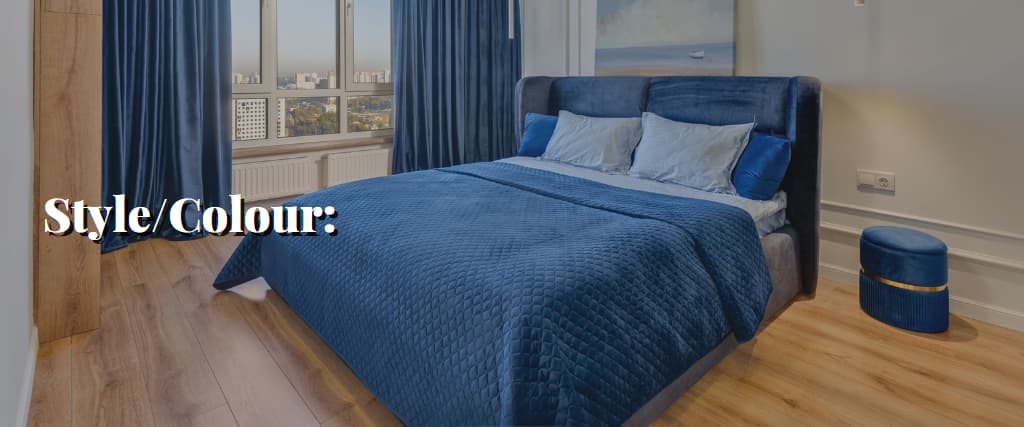 Style/Colour:
The appearance of your bed sheet is also vital for a good night's sleep – appealing visuals help you relax quickly! So be sure to match your sheet's colour with the overall décor and colour scheme of your room.
Grey, blue, green, purple, silver and other neutrals are cool colours that'll help you drift to a peaceful slumber quicker. However, try to get the sheets in plain colours; bright colours and too many patterns may not go well with the décor or your brain's ability to concentrate on sleep.
Trial/Return and Warranties:
Most bedding brands offer some trial period to ensure their customers can first check the product before deciding if it's something they want. Then there are also warranties that protect you in case the product has a defect or goes bad after a short time.
To ensure you don't receive any nasty surprises down the road, be sure to read the warranty and return policies of the company before purchasing bed sheets from them.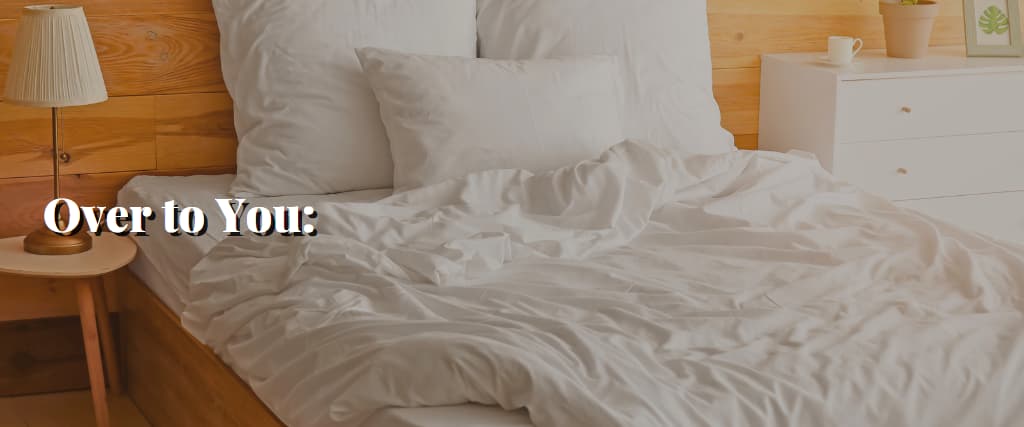 Over to You:
Australia is widely known for its beautiful weather and warm climate, which has made it an ideal place to live. But, as you can imagine, this doesn't mean that the country's inhabitants aren't exposed to harsh conditions during the peaks of every season. This includes heatwaves, intense rainfall and even dust storms. That's why Australian bed sheets must be able to withstand all of these challenges in order to keep you comfortable at night.
It is also important that the sheets are durable enough to protect your skin from allergens like dust mites and harmful bacteria. The best bed sheets in Australia listed above are guaranteed to provide you with optimal comfort during your sleep time! Let us know which bed sheet brand you like the most.
Was this article helpful?