Selecting the best mattress in a box in 2021 in Australia is the biggest challenge most buyers have. And with various options available in the market today, choosing the best can be downright frustrating. In this post, we'll look at the 12 best mattresses in a box, but before that, let's define what a mattress in a box is, shall we?
What's A Mattress In A Box?
A mattress in a box refers to a compressed (rolled or folded) mattress to fit a box into a box using heavy machinery. The compression (the rolling or folding) reduces the overall cost of storage and transportation.
Mattresses in boxes can be easily ordered online and delivered to your house in a few days. And once you've unpacked your mattress, it will inflate and feel like any other mattress.
Contrary to what most people believe, innerspring mattresses are one of the most common mattresses in a box in Australia—accounting for about 54 percent. Full foam mattresses account for 43 percent, while 100% latex mattresses also account for 3 percent.
These mattresses, sometimes known as bed in a box product, have dramatically revolutionised how Australians shop for mattresses. Mattresses in boxes have grown in popularity in Australia, resulting in an overwhelming number of options in the Aussie market.
Why are Mattresses in a Box So Popular?
There is no substantial reason why the mattress in a box has exploded in Australia. These unique mattresses are reasonably priced, shipped for free, and some shops even offer same-day delivery.
The free trial period is one of the main reasons why most people are obsessed with this mattress. The free trial means you'll be able to inspect the mattress and get a full refund if you don't like it.
In other words, the free trial allows you to test the mattress before you buy, with an unusual trial duration of 100 nights—about three months.
Who is Sleep Education ?
Sleep Education is the largest sleep and bedding shop in Australia. Their team of experts are health and sleep experts who put mattresses to the test in real life.
Furthermore, Sleep Educationprofessionals are familiar with clinical patient care and mattress evaluation. That means that over 1500 mattresses have been examined by Sleep Education, including the over 150 beds in box brands.
So, what are the best mattress in a box choices available? Following a rigorous testing process, below are the 12 best mattresses in a box you need to go for in 2021:
12 Best Mattress in a Box in Australia
It's usually a daunting process reviewing mattresses, especially when there are various types in the market. Despite this, we felt confident in naming the Emma Mattress as one of the best Australia's mattresses in a box.  

Key positive points –
Top Spot mattress by Choice Australia
Great Reputation for customer service.
Great affordable mattress option.
Core layers that adapt to the body,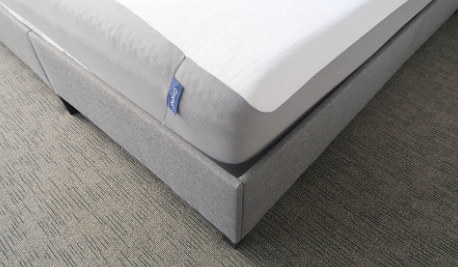 2. Eva Mattress—Best Bang for Buck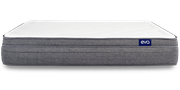 It's obvious why the Eva Mattress has become one of Australia's most popular bed in a box product. It's a fantastic all-rounder with excellent value, and as a result, we decided to name it as one of Australia's Best Bang for Buck Mattress in a box.
The Eva Mattress includes a 5-zone pocket spring design that is extremely durable. Memory foam, latex, and high-density foam are layered on top. Furthermore, the Eva mattress has a good blend of comfort and support, and it can hold up to 400kg—making it suitable for persons of all sizes.
The Eva Mattress is an excellent investment because it has a 120 night trial period and a 12 year added warranty. This means that you can try your mattress for the mentioned period and ask for a full refund if you don't like the mattress.
3. Macoda Mattress—Best Comfort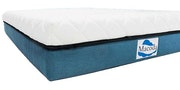 Macoda Mattress became one of Australia's best comfort mattresses in 2021. This mattress has a medium plush feel, with a level of comfort that is hard to resist. Softer feeling beds in a box choices are hard to come by, which is excellent for individuals who want a more apparent feel.
The top cover of the Macoda Mattress is made of a special bamboo fabric that feels divine. This cover rests on layers of natural latex and gel memory foam—creating a plush and comfortable sleeping surface. The Macoda mattress also boasts a 'customisable' construction which allows you to swap both the latex and memory foam layers to get the firmness you want.
The 5-zone pocket spring technology in this mattress provides excellent support. This spring unit offers excellent back support and a good amount of responsiveness to regular sleeping movements. But that's not all—the Macoda mattress also comes with a 100-night free trial and a ten-year warranty.
4. Noa Luxe Mattress—Best for Back Support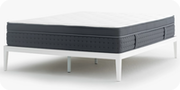 The Noa Luxe Mattress is the top of the line model in Noa's famous mattress line, including the Noa Lite and Noa Mattress. In 2021, our expert review panel named the Noa Luxe mattress as Australia's "Best Back Support" Mattress in a box and for many reasons.
A refined comfort layer provides smooth pressure alleviation in the Noa Luxe. Memory foam, 'bamboo charcoal' infused latex, and a layer of micro coils make up this layer. Not only do these coils make aid in body contouring, but they also improve airflow and ventilation.
The 5 zone pocket spring technology in this mattress provides a strong support structure. This spring unit offers excellent back support and should be suitable for people of all sizes. Finally, the Noa Luxe Mattress comes with a 100-night free trial and a 15-year warranty.
5. Sleeping Duck Mattress—Best for Couples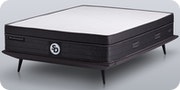 The Sleeping Duck Mattress is undoubtedly Australia's most well-known mattress in a box. It features a high level of personalisation and minimal partner disruption, making it suitable for couples.
This mattress' foam layers can be adjusted, allowing you to achieve your optimal firmness level. If you and your spouse have different preferences, you can adjust the firmness on each side of the mattress and in various body parts(if you require different levels of support in other areas).
The Sleeping Duck Mattress is nicely built and features a multi-zone pocket spring system that should be adequate for most people. This mattress can be delivered anywhere in Australia and comes with a 100% night trial period and a 10-year warranty.
6. Naptime 2.0 Mattress—Best Hybrid
The Naptime 2.0 Mattress is the flagship model in the Naptime collection, including the best selling Naptime mattress. The Naptime 2.0 Mattress is an actual hybrid mattress, combining foam layers and a spring system into a single unit (without a distinguishable pillowcase).
The Naptime 2.0 Mattress is a hybrid mattress that combines the best of both worlds (foams and springs), and it does it beautifully. It has a great medium weight to it and a lovely balance of comfort and support.
This mattress also has a comfort layer made of memory foam, and 100% latex layer and a 5 zone pocket spring mechanism. And finally, the Naptime 2.0 Mattress is a great value and comes with a 30 day night free trial.
7. Sleep Firm Mattress—Best Firm Feel
The Sleep Firm Mattress is our top option in the online mattress market for those who enjoy an unmistakably firm sensation. It is made in Australia and provides excellent back support.
An adaptive fabric, QUiltec foam, and Sleep firm's patented "Boomerang" make up the top cover of this mattress. Despite being stiff, these comfort layers provide excellent pressure relief, ensuring that the mattress does not become too firm.
The Sleep Firms 'S+Pro' 5 zone pocket spring system sits beneath this comfort layer. This spring unit has a high spring count of 1,092 (queen-size), significantly higher than the national average for pocket spring mattresses. Even more, the Sleep Firm Mattress is backed by a 15-year warranty and a 100 night trial period.
8. Peacelily Mattress—Best Organic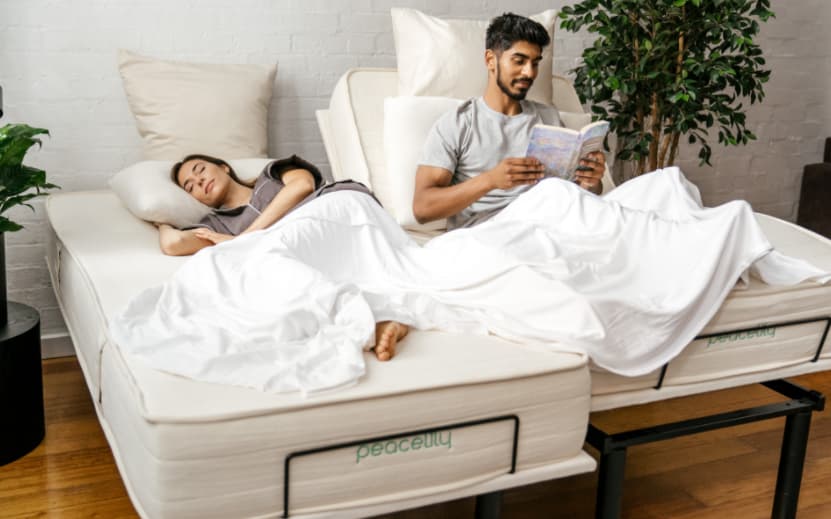 The Peacelily Mattress is made entirely of natural materials and is certified as environmentally safe and non-toxic. It won our 'Best Natural or Organic' award in the mattress category.
The Peacelily Mattress is made of 100% natural latex rubber from Sri Lanka. Additionally, the mattress cover is made of certified 100% organic cotton—comfortable and breathable. But that's not all—Peacelily merchandise is handcrafted in their fabrication facility and adheres to the highest health and quality requirements.
You can also use this Mattress in various ways. You may choose between a firm and a medium feel by just flipping the mattress over. You can purchase the Peacelily Mattress Topper separately to provide a plush (softer) mattress version.
9. Zeek Hybrid Mattress—Recommended
Another proper hybrid mattress is the Zeek Hybrid Mattress, which combines springs and foam in a single package. It is the flagship model in the Zeek Mattress line and provides a sublime level of comfort.
The Zeek Hybrid Mattress uses a cooling 'air foam' and gel-infused memory foam in its comfort layer. This is one of the most comfortable bed in a box products we've tested, and it provides seamless pressure relief. Even more, a 100-night trial period and a 10-year warranty are included.
10. Noa Mattress—Recommended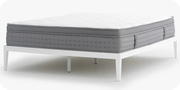 The Noa Mattress is an excellent deal in Noa Mattress collections, including the Noa Lite and the award-winning Noa Luxe.
A TENCEL fabric, premium latex, and gel-infused memory foam make up the Noa's Mattress excellent comfort layer. These comfort layers are placed on top of a supportive pocket spring system, with a 100 night trial period, and a 15-year warranty included.
11. And Sleep Luxor—Recommended
The And Sleep Luxor is part of the Sleep mattress line, including the And Sleep Aura entry-level mattress and the premium Sleep Prime mattress. The 'Luxor' has a luxurious scent and is one of the most comfortable beds in a box good we've tried.
A 100 trial period and a 10-year warranty are included with this mattress. Furthermore, this mattress is CertiPUR-US and OEKO-TEX certified; two of the world's foremost experts in foam and fabric testing have both certified it as non-toxic.
12. Optimal Support—Recommended
The Optimal Support Mattress is a good all-rounded one with great value. It comes with a 10-year warranty and is part of the renowned Mobile mattress collection.
The Gen-Knit fabric cover on the Optimal Support Mattress is effectively ventilated. This cover rests on top of a layer of Certi-PUR certified non-toxic viscoelastic memory foam.
This mattress's basic support structure is a dependable 5 zone pocket spring system. This appears to be well balanced and should work for persons of all shapes and sizes.
What to Consider When Buying Mattresses Online
When it comes to purchasing a mattress online, you must understand some of the elements involved.
1. Pricing
In Australia, the average mattress in a box costs slightly over $1000 (Queen size). As you can see from our list above, our top recommendations vary in price, but we recommend selecting a mattress based on your specific needs and tastes rather than price alone.
2. Trial Periods
As previously stated, most mattresses in a box sold in Australia come with a 30-day trial period. If you aren't happy with the mattress, you can return it and ask for a full refund. A trial period gives customers a sense of security because they can always return the product if they don't like it.
A 100-night trial period is typical for a bed in a box (just over three months). Because of COVID-19, several trial durations have changed slightly, so make sure you're aware of these changes before you buy.
3. Warranties
Almost every mattress in a box comes with a guarantee that should cover any serious flaws. A mattress in a box typically comes with a 10-year warranty, but this will vary depending on the manufacturer. Therefore, ensure that you understand what each warranty entails.
Bottom Line
It may seem strange to buy a mattress online (without testing it out), but it has become a trendy technique of bed purchasing in Australia. Hopefully, this review of the 12 best mattresses in a box will guide you to making the right purchase. If you have any questions, please feel free to let us know, and we'll try our best to get back to you.
Was this article helpful?