Let's face it; your mattress is not made to offer the same comfy, cosy, and cloud-like comfort throughout your life. At some point, it has to get saggy and lumpy, and maybe yours has already reached there. Or, maybe your mattress is fine, but you still need a little softer or firmer or cooler surface to sleep on?
Well, whatever the case is, you need a mattress topper to get exactly the surface you prefer – even if you want to feel like sleeping on a cloud. Read this detailed review guide to find out the best mattress toppers in Australia:
Most Popular Mattress Toppers in Australia
1. Peacelily – Best Wholesome Mattress Topper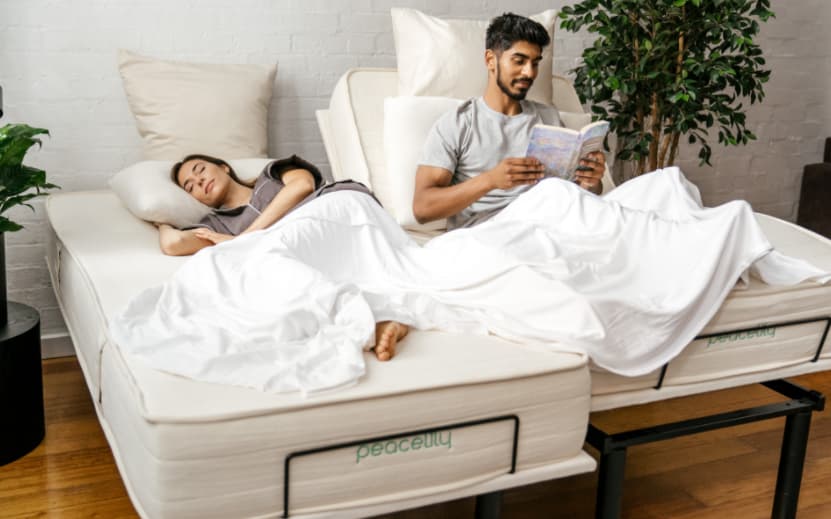 Our Top Choice award goes to the Peacelily Mattress Topper, and there are many reasons for it. Firstly, it's made of organic latex rubber; there's no synthetic stuff going on here, which speaks volumes about the manufacturer's focus on the user's comfort and health. Furthermore, it comes with 100% organic cotton wadding and fabric, and has eco-INSTITUT and OEKO-TEX certification to prove this.
In addition to the above, there are no VOCs (Volatile Organic Compounds), contaminants, pesticides, or other toxins in the Peacelily mattress topper, making it an attractive option, especially for environment-conscious consumers. On top of this, the Peacelily topper carries the personal touch of being a handmade product.
The topper has a latex-filled layer of 5cm that can be customized as per your preference. You can order the Luxury Plush variant if you're a side-sleeper or the Firm one if you like to sleep on your back or stomach. The Peacelily mattress comes in six sizes; Single, Long Single, Queen, King, Double, and King Single. The shipping is free, and you also get a 100-night trial with a promise of a full refund if you don't like it.
Some Key Specifications:
Certified for 100% organic materials
Handmade in factory
6 Sizes and 2 variants
Unbelievable comfort
100-night trial with a full-refund guarantee
10-year warranty
Price: Starts from $349 – Goes up to $529
2. MicroCloud Microfibre – Most Lavish Mattress Topper
MicroCloud is among the most popular mattress toppers among Aussies, and we are saying this because it's the preferred choice of most Australian hotels, including Ovolo's 1888 Hotel and Shangri-La hotel. Even though it's a five-star bedding, you can get your hands on it for a very affordable price.
Unlike down toppers that can usually cause allergies, MicroCloud Topper is incredibly luxurious and soft and won't trigger any allergic reactions. It is a great alternative to downs as it's filled with hypoallergenic fiber that also resists dust mites. The mattress is OEKO-TEX certified and cruelty-free.
The MicroCloud Topper has amassed great reviews from fellow Aussies on Productreview.com.au, which speaks volumes about its overall quality. It won't go flat on you even after years of use. The surface is also just the right amount of firm, ensuring you are sleeping comfortably, while also getting the right orthopaedic support.
Some Key Specifications:
Cruelty-free and OEKO-TEX certified
Filled with High-Tech hypoallergenic fiber
Offers great support and comfort – like you're sleeping on a cloud
Available in 7 sizes
Incredibly affordable price for a luxury topper
It comes with a 3-year warranty
Price: Starts from $180 – Goes up to $350
3. IKEA Tussoy – Perfect Mattress Topper for Side Sleepers
If you love sleeping on your side, you need a topper that offers a perfect blend of support and softness by evenly distributing your weight across the bed. IKEA Tussoy has just the right firmness level for encouraging alignment of the spine. With nearly 8cm in height, it's the thickest mattress topper on this list.
The topper has different cushioning foam layers that gently conform to the body, removing pressure from critical points, including shoulders and hips. The IKEA Topper is made using a blend of 36% cotton and 64% polyester. This mixture makes the mattress very practical as it can be machine washed and comes with an economical price.
Most Aussies praised the comfort level, saying it feels like laying on a cloud and how the removable cover makes washing a breeze. Although there were some complaints about the odour of the topper, we're pretty sure a few hours of airing will get rid of this problem.
Some Key Features:
8cm thick memory foam offers the right support level to the spine
Removable cover and also machine washable
Removes pressure from various body points
It comes in 4 sizes
Packed in a roll-shape, making transport easy
Price: Starts from $149 – Goes up to $299
4. OneBed – Most Preferred Memory Foam Topper
Are you a hot sleeper? Or maybe the humid Australian nights make you toss and turn till the sun rises? Thanks to its gel-infused memory foam, the OneBed mattress topper can significantly reduce your body temperatures during sleep.
It boasts a combo of cooling gel crystals and 2-inch thick Davina memory foam that offers support, alleviates back pain, and evenly distributes heat throughout the surface. The OneBed mattress comes with 5-zone ortho support that focuses on shoulders, thighs, head, lower legs, and lower back.
The bed is also perfect for sleeping with a partner as the company gives a zero-motion transfer guarantee, meaning no disturbances from your partner's movements. Although it's not the cheapest product on this list, it's the perfect topper for gel-infused foam lovers who like waking up fresh and cool.
Some Key Specifications:
2-inch thick Davina memory foam with cooling gel
5-zone ortho support conforms to the body
Zero motion transmission
125-night trial
5-sizes from Single to King
Price: Starts from $225 – Goes up to $330
5. Royal Comfort – Best Mattress Topper for Stomach Sleepers
The brand is well-known for its top-quality, lavish bedding products, including this Luxury Mattress Topper. It is meticulously made with stomach sleepers in mind and is not as thick as some toppers in this list, such as the IKEA Tussoy. With a 5cm thickness, the Royal Comfort topper perfectly confirms to the curves of your body, especially the frontal region, removing pressure as a result.
The topper is filled with hypoallergenic and breathable bamboo filling, enclosed in a 100% cotton cover. Thanks to its gusset design, the cover will perfectly hug your mattress, mitigating cover creases and shifting issues.
According to some happy Aussies, their guests slept on the Royal Comfort topper and then ended up purchasing it – yes, it's that comfortable, especially if you sleep on your stomach.
Some Key Specifications:
Medium-firm thickness
1000GSM Breathable & Hypoallergenic bamboo filling
Incredibly affordable price for a luxury topper
100% cotton cover with a gusset design
Price: Starts from $70 – Goes up to $85
6. Ovela Bamboo – Top Bamboo Cover Mattress Topper
Looking for something a little firmer to push against your pressure points? Meet the Ovela Bamboo topper that comes with a memory foam that contours and supports your body, ensuring it doesn't sink in too much. This feature especially comes in handy if your mattress has gone soft and saggy on you.
The Ovela topper is secured in a bamboo covering that's breathable, hypoallergenic, and, most importantly, wicks away moisture, ensuring heavy perspiration doesn't ruin your sleep on hot Australian nights. Furthermore, the bamboo covering works great in resisting mould and dust mites.
Ovela topper comes in various sizes ranging from Single to King, with varying prices. It is the most economical product on this list, proving that a decent and comfortable mattress topper doesn't have to break your bank. Many Aussies report feeling fresh after just one night on the Ovela topper.
Some Key Specifications:
It comes with memory foam
It has a bamboo-based cover
Hypoallergenic, and dust-mite and mould resistant
Very affordable
1-year manufacturer's warranty
Price: Starts from $54.99 – Goes up to $94.99
7. OCTAsmart by Dormeo – Best Mattress Topper for Keeping You Cool
Aussies frequently face overheating issues while sleeping due to the hot and humid regional climate. So if rising temps also hinder your peaceful night's slumber, you need to get a cooling mattress topper. We suggest checking out the OCTAsmart as they have an Ecocell-base of 0.60 inches that reduces 5°F in mattress temperature. This, coupled with the 8x more ventilation of the OCTAsmart topper, makes a world of difference in helping you sleep cool.
Besides bringing down the temps, the OCTAsmart mattress is made using viscoelastic memory foam that offers excellent spinal support and incredible overall body comfort. The last layer of the topper is called Smart Octaspring, which conforms to the lumps and cavities of your worn-out mattress, ensuring you have an even surface to lay on.
Some Key Features:
Used in 5-star luxury Australian hotels
Made of memory foam
Has Ecocell-base for lowering temperatures
Hundreds of small pockets over the cover help with air circulation
Hypoallergenic cover is easily removable
It comes in six different sizes
80-night sleep trial
Price: Starts from $240 – Goes up to $400 (prices can vary depending on the vendors)
8. Halcyon Dream – Best Mattress Topper Made of Wool
The Dream Woolen Topper by Halcyon is thinner than both memory foam and latex toppers and also differs in functions. In fact, it is more like an underlay than a topper. The main function of underlays is they are mainly used for mattress protection and temperature regulation.
Since the Halcyon is made of 100% home-grown Australian wool, it works great in wicking away the moisture and keeping the sleeper cool. The topper comes in five sizes and two kinds of fitted deep skirts. You also have the liberty to choose from dry clean and machine washable underlay.
Some Key Specifications:
100% home-grown wool
Equipped with lanolin that keeps dust-mites away
It has a 5-year warranty and 30-night trail
Free shipping across the country
Freedom to choose the wash type and skirt size
Price: Starts from $219 – Goes up to $359
9. Bambillo – Best Mattress Topper Made of Bamboo Fabric
No matter the type of bedding, the bamboo fabric always makes it more appealing to most users due to the moisture-wicking properties and better heat absorption than most organic materials. If you ask us, our most favourite bamboo mattress topper is none other than Bambillo. It has antimicrobial properties and contains Gel Tek™, Bambillo's signature comfort foam.
With the Bambillo topper, you'll get a healthy and comfy slumber because it's made to support most sleeping positions. It strikes a perfect balance of comfort and pressure relief. The topper has over 60 reviews on ProductReview.com.au, and most discuss how greatly this topper has improved users' sleep.
Some Key Specifications:
Matrix support system supports every sleep position
Evenly distributes body weight
Hypoallergenic, breathable, and antibacterial
1-year warranty
Price: Starts from $400 – Goes up to $680
10. The Cloud Gen II – Most Popular Down Topper
Another popular luxury mattress topper that's found in many Australian hotels. The Cloud Gen II boasts the perfect ratio of just 10% down and 90% soft, small feathers, making it incredibly plush. Since the Cloud has more fill percentage (2000g/m²) than most toppers with only 1000g/m², it offers extra comfort.
Furthermore, the topper comes with a 100% stain-resistant Japara cover that makes maintenance a breeze. We strongly recommend this mattress topper to every sleeper looking for something extra fluffy because it does offer the feel of laying on a soft cloud. However, it's not hypoallergenic, so look for a different topper if you quickly get allergies.
Some Key Specifications:
2x the fill percentage than regular toppers
A high quantity of soft and small feathers give a cloud-like feel
Stain-resistant cover
It comes in 5 different sizes
Oeko-Tex standard 100 compliant (no harmful chemicals)
Price: Starts from $293 – Goes up to $497
11. Ecosa – Best Environmentally-Friendly Topper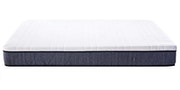 If you're a responsible citizen of earth who's always thinking of the environment and ensuring the products you use are not harming it in any way, then you'll love the Ecosa mattress topper. It's certified by top regulators such as OEKO-TEX and CertiPUR-US, which means no VOCs and other toxins are used in its manufacturing.
Furthermore, the Ecosa Topper comes with an ultra-soft memory foam that hugs your body, providing cloud comfort. The two layers of memory foam, including G-7 gel and charcoal-infused memory foams, keep the sleeper cool while offering excellent body support.
The design of the Ecosa mattress topper is made with ventilation in mind using pincore holes for efficient body temperature regulation. Moreover, its motion isolation feature reduces partner disturbance, ensuring you sleep unaffected by their tossing and turning.
Some Key Specifications:
Certified by CertiPUR-US & OEKO-TEX
Has gel-based memory foam for cooling
Comes with 380g/m² removable cover with double knitting
Elastic straps keep the topper from shifting
Comes in 7 sizes, from Single to Super King
10-year warranty
Price: Starts from $330 – Goes up to $500
Frequently Asked Questions About Mattress Toppers
Is there any difference between mattress protectors and mattress toppers?
Yes, both of them differ in functionality and purpose. A mattress protector is specifically used to protect the mattress from dust, bedbugs, and spills. They don't have any other use than to add a layer of protection.
On the other hand, Mattress toppers are used to add a soft layer on top of your mattress, especially if it's worn out and has formed lumps. Topper gives you a new, better, and more comfortable surface to lay on without you having to shell out several hundred dollars on a new mattress.
Cotton toppers vs. Bamboo toppers – which ones are better?
Bamboo toppers are better than their cotton counterparts in most cases. They have higher quality, more softness, which they don't lose after wash – something, that does happen with cotton toppers.
Should I put a fitted sheet on top of the mattress topper?
Yes, you should use a fitted sheet on top of the mattress topper as it will keep the topper from shifting when you lay or sit on it. If you are planning on using a mattress protector, then first put it on the topper and then finish off with a fitted sheet. Using a fitted sheet can prolong the lives of both the mattress top and the mattress under it.
Can a mattress topper help with back pain?
Yes, a mattress topper can be very useful in alleviating back, neck, shoulder, lumbar region, hips, and joints pain. However, you need to buy a special topper explicitly made to relieve pressure from the spine and joints.
We've suggested many mattress toppers above that are made just to help with back and other body pains, including IKEA Tussoy, Bambillo, Ovela, and OneBed, to name a few.
Was this article helpful?