If you're constantly on the go, then a good pair of headphones is an essential part of your tech arsenal. And not just for travelling, you also need them to fall into peaceful slumber by blocking out external noises.
Thanks to the ever-increasing advances in technology, we now have access to high-quality headphones that can do just that and more for you. This ensures you get the clear sound from your favourite songs while also reducing the amount of noise entering your ears, allowing you to enjoy a more restful sleep at night.
Excited to get one? Let's see the best sleep headphones in Australia right now!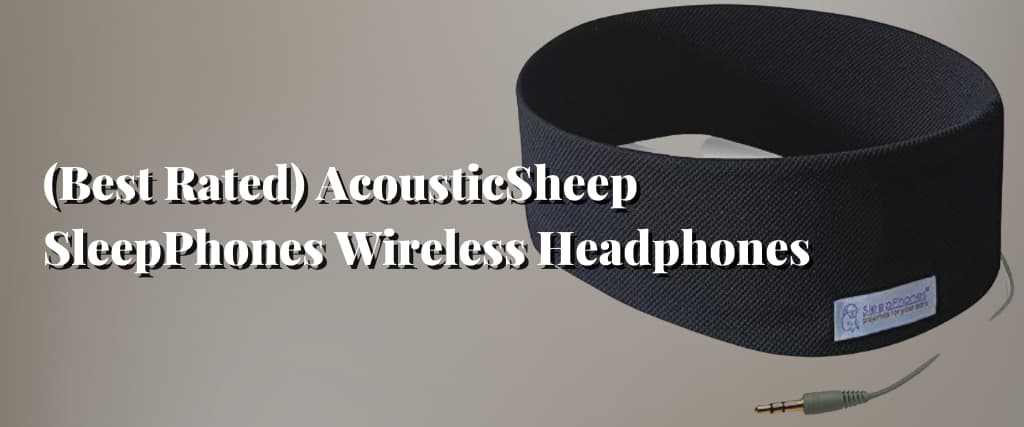 (Best Rated) AcousticSheep SleepPhones Wireless Headphones

Headphones for sleeping are typically heavy, bulky, and cumbersome, but the AcousticSheep wireless sleepphones are a different story. It is available in different sizes; Small, Medium and Large, but the medium is a good enough fit for most people. The sound quality is quite good considering the size and the fact that its Bluetooth connectivity range goes up to a whopping 10 meters.
The AcousticSheep sleepphone is made with comfortable and soft fleece that'll keep your head cool in summer and warm in winter – you can even machine wash the fabric. It also features play, skip, pause, and volume control buttons, so you don't have to open your phone and disturb your sleep with its bright light.
Even though it's wireless, AcousticSheep provides a solid bass response without rattling or shaking like some other models. Furthermore, the 10-hour long rechargeable battery is not something we often see in budget Bluetooth headphones. Thanks to the soft ear pads and a lightweight design, the headphone is also very comfortable.
The only downside is that you don't get any wireless charging. Still, the USB charging cord is included in the package, so you don't have to worry about buying a separate one.
On the flip side, the AcousticSleep is invented by a Doctor (family physician) who struggled to find comfortable headphones to wear while sleeping. So rest assured you're getting a great product for the money. Moreover, you get a generous 1-year warranty from the manufacturer. That's a great warranty for a product this inexpensive. Some of its key features include:
Made with soft, breathable fabric and comfortable ear pads for maximum comfort
10-hour battery life with a 2-hour charge
Bluetooth connectivity range goes up to 10 meters
You get to play, skip, pause, and volume control buttons for your convenience
1-year warranty from the manufacturer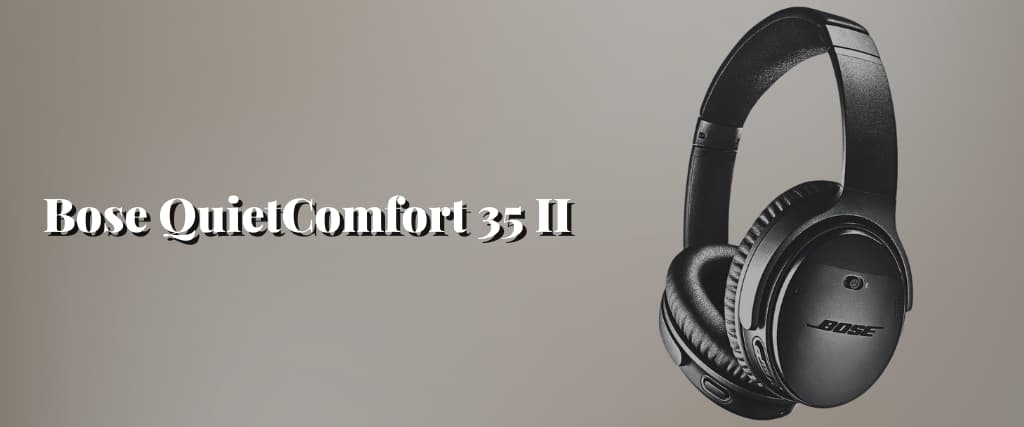 Bose QuietComfort 35 II
If you're looking for Bluetooth headphone that delivers outstanding sound quality while keeping noise out, look no further. The Bose QuietComfort 35 II is a beautifully designed and versatile noise-cancelling headphone. It's very easy to use, comes with great battery life, and, most importantly, it's packed with great features.
One of the best features of the Bose QuietComfort 35 II is its noise-cancelling abilities. Not only can it block out ambient noise when you sleep, but it also works well in noisy environments, like public transportation. The Bose QuietComfort 35 II is designed for comfort that makes it easy to wear for long hours.
There are plenty of features to keep your music library organised. What's really cool about these headphones is that they are also Alexa enabled, allowing you to use voice commands to access music, information, and more. For example, you can ask your Alexa-enabled device to play a specific song or artist, read a news article or make a calendar entry.
All you need to do is pair the Bose QuietComfort 35 II with Alexa via Bluetooth and then say, "Alexa, what's playing?" You can even tell your device to turn down the volume or pause it. All of these functions can be done without having to take off the headphones. You can also pair it with Google Assistant.
The TriPort acoustic headset structure leverages external ports for earcups ventilation, which is effective in increasing the acoustic volume while keeping its size small. The result is a comfortable fit and a rich, balanced sound.
You can even connect QuietComfort to Bose App and adjust various settings, including the level of noise-cancelling, manage Bluetooth connections and enable music sharing, to name a few. Another feature that'll blow your mind is its 20-hour long battery for audio listening and a staggering 40-hour for noise cancelling. One caveat, though, is that this device is on the pricey side, which is okay for the value it delivers, but it doesn't have a brand warranty. You only get a 30-day Amazon return warranty.
20-hour battery life for audio listening
It can be paired with Bose App for more control
Noise-cancelling blocks out ambient noise and provides a perfect listening experience
Mic connects with Alexa or Google Assistant for voice commands
TriPort acoustic headset structure that allows external ports for earcups ventilation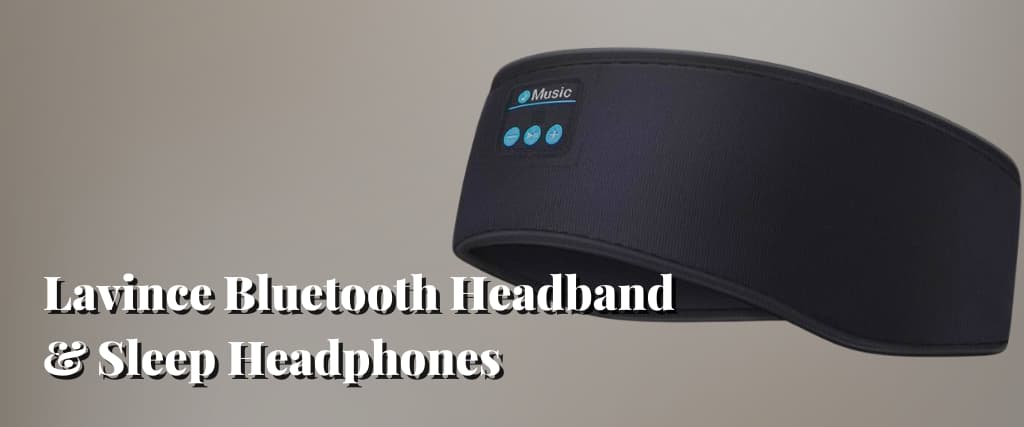 Lavince Bluetooth Headband & Sleep Headphones
Lavince Sleep Headband offers a comfortable alternative to the typical wireless Bluetooth headphones and regular wired headphones. It's incredibly easy to use – just connect them to your smartphone or tablet via Bluetooth, and start listening to your favourite tracks right away. It has a pretty good battery life, too – expect around 10 hours of playback time with just a single 2-hour charge. Thanks to its LiPO battery, you can listen to your favourite music, podcasts, and more for a long time before recharging.
Lavince Sleep comes with a built-in microphone for phone calls, making it a perfect fit for the bed and the gym and other activities – no calls will be missed now! The mic offers 12-hour talk time with a single charge, while the headphones can stay on standby for up to 100 hours! You can wear Lavince while sleeping on your side, back, or stomach, and it'll be functional and comfortable in all positions. It won't press your ears or other areas of the head, and the speakers are comfortable enough to not interfere with your sleep.
The controls are located on just one side, so you can rotate the headband to move them to any side you want to ensure they're within reach and not uncomfortable. For instance, if you're sleeping on the left side, just rotate them on the right, do the same for the backside if sleeping on the stomach, and so on. The headband uses a 5.0 Bluetooth version and offers a whopping 13m range, which is great if your media device is on the other end of the room.
The design of the Sleep Headphones & Sports Headband 2 in 1 is quite unique. The special fabric looks soft and comfortable, and it feels nice against the skin. It is also breathable and compresses under tension, so you don't feel pressure on your head. On top of that, the Sleep Headphones & Sports Headband 2 in 1 is washable and easy to take care of.
10-hour music and 12-hour talk time with a single charge
Built-in mic for phone calls
5.0 Bluetooth with 13m range
Controls located on the side
special, breathable fabric that can be washed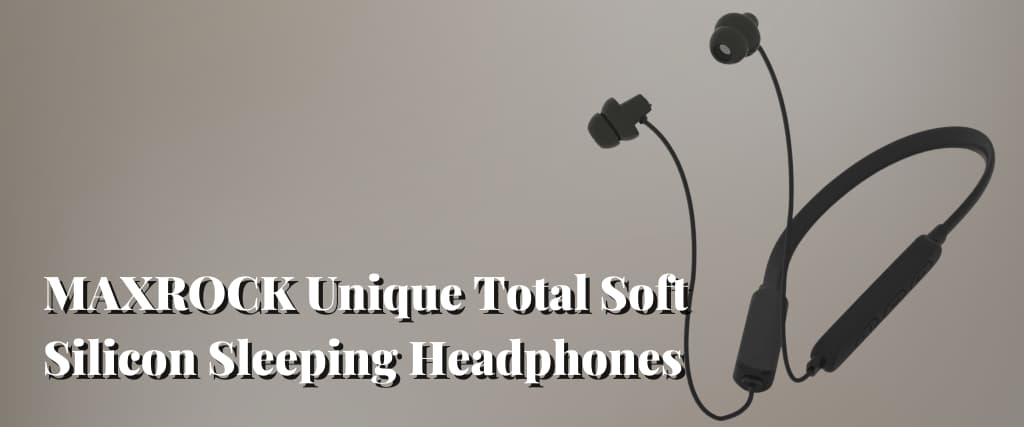 MAXROCK Unique Total Soft Silicon Sleeping Headphones
In a world of gadgets and gizmos, sometimes it's nice to have something old-fashioned to bring along. You don't have to compromise on the convenience for functionality when you're on the go. With MAXROCK headphones, you can enjoy your tunes and still make calls without having to put down your phone or tablet. If you like to take your music with you on your travels, these are the headphones for you.
The MAXROCK Unique Total Soft Silicon Sleeping Headphones are a very affordable pair of in-ear headphones. Although they're not as comfy as the Bose QuietComfort 20s or Sony WH-1000X series, they offer an excellent combination of noise isolation and comfort. But keep in mind, they're significantly cheaper than both Bose and Sony in-ear headphones. Besides this, MaxRock offers top-notch sound quality and is designed to be comfortable when you're trying to catch some Zs.
The MAXROCK Unique Total Soft Silicone Sleeping Headphones are comfortable for long-term wear because they are designed with an ergonomic fitting. This helps it conform to the shape of your ears, making it more comfortable and secure whether you're sleeping or having a jog. The headphones also feature a built-in microphone to take calls or record your voice on your smartphone. Furthermore, Maxrock is compatible with a wide range of smartphones, tablets, MP3 players, and other devices as it works flawlessly with a 3.5mm audio jack.
It features in-built call answer/reject, volume control, and skip/play, buttons, so you don't need to worry about fiddling with the controls while you're on the move. The headphones can be folded down for compact storage or rolled up into a handy zipper case that comes with them.
Built using comfortable silicon material with in-ear design
Work with almost every device with a 3.5m jack
In-built microphone for calls
Fold-able design for compact storage or rolling
comes with a durable zipper case for easy storage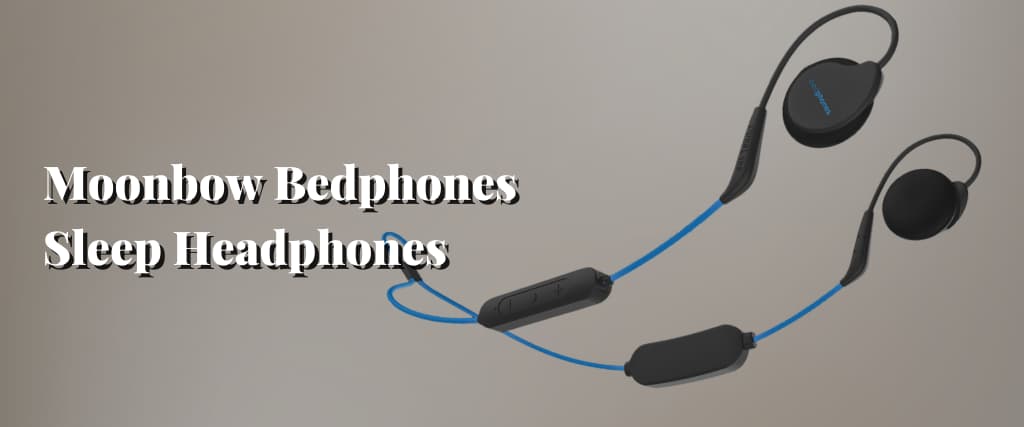 Moonbow Bedphones Sleep Headphones
The Moonbow Bedphones Sleep Headphones are one of their most popular models. These sleep headphones feature a flexible design that makes them comfortable to wear all night long. They're also lightweight and super portable. The on-ear design comes with soft memory wire ear hooks that won't cause any pressure points, and the cable slider lets you adjust the length so it won't interfere with your neck.
They have an incredibly thin design, so they won't cause any discomfort in your ears even if you sleep on your sides. In terms of sound quality, these sleep headphones are top-notch. They feature a microphone, a single-button remote, and an inline volume control, so you can easily adjust the volume of the music, audiobooks, podcasts, or soothing sounds without disturbing your partner. The battery can easily last up to 13 hours with a single charge.
Since they're designed to be worn for extended periods of time, the cord is designed to be long enough to rest on your pillow or your lap comfortably. The cable is designed to be worn in front or behind the neck and can be pulled tight for a custom fit. The ear cups are also soft and comfy, so they won't irritate your ears even if you have sensitive skin. Furthermore, the speakers have foam padding that further blocks out the external noise while being easy on your ears.
Bedphones are small enough to carry around in a travel bag. Just make sure to put a comfy eye mask inside if your travel involves a lot of sleeping. The 30-day return policy is great for people who want to try out the headphones before deciding. Plus, there's also a 1-year warranty – definitely a bang for the buck!
Flexible on-ear design makes them comfortable to wear all night long
Memory wire hooks don't cause any pressure on the ears
13-hour playtime with a single charge
Foam padded speakers block out external noise
30-day return and 1-year warranty
Perytong Wireless Sleep Headphones
If you're looking for a pocket-friendly but stylish pair of sleep headphones, look no further. Perytong wireless sleep headphones are the best option for sleepers as they won't press into the ear and are comfortable enough to wear while sleeping or relaxing. This makes them perfect for all positions; side, back, or stomach – no problem at all!
The headphones are built with a headband that's comfortable and easy to slip on over the top of your head, and it's also designed to be breathable so sweat won't get trapped in them. The speakers are very well-built, too. The bass is tight and punchy, and you don't get any distortion from the sound quality, which means you'll be able to enjoy your music without worrying about it being tinny.
These headphones rock a 5.2 Bluetooth version, so the headphones are compatible with most Bluetooth-enabled devices, including smartphones, tablets, and laptops. There's also a mic that lets you make and take phone calls hands-free. The control panel that's conveniently located on the side of the headband includes volume control and play/pause buttons.
You can get up to 10-hour playtime with a single charge and a 10m range without any sound distortions. The headband features a soft, breathable fabric material and is designed with a comfortable fit so it won't press against your ears. You can get the headband in two colours (grey and green) and can easily wash it after taking out the Bluetooth module.
Made using comfortable, breathable fabric for max comfort
5.2 Bluetooth works with most devices
Comes in two colours – green and grey
10-hour battery time with a single charge
Can be easily washed after taking out the Bluetooth module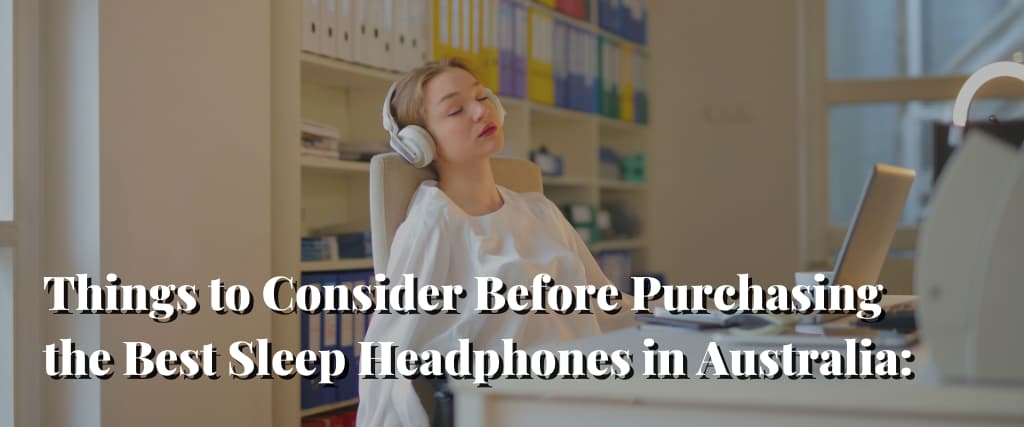 Things to Consider Before Purchasing the Best Sleep Headphones in Australia:
Before purchasing something that's going to aid you in something as essential as a night's sleep, it's imperative to know the different characteristics that make them well-suited for your specific needs. You'll be making an investment towards a calm and peaceful slumber, so be sure to do it the right way. Here are a few important considerations:
Comfort:
This is the biggest question that needs answering because if you're not comfortable wearing a headphone while sleeping, what is the point?
Get the one that's easy on your ears and won't move while you sleep, especially if you toss and turn a lot. Also, keep in mind, your sleeping position will determine the kind of headphones you should buy. Check out the different designs below to know this better.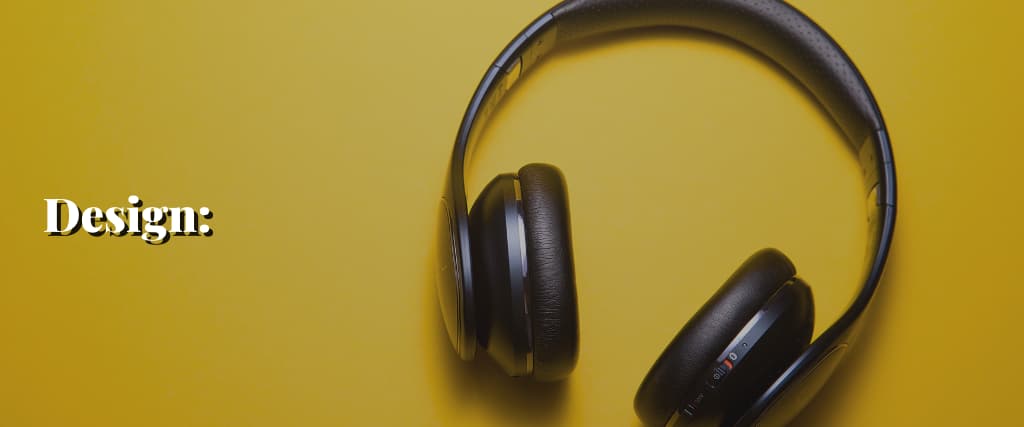 Design:
There are different headphone designs that you can get depending on your sleeping needs and positions. Let's look at them below:
Headband: These are designed to stay with you throughout your sleep – they won't dislodge from your ears, no matter how many times you toss and turn. However, they're also not fully lodged inside your ears, so don't expect them to block out external noises fully.
Over-Ear: These usually have the best sound quality and also work great at minimising external noises. However, they're bulkier and may not suit Aussies who move a lot during sleep.
In-Ear: These have the most compact design and offer excellent sound quality because the speakers are nearer to your eardrum. And since they block most of the ear canal, you can expect them to minimise external noise better.
On-Ear: These are less bulky, lightweight and smaller than the over-ear headphones. Although the sound quality is decent enough, they don't do a great job at minimising ambient noise.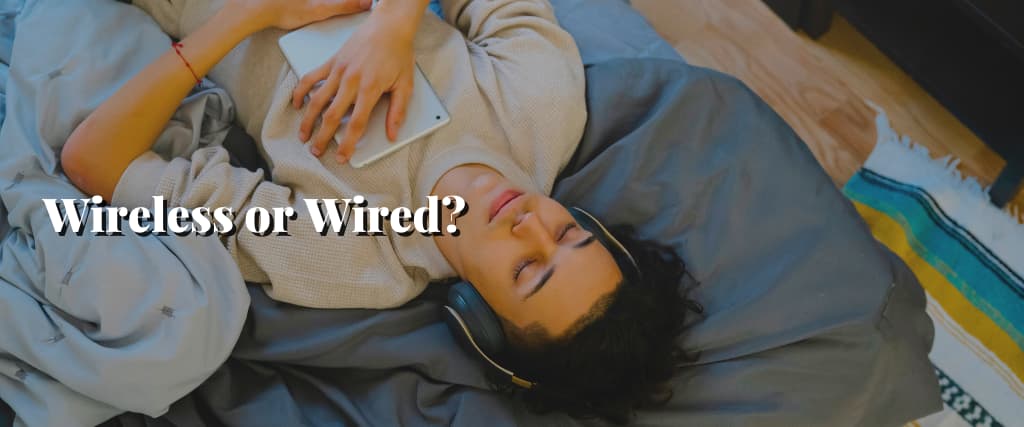 Wireless or Wired?
Both the earbuds and headphones come in wired and wireless varieties. The benefit of getting a wireless one is that you don't have tangled wires anymore, and you can move around the room without having to bring your device with you.
Wired headphones, however, eliminate the need to charge batteries, which, if you forget, will make the headphones useless until recharged.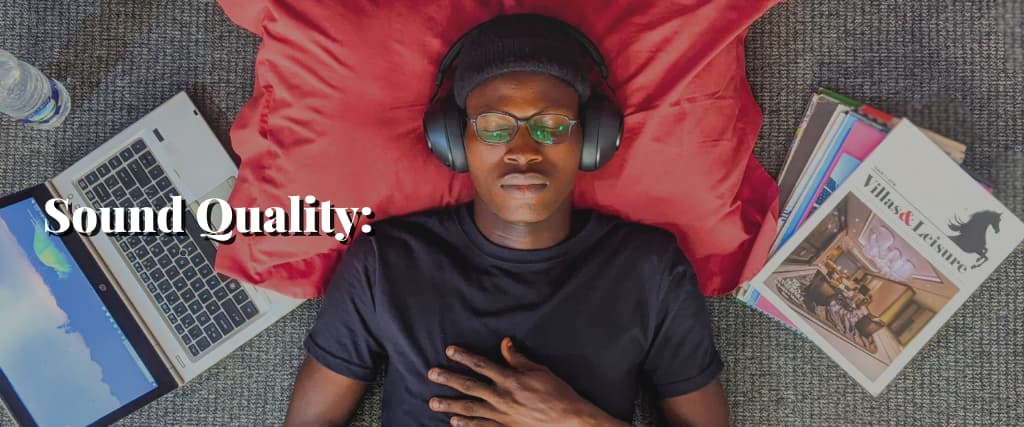 Sound Quality: 
The quality of sound is crucial with any sound system; otherwise, why even get one? Do you like to sleep to ASMR tracks, white noise recordings or any other kind of audio that requires clear and crisp sound?
Maybe you want to block out most of the ambient noise so you can focus on your tracks better? For both scenarios, over-ear and in-ear headphones might be better.
Noise Cancellation:
There are two kinds of noise cancellation technologies; active and passive. The active noise cancellation catches the external sounds and plays opposite audios to cancel them. The passive noise cancellation relies on the construction of the headphone to block out the ambient sounds.
If you're sleeping in a low-moderate noisy environment, then either of them should be good enough. However, for those with loud environments, get the headphones with both technologies.
Price:
Because of hundreds of headphone and earbud brands in the market, you can find both extremely cheap and insanely high priced products.
However, in tech industry, you always get what you pay for, which means try to find a balance of price and benefits if you're looking for the most value for your money.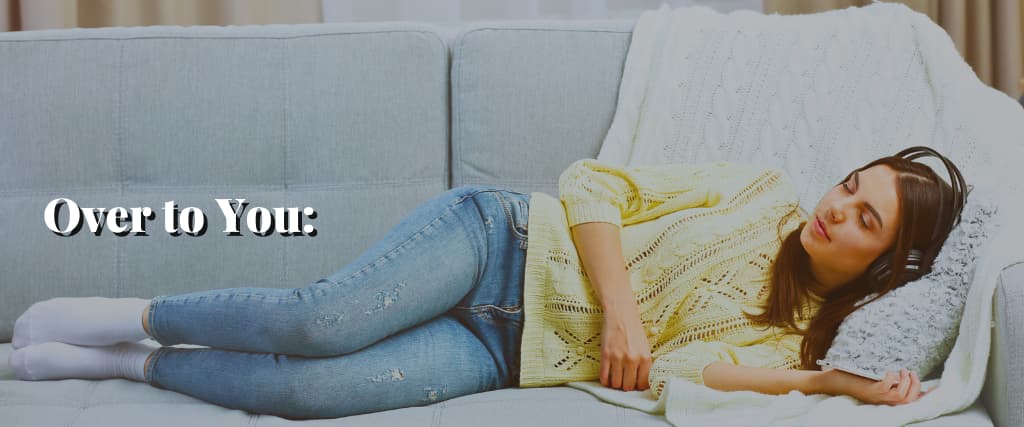 Over to You:
Sleep Headphones are a necessity for anyone who wants to get a good night's sleep. Whether you're an insomniac or have trouble sleeping, the right pair of headphones can help you fall asleep faster and stay asleep longer. They also help you concentrate better and increase your productivity while at work.
Our list of best sleep headphones in Australia is all you need to get your perfect match out of thousands of headphones in the market. However, make sure to take your time to research each of the listed products before pulling the trigger to ensure you get exactly what you need.
Was this article helpful?