The essential components of a self-inflating mattress are a layer of foam that can compress and decompress and an airtight fabric envelope with a vacuum-sealed valve. The valve opens, the air gets sucked into the mat, and the foam expands. The foam provides the insulation, which also acts as a built-in pump, by enclosing air inside the mattress.
A camping mattress is a crucial piece of equipment for any outdoor camper. It can keep you warm, help you avoid injuries, and shield you from sharp objects like rocks and stones. Because mattresses should last several years if you take great care when using and storing them, you should be careful with your self-inflating bed before or after camping.
Here's the full scoop on how to properly inflate & deflate camping mattresses to ensure they last a long time and look great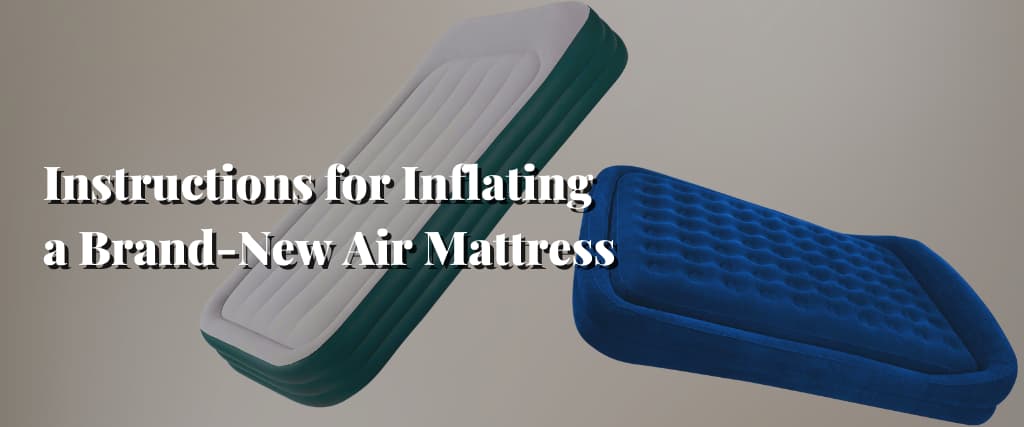 Instructions for Inflating a Brand-New Air Mattress
If you have just purchased a bed from a store, it is best to unroll it and allow it to self-inflate for at least 30 minutes before using it for the first time. Make sure all the valves remain open. When fully inflated, the valves should be closed by mouth blowing into them.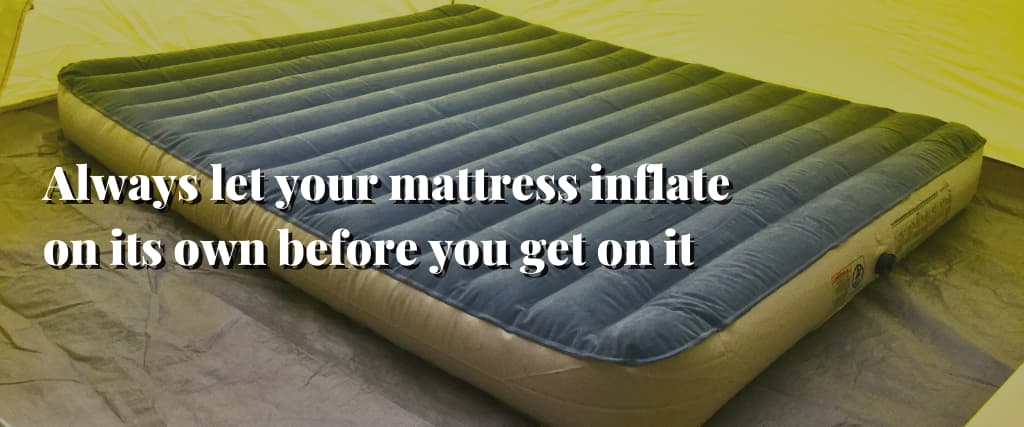 Always let your mattress inflate on its own before you get on it
Once it has self-inflated, you can make it more or less puffy by blowing into it or deflating it by squeezing it.
Avoid blowing on the mattress if the weather is chilly, as it will stop any moisture from getting inside the bed, which could lead to a dangerously cold sleeping surface. Air blowing could harm mattress foam and the internal cells.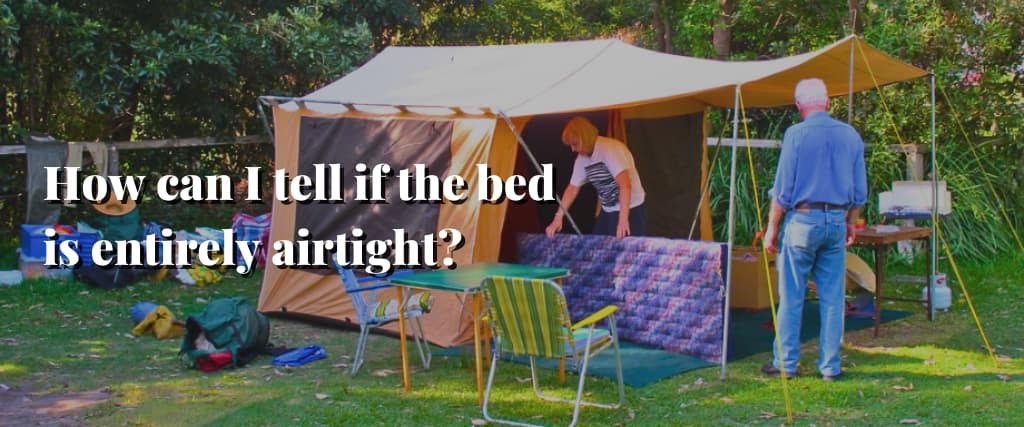 How can I tell if the bed is entirely airtight?
Examining and touching the mattress shows you if your bed is airtight. Overinflating the air mattress will make the mattress pop under your weight. A strained mattress has signs of bulging or stress marks.
Keep your bed in a dry and warm space. Heat enhances memory foam's responsiveness because it softens the material. If you bought it in the winter, place a heater in the room with your mattress to speed up the expansion process.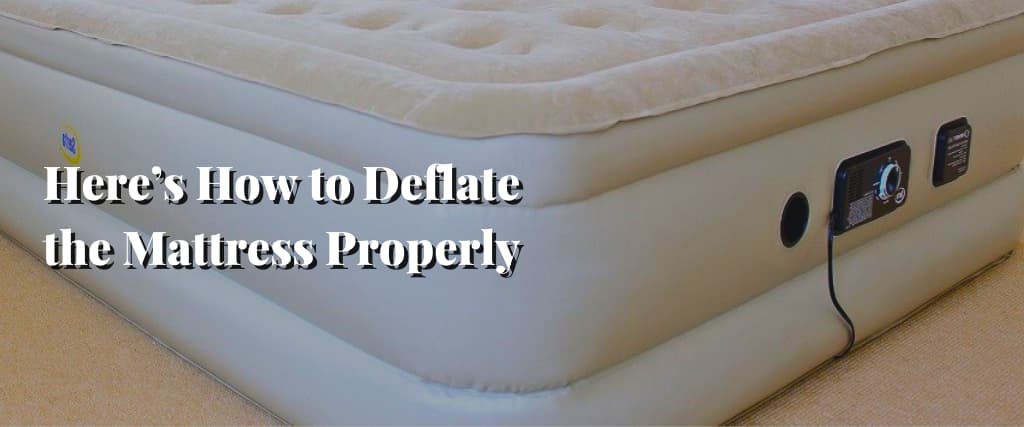 Here's How to Deflate the Mattress Properly
It's best to open the mattress's valves and let it deflate. A slight weight applied through sitting could help squeeze out the last bit of air from the bed. Slowly release any remaining air pressure by gently rolling the deflated mattress towards the valve.
Please lock the valves. You should fold the mattress gently towards the valves. When you fold it, make sure it doesn't get creased. All valves are closed securely.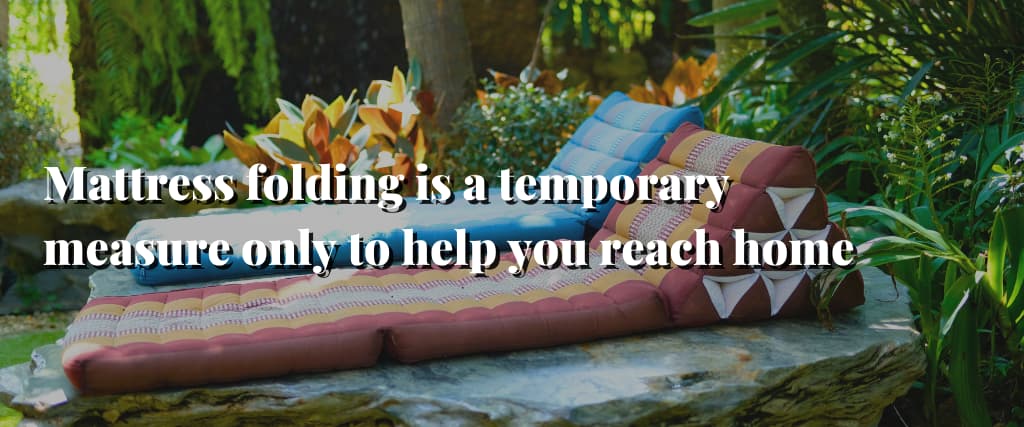 Mattress folding is a temporary measure only to help you reach home
When rolled for too long, the camping mattress gets creased. Place the mattress flat in a dry and dark location. When you get back inside, blow up the bed and lay it flat to put away.
Check the bed for rips and stains
The ground or your bodily fluids may have left stains on your mattress. Before airing the bed and putting it away, you should clean it by wiping it down with a damp cloth. If there are any tough stains, try giving it a hand wash in the bathtub with warm water, a soft sponge, and a capful of antibacterial soap.
If ever required to be washed, you should inflate mattresses. After cleaning, a firmer bed is less likely to show dirt and dust mites. After washing, you should remove excess water by patting the item dry with a towel and then allowing it to air dry from a line by hanging it or on the back of a sturdy piece of furniture.
To prevent mould and mildew growth, which can ruin your camping mattress and place you at risk for health problems like asthma and allergies, ensure no moisture in the air before putting it away.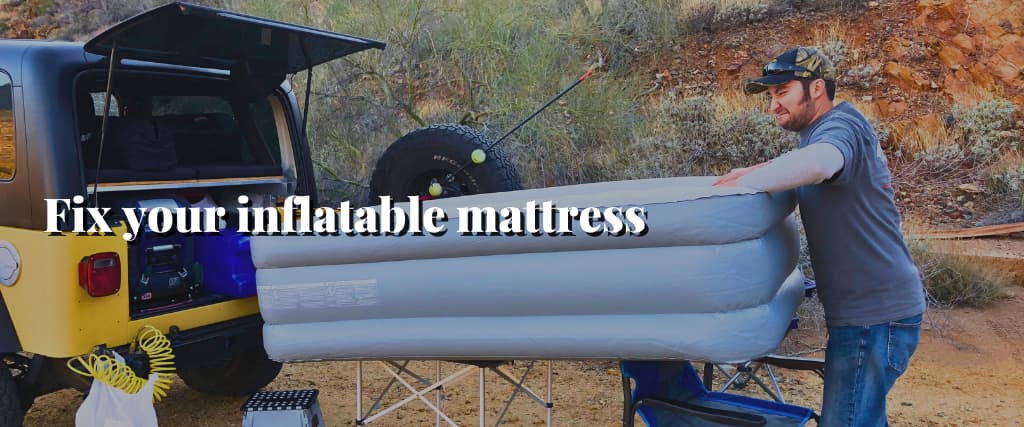 Fix your inflatable mattress
Is the stitching on your mattress leaking? Using special glue can quickly fix the damage. Remember to check out the warning labels on the bond and read the manual before use.
The soapy water and air bubbles will help you pinpoint the rip in your mattress. Similarly, you can submerge the bed in the tub and watch for the appearance of tiny bubbles on the water's surface.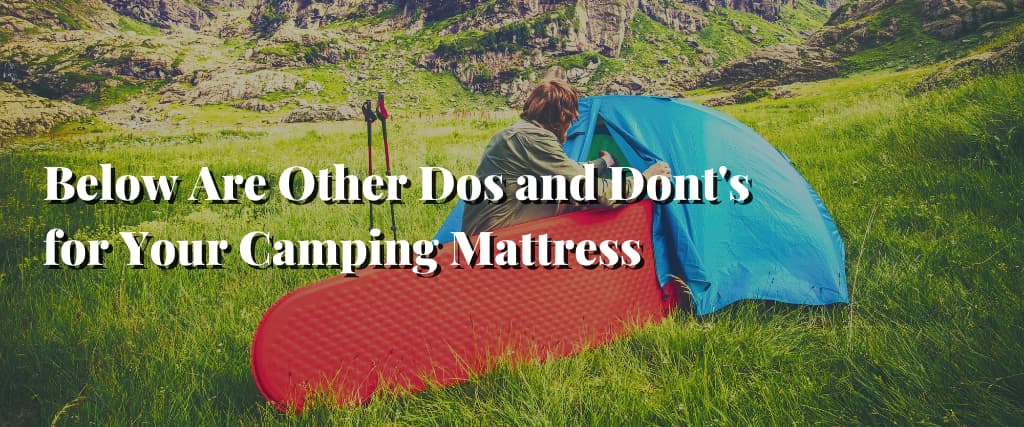 Below Are Other Dos and Don'Ts for Your Camping Mattress
Be sure to look for holes and patch them up right away.
Keep a repair kit in your camping gear, and don't use your mattress as a floatation device. Never, ever use the mattress near an open flame.
Because it has a protective coating, prolonged exposure to sunlight can degrade the mattress
Electronic or non-electronic devices, including air pumps or blowers, cannot be used to inflate the mattress.
You shouldn't dry it in a dryer or a tumble dryer. You shouldn't use a hair dryer or any other artificial means to dry it.
You should not spray an air mattress with harsh chemicals like chlorine or insect repellents.
Having pets on it is unsafe because their sharp claws could scratch the surface.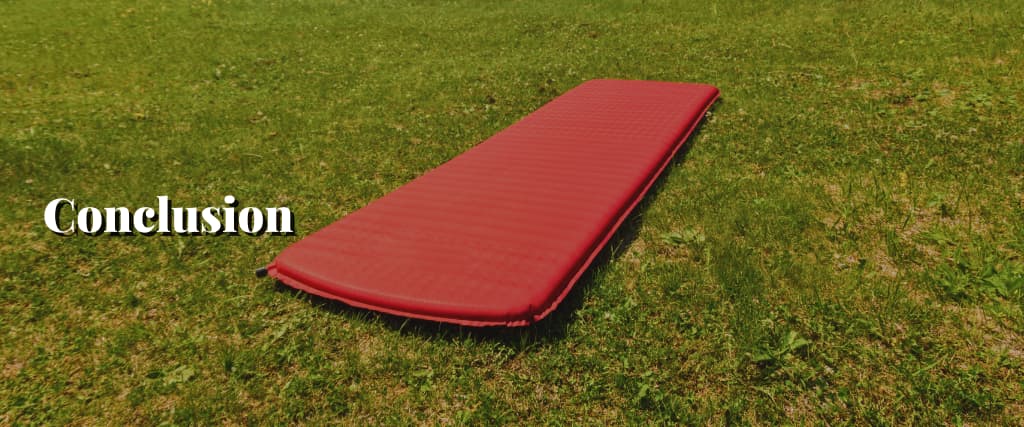 Conclusion
One of the most crucial parts of a vacation is getting a good and comfortable rest at night, or you might have less fun. Almost everyone has tried an airbed before. An air mattress uses only air as a support system when lying on it.
Given their simplicity, these mattresses are significantly less expensive than other camping bedding options. They are in many dimensions; some even have a pillow already attached. They are very relaxing because of how deep they are.
Air beds are also very much like water beds in that they mould to the contours of your body, making them very comfortable. However, the most significant drawback of these mattresses is that they are easily punctured, and the holes are often hard to locate and repair.
Was this article helpful?