Sometimes it can really spin your head just trying to decide between two products that are identical in most features but have different price tags. The same is with the Sleeping Duck and Koala mattresses. 

Special Deal 20% off Koala Mattress online click here now

Both are similar with very small differences in features. So if you're not able to make a decision, read this comprehensive Sleeping Duck vs. Koala mattress comparison to know for sure
Sleeping Duck vs. Koala Mattress – The Good & The Bad Bits:
One of the most well-known mattresses in Australia, Sleeping Duck offers a great level of customization, allowing the users to set the firmness levels as per their preferences. The best part is, with different layers of foams and spring, users can balance the bounciness, support and comfort level by swapping them.
Koala Mattress, on the other hand, also offers mattress customization for firmness level. Aussies love it as well, mainly because of its use of certified eco-friendly, non-toxic materials. It's also more affordable than the Sleeping Duck but more on this later.
Let's just jump into the comparison and take a look at the good and bad bits of both beds:
The Good Parts:
Sleeping Duck:
One of the main reasons why Sleeping Duck saw explosive success in just a few years is the high degree of firmness customization it offers. Customers can decide between two levels of firmness and then swap the layers of different foams and springs to further tweak the firmness.
If customers need further support, firmness or softness, they can ask the company's representatives to provide them with additional layers.
All foams by Sleeping Duck are made in Australia, and if you return their mattress, it'll not be sold to someone else – they either donate it to shelter homes or recycle the materials.
Because of their excellent quality foams and unparalleled customer support, Sleeping Duck was recently dubbed as the Top Rated Mattress by Choice – an independent Australian tester.
Koala Mattress:
This one is also known for the freedom of customization it provides its users. You can choose between two layers; medium-firm and firm. However, the key feature is the 7cm deep comfort layer (top one) that has both of these firmness levels.
There are tags on each side that tell the user which side is medium-firm and which one is firm. You can flip the comfort layer to get the desired surface you want to sleep on.
Many users have reported that after snoozing on the Koala mattress for a few nights, their neck and back pain disappeared.
The brand also offers rapid delivery and incredibly easy returns, along with excellent customer service.
The Bad Parts:
Sleeping Duck: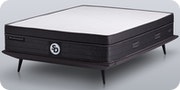 The main con of Sleeping Duck mattress is its price. Every single size of the Sleeping Duck mattress costs hundreds of dollars more than the average cost of beds offered by competitors.
There are some brands that have similar prices, but since Sleeping Duck is a hybrid mattress, it's the most expensive one in its category.
Koala Mattress:
Although it's mostly loved by Aussies, there are still some complaints, and we just cannot turn a blind eye to them. The first issue is the adjustment time. Some users mentioned that it takes more than the usual period to adjust to the mattress, while many found it 'too firm' even after weeks of use.
Another problem is 'no edge support,' which makes it challenging to get out of the bed, especially if you've just woken up and are still getting a grip on your body.
Construction of Both Mattresses:
Sleeping Duck:
The Sleeping Duck mattress was started manufacturing in 2014 and was engineered to have several layers for balanced comfort and support. Let's do a quick breakdown of its construction:
The first layer is the bamboo cover that's soft, cool, breathable and hypoallergenic. It can be removed and washed.
The second layer is of a high-density polyurethane foam that's eco-friendly and offers good support.
The third layer is also a PU foam but with different firmness levels to choose from; medium-firm or firm.
The last one is a multi-zone spring base that's made to offer individualized support (for couples) and also limits motion isolation.
Another feature of the Sleeping Duck's construction is the perimeter that's supported by the same spring base and offers great edge support.
Koala Mattress:
As discussed above, the Koala mattress comes with two layers; the base layer and the comfort layer. However, if we count the cover as well, then it becomes three layers in total. Let's dig our virtual claws deeper into the mattress:
The first layer is a cover made of a TENCEL and Polyester blend that's specially engineered to absorb moisture and increase ventilation.
Under the cover, you'll find a comfort layer that's made of double-sided Kloudcell PU foam. At one side of this layer, you'll find a medium-firm level, while the other side will have a firm feel.
The base is a high-density 3-zone support layer called Ecofoam, which offers extra support and comfort and has antimicrobial properties to prevent mould and bacteria growth.
Additional Perks:
Sleeping Duck:
Some of the top perks you can get with the Sleeping Duck mattress include a 10-years of warranty and a 100-night sleep trial. Since the bed takes at least 30 nights to adjust to the body, using it for 100 nights will help you decide whether to keep or return it and get a refund. Furthermore, you get free shipping and returns.
Koala Mattress:
This one also has the same 10-year warranty and free return and shipping policy. However, you get a 120-night trial period instead of the 100-night, which may be useful to some, but we don't think you really need to go over 100 nights to fully test a mattress.
Mattress Sizes & Prices:
Sleeping Duck:
Single: $999 – (188cm x 92cm x 25cm)
King Single: $1,099 – (203cm x 107cm x 25cm)
Double: $1,349 – (188cm x 138cm x 25cm)
Queen: $1,649 – (203cm x 153cm x 25cm)
King: $1,999 – (203cm x 183cm x 25cm)
Koala Mattress:
Single: $780 – (188cm x 92cm x 25cm)
King Single: $950 – (203cm x 107cm x 25cm)
Double: $1,000 – (188cm x 138cm x 25cm)
Queen: $1,050 – (203cm x 153cm x 25cm)
King: $1,250 – (203cm x 183cm x 25cm)
Conclusion:
Whew, it was a tough competition! However, we're sure you can now make a well-informed decision between the Sleeping Duck and Koala Mattresses.
If you want our opinion, then both of them offer the same sleeping experience with great firmness customization.
Although the Koala might be a little less durable and doesn't offer edge support, it costs considerably less too.
Since there's a 10-year warranty on both mattresses, we think there's no risk in going with Koala if you prefer saving a couple of hundred bucks over edge support.
Was this article helpful?