Nothing beats a restful night's sleep after a strenuous day of trekking, and these cozy, dependable, and reasonably priced solutions offer a comfortable spot to rest your head.
But for hikers on camping escapades having quality nights has always been a challenge as cost camping mattresses are not that cozy.
This guide will walk you through the best self-inflating air bed or mattress to give you the best sleeping experience while hiking. The article will review the best mattresses within different price ranges to suit your budget.
So, let us begin with what you need to know and how to select the best self-inflating camping mat, pad, or mattress for your requirements.
The Best Self-Inflating Air Mattress Buying Guide 2023
These days, there are so many alternatives for the finest self-inflatable mattress in Australia that simply browsing them might be daunting. This section covers the qualities you should look for when selecting the finest self-inflating camping beds.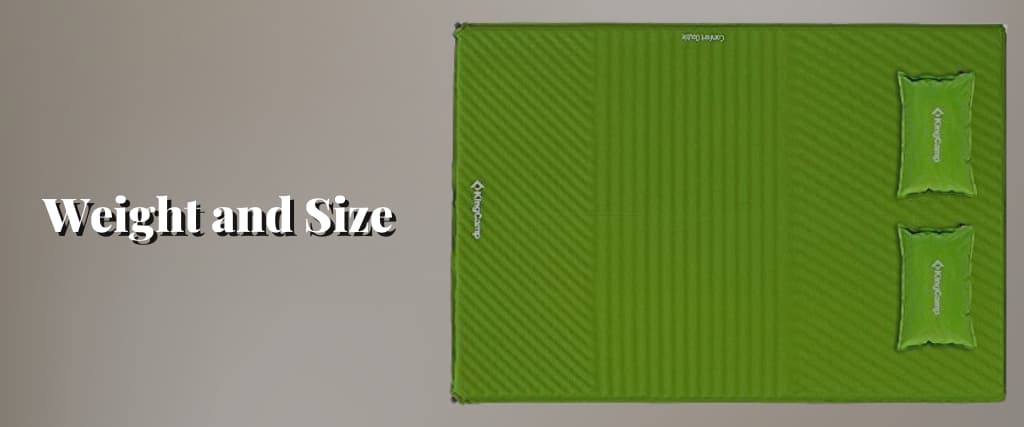 Weight and Size
When selecting the finest self-inflating air beds for camping, one of the first things you'll want to consider is the weight and dimensions of the bed or pad — do you need a single-person or multi-person hiking pad?
They are often available in queen, double, or single king sizes. Naturally, the greater the pad's surface, the more room it will occupy when compressed in your vehicle.
Consider if you'd like a more oversized double self-inflating bed review or the lightest compact self-inflating bed you can carry when trekking.
Thickness
When choosing a comfortable self-inflating pad, mat, or bed for camping and sleeping purposes – the thicker the material is, the more comfort you will receive. To ensure that your nights in nature are pleasant and cosy – look out for items providing adequate cushioning between you and the ground.
While some mats are built to be slim for easy portability, if you plan to camp in rough or rocky terrain, you must choose a mat that provides adequate cushioning.
When selecting a self-inflating sleeping mat, it is essential to balance thickness with weight, particularly when considering models with varying thicknesses. You must determine the trade-off between consistency and weight depending on your needs. Experts recommend choosing a mattress at least 5 cm thick for a restful night's sleep.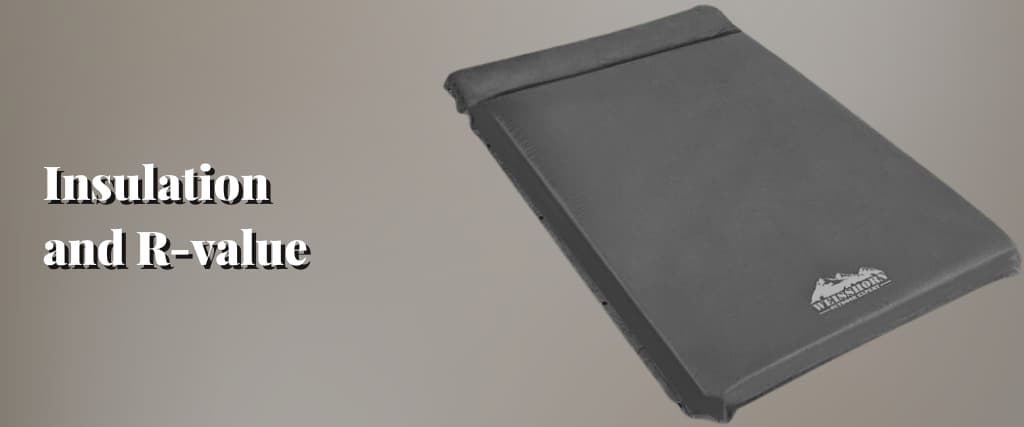 Insulation and R-value
How warm your mattress will keep you is another crucial factor, especially if you enjoy your inflatable bed for camping in colder areas.
The most excellent self-inflating backpacking pad or bed should insulate you from the chilly ground to keep you warm. The "R factor" best indicates a mattress's ability to keep you warm.
The finest self-inflating lying pad for backpacking will maintain your warmth all night long if the R factor is high, which indicates how well the mattress or pad resists heat loss to the ground. The R factor is the most significant statistic when evaluating how comfy the bed will accommodate you because the insulation type will affect it.
Durability and Comfort
The most fantastic self-inflating mat's durability and comfort level are key factors when choosing camping gear. This is particularly significant if you frequently go camping and want a durable item.
The most affordable self-inflating pad will probably not be the comfiest or long-lasting, but if you use it rarely, you might be okay with it. Nonetheless, it's worth spending more on a higher-quality pad if you're looking for a self-inflating bed review that comforts you for frequent journeys.
Non-Bonded or Bonded
You may discover many of these alternatives are non-bonded if you seek an inexpensive self-inflating camping mattress. Bonded refers to a connection between the foam inside and the outer material, which keeps the air where it belongs and prevents the foam from shifting.
A connected pad or bed is crucial for sleeping in chilly climates and ensuring adequate comfort.
Deflation and Inflation
Not bothering about a pump is the finest thing about a self-inflating bed! There are many sorts, including quick-inflate and quick-deflate valves, which make them the best camping alternative.
If you are looking for a great self-inflating mattress that can quickly inflate and deflate, look into businesses that have thoroughly examined each component of their valves.
Height
As air beds are usually not used with a frame, they often have less height than a traditional design, which might affect how simple or challenging it is to enter and exit the bed. While selecting a mattress, older folks or those with mobility disorders should consider this.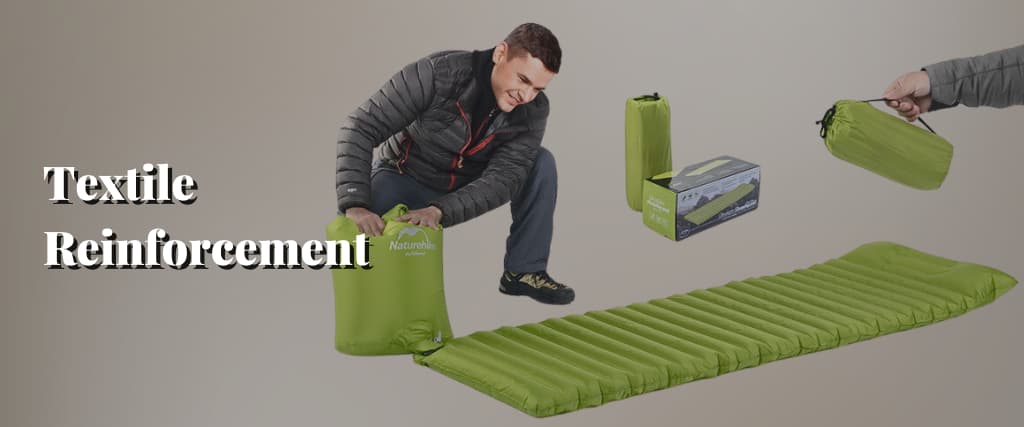 Textile Reinforcement
Your air mattress should be able to handle regular tosses and flips; however, you should still treat it carefully at all times. Textile reinforcing is helpful for the bed to last longer and avoid straining.
Other Excellent Features
Going through self-inflating camping bed reviews, you'll discover many valuable and unnecessary features, just like with a lot of outdoor equipment. Some desirable traits include the following:
Compression Bag: If you're searching for the finest self-inflating hiking mattress, you'll need a bag to maintain your mat or bed compact.
Compression Straps – In the absence of a bag, straps can compress the mat.
Repair Kit makes patching any holes or air leaks while using your bed simple.
Australian Reviews of the Top Self-Inflating Camping Mattress 2023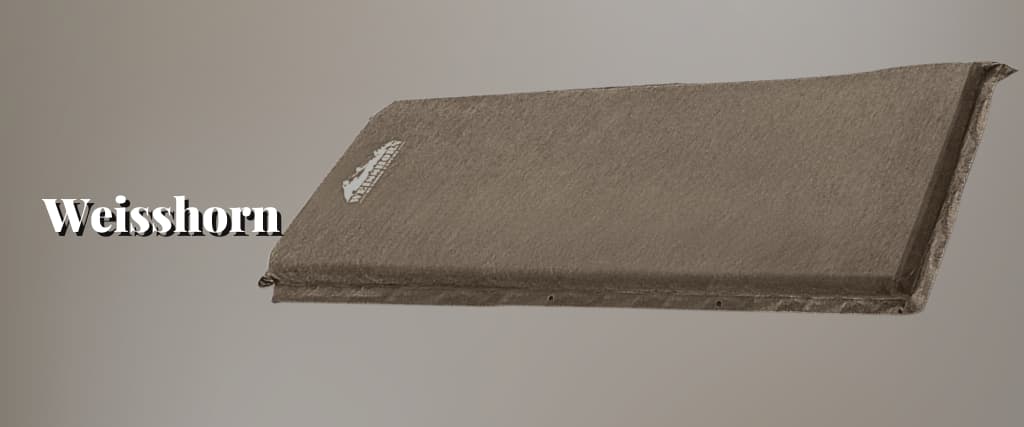 1. Weisshorn
It has a rating of 4.0
Specs:
It is 10cm in thickness
This mattress comes in single and double sizes
It weighs up to 7.3 kg for the Single one
It has a dimension of 190 x 56 x 10 cm
If you're looking for two separate but inter-connectable self-inflating camping mats, this top-rated 10 cm self-inflating bed is a good choice. Sleeping on this 190 cm long, non-slip bed will be comfortable even for campers over six feet tall. It can be used in damp environments and is safe for most surfaces.
This most excellent self-inflatable pad includes a one-year guarantee and carries a pouch, and is top quality for the price. The primary problem is its weight: At 7.3kg, this pad is ideally suited for camping in a campervan or a vehicle camping trip, but you certainly don't want to drag it around too far.
Pros:
It is cheap compared to other options
You can inflate it within one minute.
This sleeping pad may be attached to another mat for a greater area and is waterproof and slip-resistant.
It has a carry bag and is readily rollable.
Cons:
It is heavy compared to other options.
Large even when packed, making it changeling to hiking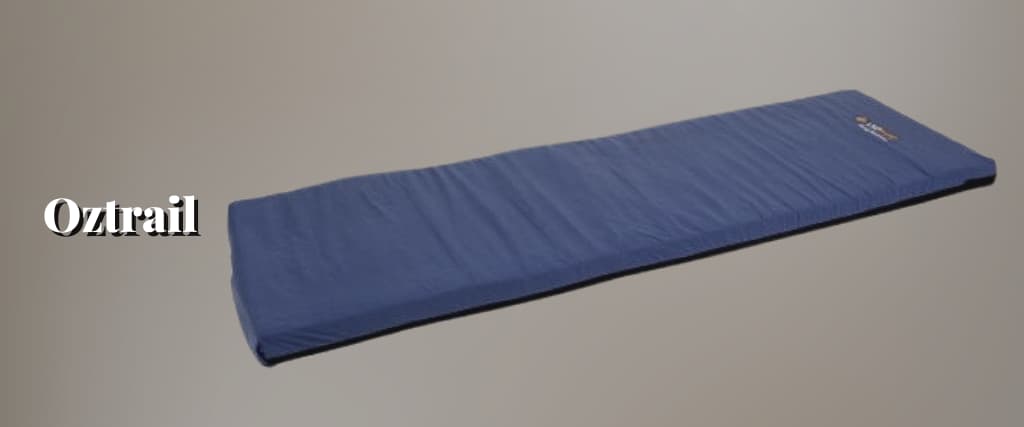 2. Oztrail
It has a rating of 4.5
Specs:
It has a thickness of 8cm
This mattress comes in Queen, Double, or King Single sizes
The single king size weighs upto 6 kg
It has dimensions of 195 x 80 x 10 cm
If you're on the market for the most excellent self-inflating sleeping mat Australia offers, this Oztrail king-size inflatable mattress review should surely be at the top of your list.
Strong current Because of its 2-way valves, this self-inflating mattress can be quickly set up and folded away. Thanks to this inflating mattress review, there is no need to worry about shivering on the chilly floor at night. The mattress will remain inflated even if the valves are inadvertently knocked open.
The mattress has a maximum-density open-pore foam base and a cool-touch velour cover for optimal comfort and support. Another excellent alternative for caravans or automobile camping vacations is this lightweight (just 5kg) mattress with compressive straps and a carry bag.
Pros:
Inflating and deflating it is a breeze
It has a vinyl base and slip-resistant velour.
Cons:
It is difficult to pack it for storage in a pack.
3. KAMUI
It has a rating of 4.5
Specs:
It has a thickness of 5cm
It comes in single sizes
It weighs up to 1.6kg
It has dimensions (LxWxH) of 192 x 65 x 5 cm
If you're looking for the best single or double self-inflating bed, this mattress could be worth considering.
This 2-inch-thick sleeping mat is composed of solid polyester for extra durability and is lightweight, so you can carry it anywhere.
The ability to stack this mattress horizontally and vertically makes it ideal for couples or anyone in need of extra back support. With a weight of about 1.6 kg, a carrying case, and three compression straps, this pack is ideal for excursions. Another plus is that it is easy to put away when needed.
Although more pricey than other alternatives, this self-inflating bed is perfect for excursions in vehicles, vans, or the great outdoors.
Pros:
It is both portable and robust.
It may be joined horizontally and stacked vertically
Cons:
Initial inflation occurs gradually.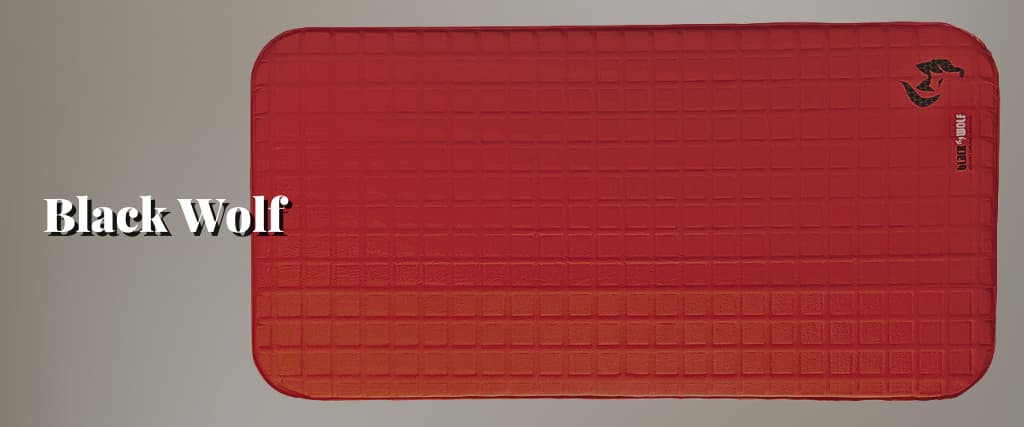 4. Black Wolf
It has a rating of 4.0
Specs:
It is 10cm thick
It has both Single and Queen sizes
Queen size weighs upto 5.2 kg
It has dimensions (LxWxH) of 198 x 135 x 10 cm
This model from Black Wolf is another possibility you may want to explore if you seek the most excellent double mattress that inflates.
Whether camping out in the great outdoors or cozying up in your car, this self-inflating bed review with an R value of 8.6 will keep you cushioned and warm all year round! It is ideal for short trips, extended vacations, or anytime between.
This mattress has a thickness of 10 cm and is fitted with a non-slip base and a high-flow reversible one-way valve for rapid inflation and deflation. You will receive a waterproof pump bag and a repair kit with the box.
This is a top pick if you're searching for a self-inflating camping mattress that's roomy and comfortable and keeps you toasty during winter camping vacations.
Pros:
Large, high-flow reversible inflate valves were used in the design to speed up and shorten the inflation process.
If you want to connect two mats side by side, you may use the velcro side strips.
The mats comprise a micro stretch top and a non-slip foundation.
consists of a repair kit
Cons:
It is expensive to acquire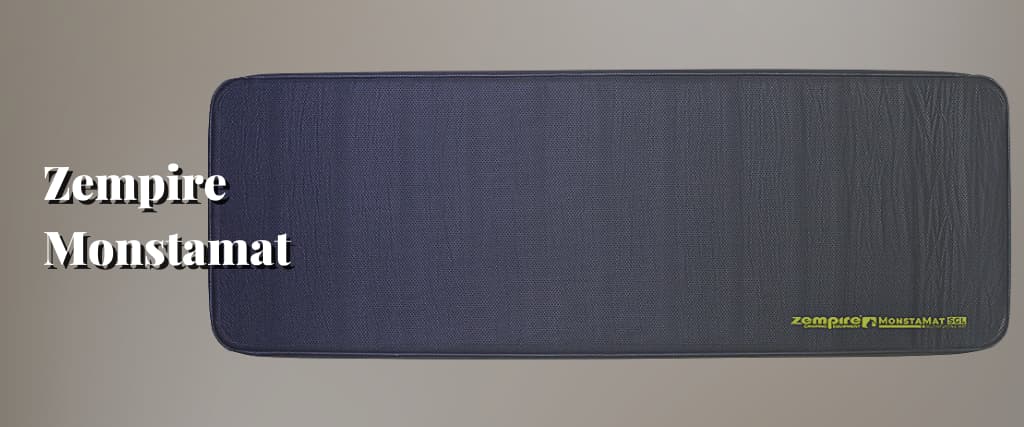 5. Zempire Monstamat 
It has a rating of 4.5
Specs:
It has a thickness of 10cm
It is available in Twin, Single, and King Single Sizes
The Twin weighs upto 7 kg
It has dimensions (LxWxH) of 201 x 132 x 10 cm
The Zempire Monstamat comes next on our rundown of top air mattresses. This mat is perfect for anybody needing a full-length sleeping surface since it is twin-sized and spans 201 by 132 centimetres, especially if you or your spouse is taller.
This premium mat has a three-dimensional design, antibacterial foam, a 150D polyester foundation for durability, an open-cell foam construction, compression straps, and a noiseless top layer. This eliminates the possibility of waking up to the sound of your companion shifting about on the mat.
For those looking to purchase a high-quality camping mattress for use on road trips and in a campervan or trailer, this 7-kilogram option is another excellent choice.
While it comes at a hefty price, what you're paying for here is well worth it. This model, which has a thickness of 10 centimetres and several other great features, is my pick as the best self-inflating bed for car camping.
Pros:
Wide opening two-way valves allow quicker entry and exit of larger volumes of air.
No noise, a flexible surface that conforms to the curve of your body, and less noise for a better night's sleep
comprised of a travel bag and repair kit
Cons:
It is cozy to acquire one
As it weighs 7 kg, carrying it takes a lot of work.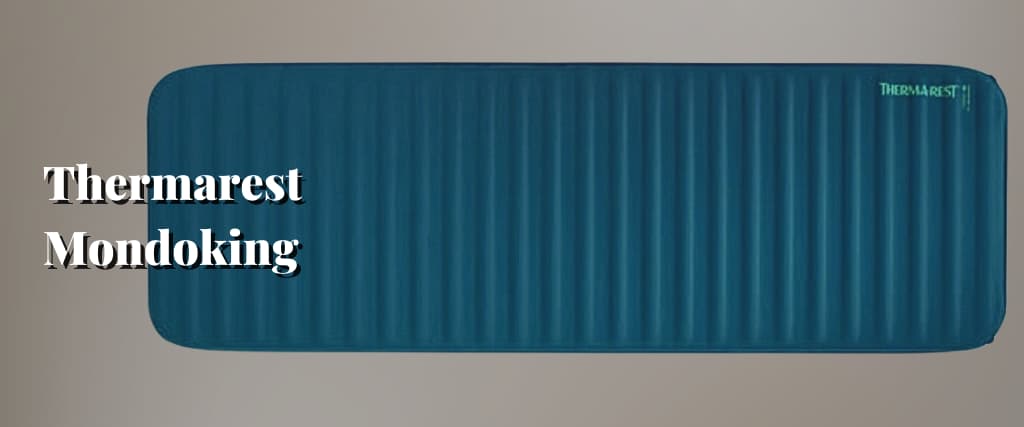 6. Thermarest Mondoking
It has a rating of 4.5
Specs:
It has a thickness of 10cm
It comes in Large or XX Large sizes:
The XX Large size weighs up to: 2.4 kg
It has dimensions (LxWxH) of 200 x 76 x 11 cm
This self-inflating bed is very lightweight at only 2.4 kg. It's also a good choice for taller hikers and travellers because of its generous length of 200 centimetres. It features a StrataCore structure and is 10 centimetres thick, making it supportive and fluffy.
One of the clever space-saving elements is the vertical sidewalls, which prevent the floor area from being wasted. Meanwhile, the R-value of 8.0 of the foam core guarantees year-round optimum warmth and comfort year-round.
Let's say you're in the market for a high-quality, single, self-inflating bed that is compact and easy to transport. As such, you'll find this review of a self-inflating mat to be one of the best camping purchases you can make.
Pros:
Easy to compress for convenient packing and storing
TwinLock has two distinct one-way valves for inflation and deflation.
Cons:
Very High-Priced
Complex inflation/deflation cycle
7. Coleman 
It has a rating of 4.5
Specs:
It is 6.4cm thick:
It only comes in SInge sizes
It weighs up to 2.3 kg
It has a dimension (LxWxH) of 70 x 18 x 18 cm
Coleman mattress is another excellent option for outdoor adventures. Choosing a sleeping mat with a cushion already connected to it is helpful if you're short on storage space.
This self-inflating sleeping mat contains free-flow valves that make it easy to adjust to the ideal amount of hardness, which might provide a more pleasant camping experience.
The supplied compression straps may release air to speed up deflation forcibly. The product has a durable polyester exterior, making it useful in a wide range of environments, and a soft tufted design, making it a more pleasant place to sleep.
This review of a Coleman self-inflating bed is worth reading if you're looking for an easy, lightweight (2.28 kg) mat for travel.
Pros:
Much more reasonably priced than competing brands
It requires no air pump due to the free flow valve.
Manufactured with a polyester shell that can withstand the elements and several piles of washing.
Cons:
It is expensive to acquire one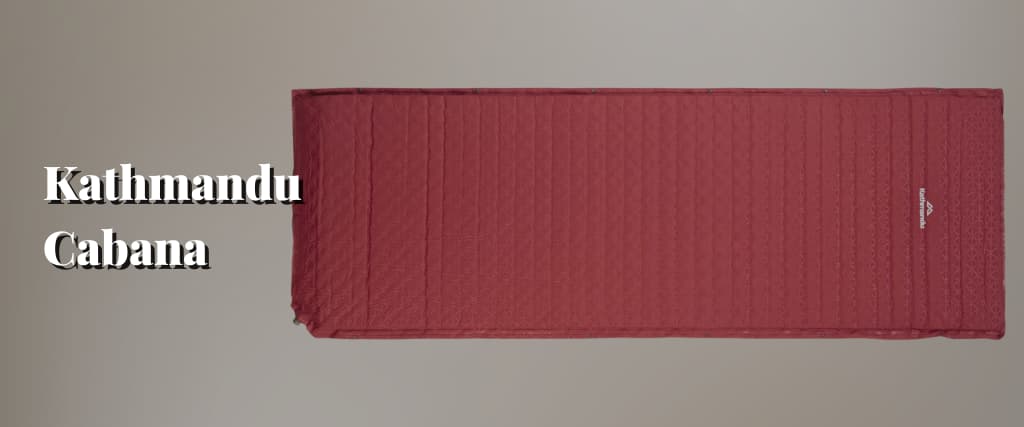 8. Kathmandu Cabana 
It has a rating of 4.0
Specs:
It has a thickness of 7.5cm
It comes in Single Sizes
The Single size weighs upto 2.7 kg
It has a dimension (LxWxH) of 196 x 64 x 7.5 cm
The 7.5-centimetre thickness of this Self-Inflating bed is less than most mattresses in this roundup, but the remarkable 2.7-kilogram weight makes it incredibly transportable. You won't find many better recommendations for self-inflating mats than that!
With an R-value of 7.5, you may use this mat year-round without sacrificing comfort. It may also click with another Kathmandu Cabana mat to make a larger double mat.
With its anti-slip exteriors, foam inside, and 150D oxford polyester linings, this product also comes with a repair kit for when things go wrong. Finally, at 196 centimetres in length, it is rather lengthy.
Pros:
The deficient 2.66-kilogram weight
This mattress consists of snap domes for quick and simple connection to another mat.
Included a toolkit for repairs
Cons:
Pricey
Reduced-price Valve Attachment
9. Sea To Summit
It has a rating of 4.5
Specs:
It has a thickness of 10cm
It comes in King Single Sizes
The King Single weighs upto 0.9 kg
It has a dimension (LxWxH) of 182.9 x 10.2 x 63.5 cm
This self-inflating pad is a lightweight alternative to traditional sleeping bags, making it a popular choice for backpackers and campers. This one is highly recommended if you want a model with more cushioning than the most lightweight options.
The 30D stretch knit fabric that sits above the durable 75D polyester gives the top of the sleeping mat an excellent "next to skin" feel. It's also quite spacious, with a thickness of only 10cm and completely vertical sides.
The mat's single valve may be used for inflation and deflation, making the process quick and easy. With an R-value of 5.2, you may use this mat year-round in moderate climates.
The 907.7-gram weight of this mat makes it easy to pack for lengthy backpacking trips or to bring along for extra comfort on vehicle camping trips.
Pros:
It weighs about 0.9 kg, making it very portable.
Automatic self-inflation/deflation with a single valve; folds up small for storage.
This mattress is more convenient and easy to transport thanks to its big horizontal triangular cores, which don't sacrifice durability or the quality of the product's support or comfort.
Cons:
Expensive
Inconveniently cumbersome to pack up
10. Kings
It has a rating of 4.5
Specs:
It is 10cm thick
It comes in both Single and Queen Sizes:
The single size weighs upto 4.3 kg
It has dimensions (LxWxH) of 190 x 85 x 10 cm
This bed mattress offers a fantastic night's sleep on the go with the King 10cm thick, velour-topped, self-inflating bed.
These are standard size, so you can use them in most swags, tents, or camper vans. They include a 190-centimetre-long sleeping space, a PVC anti-slip base, and retractable valves for easy inflation and deflation.
Let's say you want to go on a camping vacation in your car but need help finding a cheap, convenient, and comfy inflatable mattress. It'll take a lot of work to top the Adventure King's assortment of self-inflating beds in various sizes.
Pros:
The PVC sole and plush flock top provide straightforward maintenance and cleaning.
The straps are adjustable, and there is a storage bag included.
Cons:
Time-consuming to inflate
Was this article helpful?