Your mattress is not the only bedding essential to keep you restfully asleep throughout the night. Many people often forget about the bed frame that's helping your mattress do its job properly by providing it with support and protection.
If you are looking to buy a new bed base for any reason, this guide will help you get a bang for your buck. Not only have we suggested the best bed frames and bases in Australia, but also how to choose the right one for yourself. So that said, let's get right into it.
Here's How We Picked the Best Bed Frames and Bases in Australia:
Every single guide we create is backed by solid research and fact-checking to ensure our readers get the best advice possible. And this guide to picking the best bed frames in Australia is no exception. We went all-in with the research and dug deeper into every corner of the Australian consumer market to find the bed bases tried and tested by Aussies.
We scouted through different platforms from Productreview.co.au to Canstar Blue and Amazon to gather first-hand user experiences and then put together the bases. Every product given below excels in different departments, including the cost, support, design, space, height, material use, and so on.
Top 7 Bed Frames and Bases in Australia: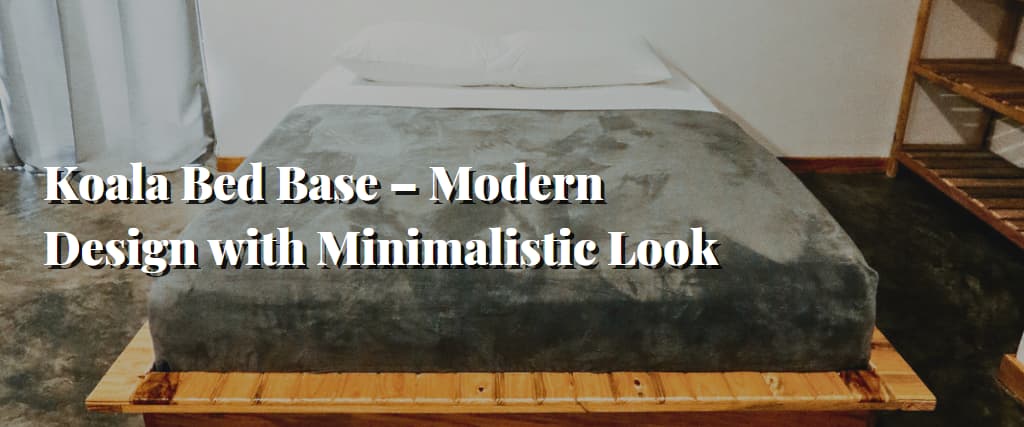 1. Koala Bed Base – Modern Design with Minimalistic Look
Koala is a relatively new company with an already successful boxed mattress, and their bed base is also loved by Aussies. Although the base was designed in Australia, it's made in China. However, every single piece of the frame is manufactured with the needs of an Australian consumer in mind. The Koala bed base is made with large timber pieces; this ultra-modern design is incredibly minimalistic when it comes to assembly – all timber pieces fit together like pieces of a jigsaw. It has different holes where you can pass your devices' cables to keep them within reach.
Even though the height of the base is just 23cm and some people may find it too low, its gorgeous design and affordable price tag definitely make it a worthy choice. The base features a smart design with storage space behind the headrest and different holes and lanes for cable management. Plus, its oversized platform gives off a floating appearance.
If you're concerned about the low to the ground design of the base, then it's not like you'll be too low when you lay down. Place a Koala mattress on the base, and it'll add another 23cm, giving you a total height of 46cm, which is just 14cm below the standard floor to base height. The low profile is also best for people who struggle to get out of high beds.
The Koala bed base is made with natural timber having a honeycomb core for extra strength. The base has panels of accurately cut timber. There's also ventilation space that keeps the air flowing freely, ensuring temperature regulation for your mattress. The base doesn't use slats to support the mattress. Instead, there's a flat timber surface. Even though this design is not very flexible, it does offer great support.
You can easily assemble the base and move it around. With provided tools and slat-free design, you can have the bed frame ready to use in under 5 minutes. Plus, it's water-resistant, so you don't really have to do anything to care for it besides regular dusting.
The base is available in five sizes and goes well with Koala or any other mattress for that matter. Koala offers a 5-year warranty for the base along with a 12-night sleep trial. You even get free delivery and pickup which could've cost you a lot otherwise.
Price: Starts from $600 – Goes up to $1,000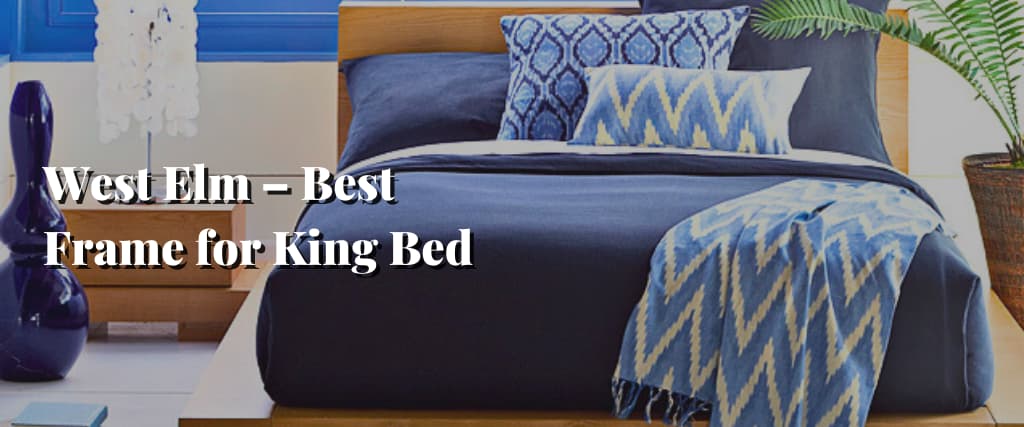 2. West Elm – Best Frame for King Bed
If you need a bed base that strikes a perfect balance of traditional and futuristic design, then West Elm's Mid-Century Platform Bed is an excellent option. It has an open design coupled with wooden slats that gives off a very clean and minimalistic look without compromising the support for your mattress.
The brand behind Mid-Century Platform Bed, West Elm, is located in Brooklyn, NY and focuses on combining futuristic designs, practicality and affordability into a single product. Their platform bed base has a traditional appearance with a combination of walnut and classic wood. The neat lines of the base are combined with angled legs in a very elegant manner.
The bedhead is bold and simple at the same time. It's made in Vietnam using walnut veneer with water-based walnut finishing. The base comes in three sizes and accommodates almost all Australian mattress sizes. The height of the frame is 30cm, which is still half the standard 60cm floor to base height. However, adding a deep mattress can increase the height by several centimeters.
It comes equipped with durable, flexible wooden slats that also have good ventilation by design. For the standard delivery, you will get the base unassembled and will have to put it together by yourself. But if you pay for the Deluxe delivery, the bed will be assembled for you after the delivery.
Since the West Elm Mid-Century Platform Bed has solid wooden construction, you don't really have to do much to take care of it. Just a little bit of dusting from time to time would be more than enough. You can also check the screws for tightness every 6 months or so.
Price: $1,499 for Queen and $1,699 for King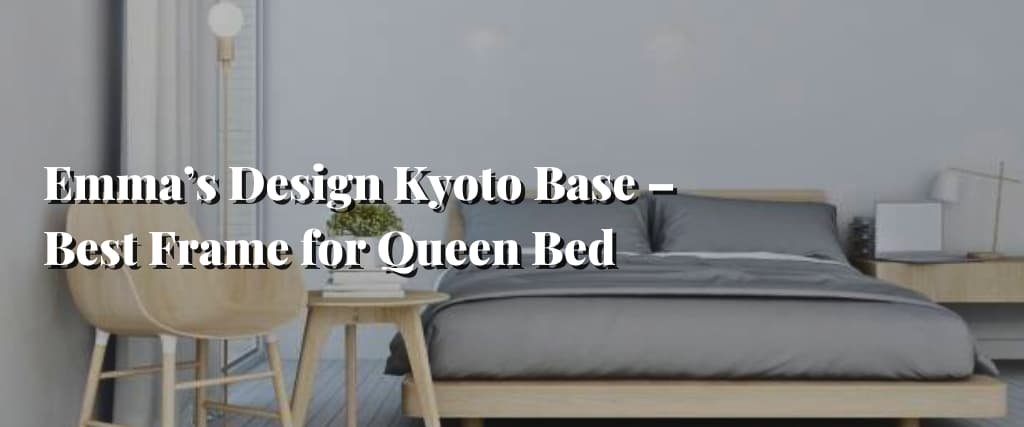 3. Emma's Design Kyoto Base – Best Frame for Queen Bed
Bed bases are typically made of wood, but this one by Emma's Design is made of a sturdy metal frame and solid beams that eliminate the feet, so it directly sits on the floor. These solid beams go around the bed's edges to secure the mattress in place, while the support legs at the centre add stability and strength. Since the bed base has an open design, the air circulates freely and avoids moisture from collecting at one place.
The Kyoto Base also comes with underneath storage space with 26cm height – a handy secret chamber to tuck away anything you want. Furthermore, staying true to their minimalistic theme, Emma didn't add a bed frame to the base, which means you're open to adding one of your own choices to the wall.
The Emma's Design Kyoto Bed Base only comes in black colour, giving it an incredibly stylish and contemporary look – it also has only one size; Queen. Keep in mind, the height of the base is only 30cm, so you'll have to add a deeper mattress to increase it or lower yourself to get into the bed.
Once the bed arrives, it'll be unassembled, which is a good thing as you can easily move it to the bedroom, especially if there are stairs in between. Since it's made of metal, you don't need to follow any maintenance routine besides wiping it with a clean and dry cloth every now and then.
Price: $299.95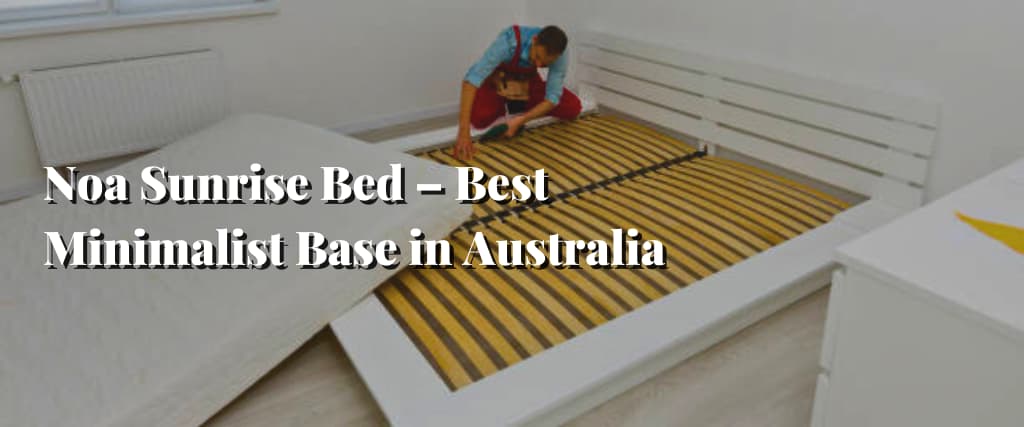 4. Noa Sunrise Bed – Best Minimalist Base in Australia
Equipped with modern and neat lines, the Sunrise Bed by Noa boasts a 2cm thick curve-style headboard with a white lacquer finish. Its minimalistic design will go well with any style of bedroom, and the flexible slat will adjust to most mattresses. The Noa Sunrise Bed base is made using MDF which is sustainably sourced, and FSC certified. It has a glossy white lacquer finish and comes in King and Queen sizes.
Noa is a Canadian brand that's famous for making top-quality mattresses at a fraction of cost, and the base is no different. Since their bed base has a very affordable price, it has a very basic, no-frills in design. Nevertheless, it boasts 28 flexible slats that will offer excellent support to the mattress and adjust according to your weight.
The King size has 183 cm x 190 cm dimensions and will fit most Australian King size mattresses. The base was designed in Canada but is responsibly manufactured in China and comes with a 1-year warranty and free delivery.
Price: Starts from $799 – Goes up to $899
5. ErgoFlex – Best Premium Bed Base with Easy Assembly
Looking for something different? Maybe a bed base that allows you to customize almost everything? Well, then check out the ErgoFlex Premium Base. You can choose many things ranging from the headboard, bed base, fabric and so on – everything is customized right in Australia. Although the bed base has a very luxurious style and feel, it does come with an expensive price tag. The brand has been one of the pioneer mattress manufacturers and has now extended its offerings to this base, which is equally stunning.
You can choose almost every style and design aspect of the mattress, including whether it should have a luxurious, contemporary or classic look. The process is quite simple and convenient; select every customization option online and have your bed base delivered to you. According to ErgoFlex, over 3,200 design combinations are possible. You can select everything from bed height to headboard and more. Oh, and they have over 30 colour choices for a headboard – pretty awesome, right?
The base is hand-crafted right in Australia using locally sourced raw materials, including the sustainable and sturdy pine and Ash Hardwood from Victoria. The ErgoFlex bed frame comes in five sizes, and your order will take 3-6 weeks to complete because of customization. The delivery is also free to most locations in Australia. Plus, you can pay extra money if you need bed assembly at home. Lastly, there's a 5-year warranty with the bed base.
Price: Varies because of customizability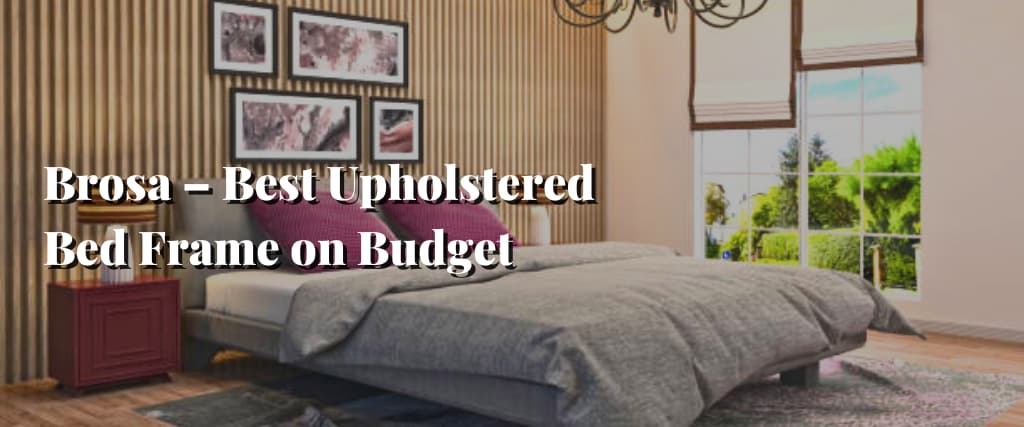 6. Brosa – Best Upholstered Bed Frame on Budget
If you need something practical with lots of storage space, classic design and sturdy support for your mattress, then consider this one by Brosa. It has ample space for storage, a beautiful look and is made with premium fabric and durable wood – the reason it has a 10-year warranty.
Brosa is the highest rated retailer in the online furniture industry of Australia and focuses on making gorgeous products with an affordable price tag. Since most processes are carried out in-house and exclusively sell online, they are able to keep the costs low.
The Brosa Upholstered Bed Base is also customizable as you can choose the Warwick fabrics and colours to complement your bedroom's décor. You can also choose a different headboard for the base, but that may increase the cost. Furthermore, the base has four drawers with ample storage space. The frame is constructed with solid timber that keeps the mattress stable, even under heavy load.
The bed is only available in Queen size and has a 41cm height, which is preferred by most Aussies. Plus, once you've placed the mattress, you'll get just the right amount of height for easily getting into the bed. The bed base has a 10-year warranty and a 7-day return policy – no questions asked!
Price: Varies because of customizability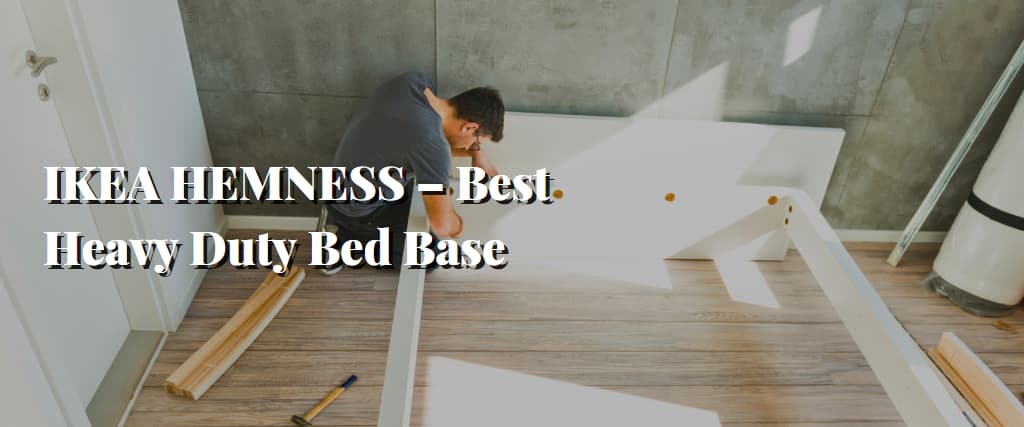 7. IKEA HEMNESS – Best Heavy Duty Bed Base
A classic bed base design made with solid wood for excellent durability and easy cleaning. The IKEA HEMNESS has a rail-topped bedhead with a slatted design, and there's also a footboard completing its old-school base look. Furthermore, you can choose the stains from a Scandinavian White or the classic Dark Brown-Black.
IKEA was founded in Sweden and now has a world-renowned furniture brand for its smart, affordable and sustainable products and their HEMNESS base is no exception. It is made from sustainably sourced pine which is sturdy, hard-wearing and durable. There's also extra storage space underneath where you can add ROMSKOG boxes that are sold separately.
Moreover, the flexible sides of the bed allow you to put different types of mattresses with varying thicknesses. The bed base itself comes in three sizes that are:
Double (135cmx189cm)
Queen (152cmx202cm)
King (180cmx200cm)
Although these are quite close to the standard Australian mattress sizes, they don't exactly match them. This means you either have to get an IKEA mattress or make peace with your mattress not precisely fitting the base. Since the construction of the bed is of solid wood, cleaning is a breeze, just wipe with a cloth using mild cleaner and then dry the surface.
Price: Starts from $204 – Goes up to $311
How to Choose the Right Bed Base and Frame?
The market is stuffed with so many choices that anyone can find their head spinning when shopping for a bed base. However, if you know precisely the things you need in the bed frame, you can save countless hours and a world of pain in experimenting with different products. So to be able to do that, read the most important factors to look for in a bed base below:
Foundation vs Box Spring:
The frame will either be a box spring or a foundation, which is basically the support system for your mattress. The spring base consists of a wooden frame with springs enclosed in fabric. Springs offer additional support for the mattress, while the wooden frame makes for a firm base.
Nevertheless, the spring box can run into issues like not having adequate air circulation because the box spring goes directly onto the floor, which means it can trap the moisture inside and cause mould growth.
The foundation, on the other hand, likes a bit like the box spring but contains wooden slats under the fabric. This bed offers more support to your mattress as compared to the box spring. However, if you need higher shock absorption, then spring is an obvious choice.
Slats and Their Types:
Slats are the most important for providing support to your mattress. Look for the slats with under 6.4cm space in between because a gap higher than this would cause mattress wear and tear.
There are two slat types; flat and sprung. The first ones are wooden slats that lay flat on the bed frame and offer firm support but low responsiveness.
Sprung slats have higher responsiveness and bounce because of their curved design – they tend to adjust as per your weight. The thicker your spring slat is, the firmer base it will offer.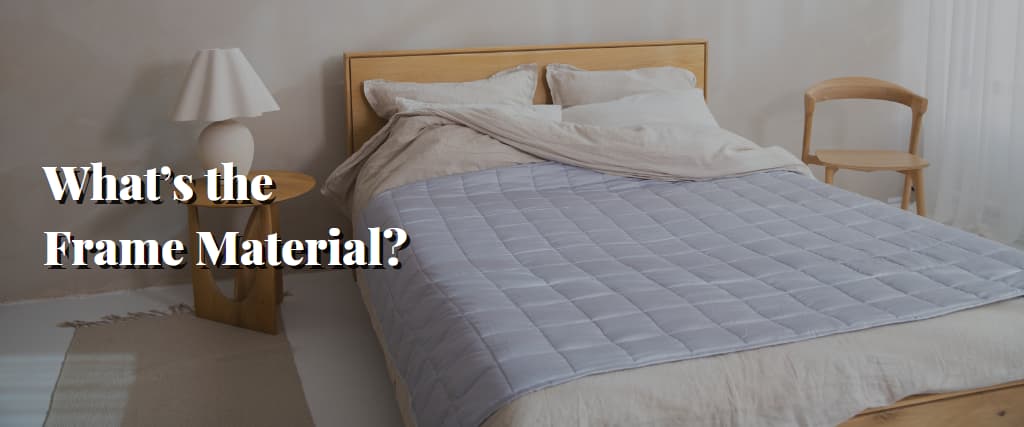 What's the Frame Material?
You typically have two material choices; metal and wood. The first one is more durable and will work well with modern and contemporary rooms. On the other hand, solid wood bases will add uniqueness and warmth to the room's interior.
Wood is a very supportive base, but it can rot, warp and splinter over time. Nevertheless, wooden frames suit a wide range of décor styles, including modern and traditional.
You also have leather or fabric frame options. They typically encase hard wooden frames. Keep in mind; leather needs a great deal of care and maintenance.
What's the Size?
There's no standard size for bed frames in Australia. Even if a bed has King size, it may not perfectly match your King size mattress. For instance, an Australian King bed base will differ from a European King base.
We know it's a given that you need to check the size of the bed base before buying it, but we still want to stress over this point. This is because many people end up buying bed frames just because they are the same size name as their mattress – they don't match the dimensions.
Furthermore, consider the room size as well and visualize the bed frame of the size you're getting inside it. Make sure the bed frame doesn't take up all the space in the room – have at least 0.m walking space between the bed and other furniture.
What About Packaging?
This is an important one if you're getting the mattress base online. You need to go for the flat pack because then the base will come packed inside a package that you can easily move around the house, especially if there are stairs involved. Also, check the dimensions of the box to ensure it'll easily pass through your doorway.
How High Should It Be?
The main purpose of purchasing a bed base is to raise your mattress from the ground so you can easily hop in and out of bed.
Look for the base that allows you to easily place your feet on the floor when you're sitting on it while also not making it difficult for you to stand up.
Frequently Asked Questions About Bed Frame:
Which Bed frame Material is Better – Wood or Metal?
In our opinion and experience, wood has been the better option for bed bases, and there are several reasons for this. Firstly, wood is sturdier than metal, and that's because metal can pull apart from its joints if they're welded together.
Secondly, wood doesn't make as much creaking noise as metal frames. You can literally hear the metal noises in the next room.
However, wood can rot, warp and splinter, so be sure to get the most durable frame out there.
What Should Be the Cost of a Bed Frame?
The average bed frame cost is $220, but it still depends on the material, design, features and brand. Some companies sell their bed bases for $800, while some even cross the $1,500 mark.
Nevertheless, the majority of bed frames will cost you anywhere from $200 to $300 with free delivery.
How Durable Are IKEA Bed frames?
If properly cared for, an IKEA bed base can easily last for 10 years. The brand excels at making the top of the line wooden furniture, and their sourced wood is always top-notch in durability and feel.
So you can expect their bed frames to last for a decade at the very least and not experience those squeaky noises from damaging the wood.
How Long Can a Bed Base Last?
The lifespan of most mattresses is 8 to 10 years, and that's also the case with bed frames. As discussed above, IKEA beds last for 10 years easily.
This doesn't mean other brands' bases are any less durable; the ones we have mentioned above can also last a very long time – over 8 years easily if maintained well.
Parting Words:
The main qualities that give a bed frame the wow factors include stylish design, supportive foundation, durability and in some cases, ample storage space. We went above and beyond to provide you with the best bed frames and bases in Australia above – every product is handpicked by our expert researchers.
From the design and budget to height, support, firmness and sturdiness, we considered every aspect before putting together this list so you can get the most value out of it.
Our most recommended pick is Koala Timber Base, but it can be a little costly for some. So if you are searching for something more economical, then Brosa Bed Frame is a great choice.
Was this article helpful?