A standard short queen mattress is around 152cm wide and 190cm long, making it nearly 13cm smaller than the regular queen bed. Some brands have this size listed as short queen, while some call it RV queen or even Camper Queen, but the size is the same.
The short queen is mostly used for recreational vehicles or other spaces like dorms where there's a very limited room. It can easily fit into most motorhomes and trailers, and you can even go shorter than a short queen by getting a three-quarters mattress with just 122cm by 191cm dimensions.
To know more about the short queen or RV mattress, its different material types and how it compares to other similar size beds, read this guide till the end.
Short Queen Types – Mattress Materials:
Before we compare the Short Queen bed with other sizes, let's first learn about the different types of mattresses that come in this size: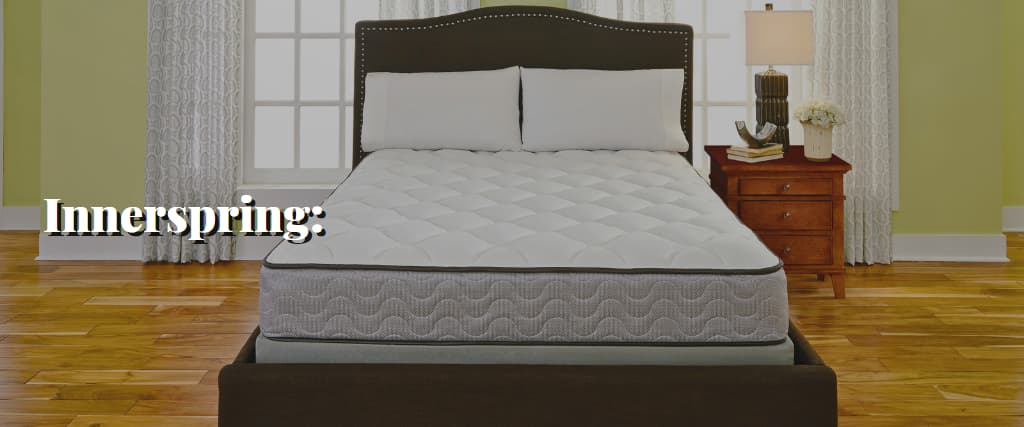 Innerspring:
For nearly two centuries – since the 1800s, the Innerspring mattresses have been the go-to option for most sleepers. They have fabric layers at the top, and the spring base sits at the bottom. Since the spring coils go up and down with weight, they adjust to your different sleeping positions quite easily.
Innerspring mattresses have been around for so long that they've become more affordable and within reach of most shoppers. So if you've got a compact space like a dorm or a camper/RV, you'll find the innerspring short queen-size mattress just perfect.
However, if you live inside your motorhome with a partner, you may need to add another layer of memory foam to minimize their movement disturbance. Springs are very sensitive, so they catch even the slightest movements and shake the bed. You can also opt for hybrid mattresses that have both foam and spring layers.
Memory Foam:
Made using a low-resilience, high-density foam, the memory mattresses offer a balance of thickness and softness to support the body while also cradling your pressure points. The shape of this mattress is designed to relieve various pain points. For instance, if you're a side sleeper, the foam will allow your hips to sink while also supporting them instead of letting them bend, which causes fatigue in the long term.
The best part of using memory foam is it reduces neck and back pain. Since it's available in short queen size, you can put it inside your RV/trailer. However, memory foam can be heavier than most mattresses, so moving it around can be somewhat difficult.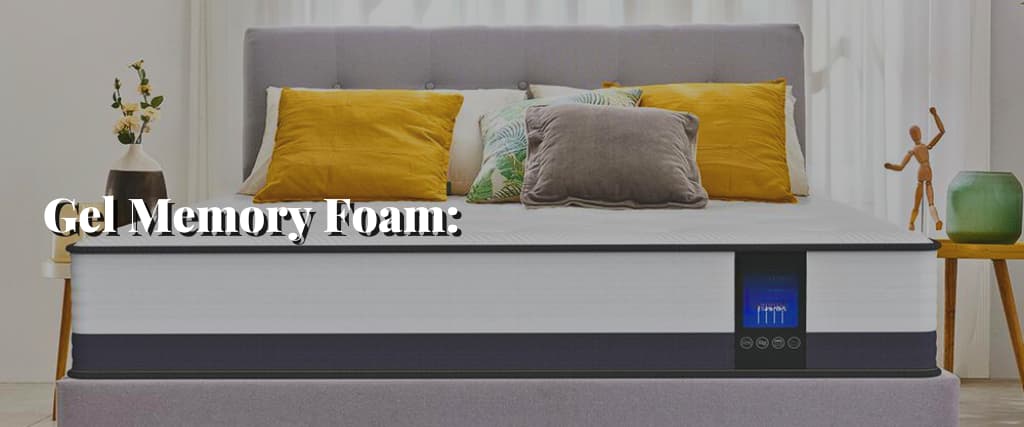 Gel Memory Foam:
The one problem with memory foams is that they don't regulate the heat effectively, meaning you'll be dripping sweat if you sleep hot. So, the mattress manufacturers added cooling gel beads to the mix and the result; a cool surface to sleep on without compromising memory foam benefits.
However, you can expect to pay more money than you would for a memory foam mattress because of the cooling feature. Nevertheless, if you enjoy cruising around in your RV during summers, spending a few hundred bucks will be well worth it. Not only will you sleep more comfortably, but the gel beads also offset some body odours.
Let's Compare RV Mattress Sizes for Ideal Fit
We've already mentioned that short queen mattresses sometimes are also called RV mattresses or Camper mattresses. So don't get confused if we use these names interchangeably. However, there's still no guarantee that a short queen mattress will fit in every size of RV.
If you own a camper, you'll know why that's the case. It's because different recreational vehicles have different interior spaces like the 5th wheeler vs. Class C motorhome.
So read on to know if a short queen mattress can fit into your mobile home and how it compares to other bed sizes used for RVs.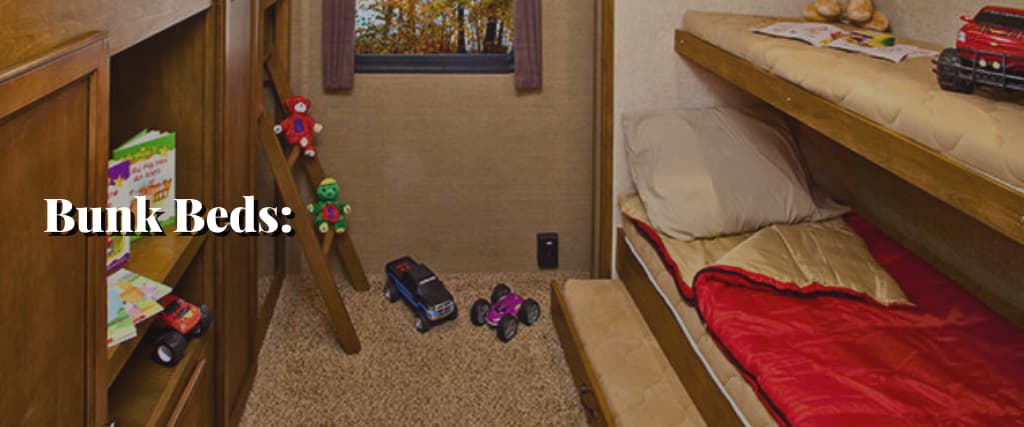 Bunk Beds:
If your RV is not large enough for two people, but you want to make it work somehow, consider getting a bunk bed and stack two short queen mattresses on each bed. This can save a lot of space for you to move around.
However, your trailer's roof needs to be high enough to accommodate a bunk bed with a mattress and then still have enough room for a sleeper. Most bunk beds have 88cm by 200cm to 71cm by 190cm dimensions.
Three Quarter:
This one is larger than the bunk bed but still not as big as a regular-size bed. It's also known as 'small double bed,' and the starting dimensions are typically 121cm by 190cm.
Although technically, two sleepers can fit on 3-quarter mattress size, you'll constantly be running into each other even with small movements. This mattress size is perfect for a single person who needs space in the RV but also some wiggle room in the bed.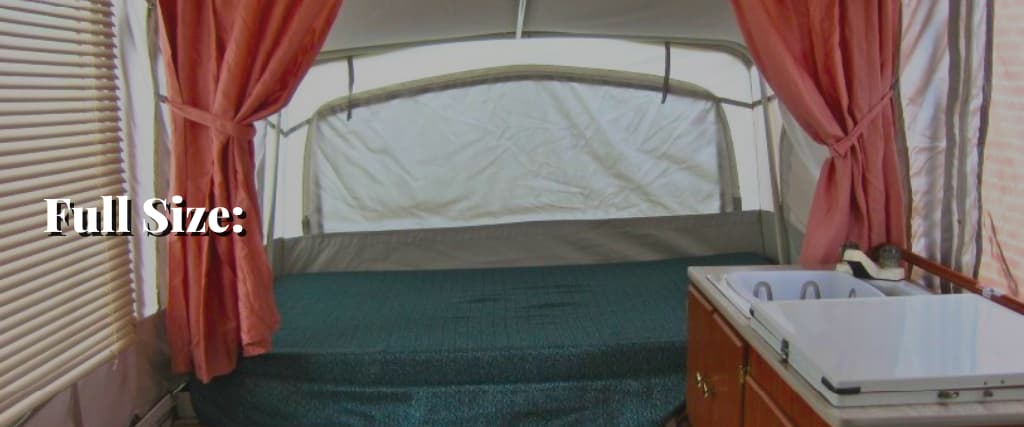 Full Size:
With dimensions starting from 137cm by 190cm, the full-size mattress will work fine if you don't combine it with any other mattress – like another one for guests.
Although the space can get a little tight with just having one full-size mattress, you can go for sofa beds. Luckily, these have full-size beds, so you can tuck them into the wall when not in use, leaving ample space to move around.
Regular Queen vs. RV Short Queen Mattress:
The queen mattress size is around 152cm by 205cm, while a short queen bed is about 152cm by 190cm. This means, on average, the RV bed is 15cm shorter than the standard queen.
So if you're a very tall adult, you may have to go with a regular queen mattress as your feet might dangle off the short queen size.
However, if you don't mind sleeping this way, or you can just pull your legs up to your stomach, 15cm can make a world of difference in space-saving. Plus, not having 15cm of extra foam inside will take off some load from the RV.
Regular King vs. RV King Mattress:
There's also a short variant for the king-size – the short king mattress. The standard version has 193cm by 203cm dimensions, which are enough to facilitate two adults and a small kid.
The short king-size, aka RV King, has dimensions around 182cm by 190cm, so it is shorter and narrower. Even though this is not the ideal size for two sleepers, you can easily have your pet sleep on it, saving space on a dog bed.
Although the RV king might not fit inside a camper, it's perfect for 5th wheelers and Class A motorhomes.
Some Useful Accessories For Short Queen Mattress:
Owning a short queen mattress is just not enough if you're going for the  top-level comfort. For instance, depending on the type of material your mattress has, the foam can be too hot; if that is the case, you may need to add an external cooling element. So keeping this in mind, let's check out some short queen mattress add-ons: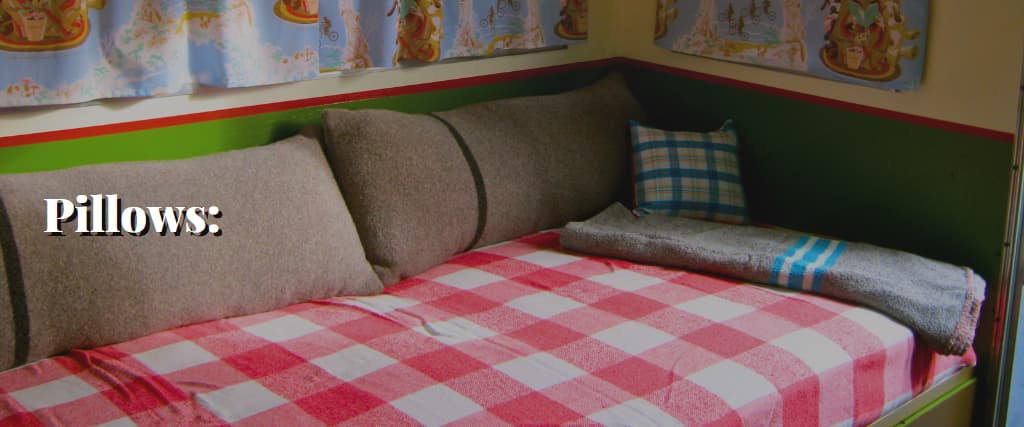 You might be thinking, what kind of suggestions is that? I know a pillow is necessary for a mattress. But, we are talking about the pillows that are specifically designed to help alleviate back pain. The density of your bed affects your back. If your bed has medium-firm support, it will alleviate back pain, but only if you sleep on your back.
For side sleepers, this won't make any difference – you may even feel sore the next morning. This is because your hips need a softer mattress to sink in, allowing the mattress to cradle the natural spinal curve. Otherwise, your hips will stay on the surface, and your spine will bend in an awkward shape, causing pain.
We know, we know – you're thinking, how does all this relate to pillows?
It's quite simple, if you're a side sleeper, having a pillow that's too soft will cause your head to sink in, pushing your top spinal ligaments upwards. It's just like the mattress criteria we discussed above.
The gist is, even if you've got the right mattress, your body can be in pain every single morning. So you'll have to balance the natural spinal curve with a pillow and mitigate or even eliminate the pain. Nevertheless, choose the pillow foam wisely.
Furthermore, when shopping for pillows to go with your short queen mattress, be mindful of its width, especially if you have a sleeping partner. You don't want them to be too wide that they hang from the edges. Be sure to measure the width of your bed and then the pillows and ensure the pillows are not wider.
There are many options that'll work great with the short queen mattress, including the foam pillow by Emma that's only 70cm, allowing you to fit two in a 150cm short queen mattress. You can also opt for the 60cm foam pillow by Sleep Republic.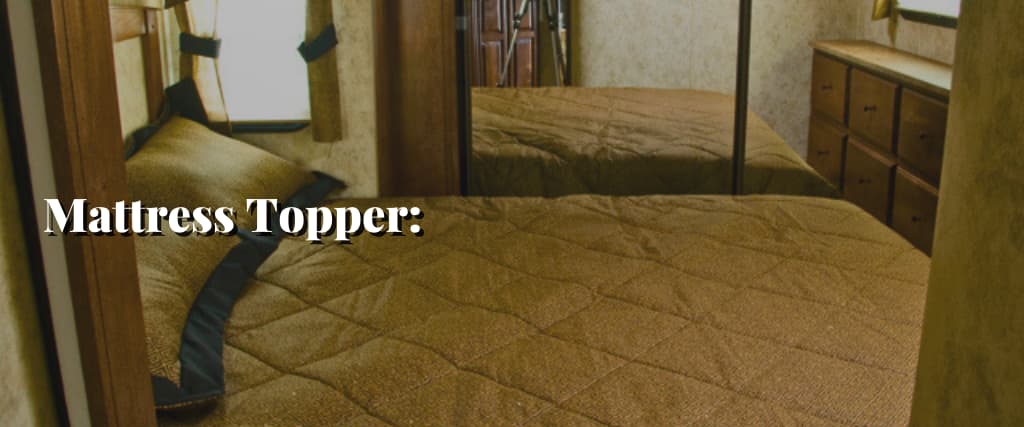 Mattress Topper:
Yes, that's another tool in the must-have arsenal of your bedding. Many people confuse the topper with a protector, but both differ in functions. The former is used for additional support and comfort, while the latter only protects the bed from stains. Also, do not go for mattress pads, they do enhance your sleeping experience, but they're thinner than toppers which means they can deteriorate sooner.
Furthermore, mattress pads are typically attached to the sheets, while the topper is separate. It goes over the mattress and is secured with a fitted sheet. Mattress toppers are great for RVs and campers that already have mattresses, which are mostly short queen size.
However, these RV mattresses can be a little firmer than most people would like, so you can use a topper that's softer to achieve a more comfortable sleeping surface. Since it's a lot cheaper than a mattress, you can just get the topper and not break your bank by getting a new short queen mattress.
You can go for quilted toppers if you want that fluffy feel. Plus, the quilted pattern makes the surface even if your bed has tufts.
Moreover, if your bed gets hot while you're sleeping, like we pointed out earlier, then you can definitely benefit from a cooling bed topper. It leverages the same concept as the gel memory foam mattress, where the cooling gel is used along with the foam material. As a result, the topper decreases the temperatures, ensuring you sleep cool.
Be Sure To Get CertiPUR-US Certified Topper
If you choose to purchase a mattress topper, try to go for the one with the CertiPUR-US tag. Although it's not an add-on for your short queen mattress, having this label on your topper will help you identify toppers that are built with human and environment-friendly materials. Here are the criteria every manufacturer needs to meet to have the CertiPUR-US tag:
No use of heavy metals
No use of ozone depleters
Free from TDCPP, TCEP or PBDEs
No Formaldehyde
No phthalates
Low VOC emissions
If you are stuck on choosing between two mattress toppers, or even mattresses for that matter, go for the one that has this tag. You'll feel more confident making a choice, knowing your health will not suffer.
If you're looking to purchase a mattress or a topper that's close to home, check out Koala as it's an Aussie brand and is also CertiPUR-US certified.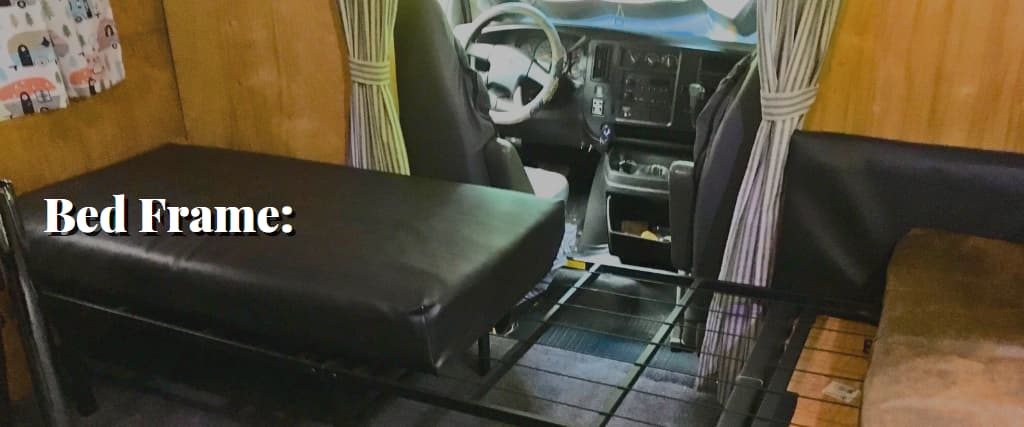 Bed Frame:
You may have seen many people using box bed frames as the foundations for their mattresses. If you are planning to use the short queen mattress in a camper, a box frame is the ideal base for your foam. It is both decorative and practical because of its size and shape. You can even find some box bed frames with drawers for storage under the bed.
You can also go for an adjustable bed frame for your RV – the one that you can push and pull in and out of the wall. Having extra space in place of your bed whenever you want is great, especially if you have visitors frequently.
Bed Sheets:
Spending time inside closed spaces like RVs that are exposed to the outside environment means getting the dust and dirt inside quite easily. And in such a small space, you'll be in contact with a lot of microscopic insects, especially the dust mites that settle in the mattress and cause morning allergies. These pesky creatures feed off the dead skin cells and grow in warm conditions like in layers of foam.
Manufacturers put their heads together and figured out a way to deal with them, using plastic materials to make hypoallergenic sheets. These mites live inside the mattresses and pillows and move through their threads to reach the surface and onto our skins. But if plastic is put between them and the sleepers, they can't get to their food source and eventually starve to death. We know it sounds cruel, but it's your daily morning allergies vs. the mites who are literally eating you every day.
At first, manufacturers only used plastic for anti-dust mite beds and pillows, but it used to form creases and make crackling sounds with movement. So, manufacturers upped their game and introduced hypoallergenic sheets with breathable materials like nylon, polyester and even cotton. Since these are fabrics, they are not uncomfortable to lay on and don't make noises when you move. The fibres are tightly knitted together, leaving no space for the mites to move through them, which means they can't reach the sleepers above.
We strongly recommend getting anti-dust mite cases for pillows and sheets for your mattress. This will also be helpful for when you're not living in your camper. Your bedding will be tucked away, collecting moisture and a little bit of dust, which is a perfect breeding ground for dust mites. So covering the pillows and mattress in hypoallergenic cases and sheets will avoid this problem.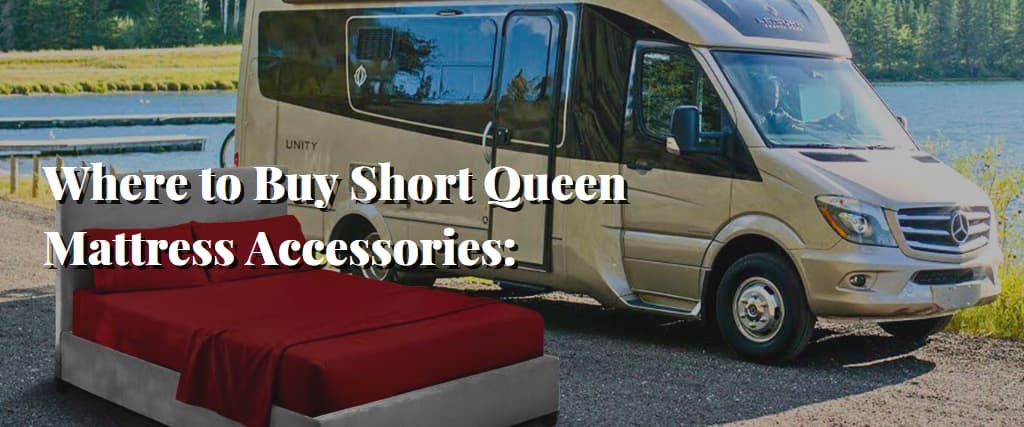 Where to Buy Short Queen Mattress Accessories:
We've already made a few suggestions above for mattresses and accessories, but if you want a wider range of options, read this section.
There's a massive range of mattress toppers on Amazon with different materials. You can get Martex's 100% cotton topper with less density but super comfortable and durable –even after several washes.
And if you need protectors, look for Run2BED's range of hypoallergenic and waterproof sheets with a whopping 10-year warranty.
If you need something that protects your mattress but also has a style and pleasant appearance for decoration, look for Rajlinen's range. These sheets have a 4—thread count and come in dark grey, ivory and light blue colours.
Final Thoughts:
When searching for a short queen size mattress, remember that not every manufacturer will call it that. Some may list it as an RV mattress or a caper mattress instead.
So do not ignore the beds with these names as they're practically the same in dimensions – this will save you a lot of time and headaches.
If you still cannot find the mattress for your size preference, just ring up the brand and ask for a custom dimension bed instead; many offer this liberty.
Was this article helpful?