Have you been combing through the internet looking for a mattress that can provide you with a sound sleep every single night? If so, you may have seen the name Sleep Republic tossed around in a few blog posts. Well, there's a good reason why it's among the top favourite Aussie brands for mattresses, and that's the use of an innovative spring base and gel-based foam combo. Read this detailed Sleep Republic mattress review and find out what it has to offer and how it compares to other popular mattress brands in Australia.
Sleep Republic Mattress – Unique Gel Foam & Spring Hybrid
Based in Melbourne, Sleep Republic is an Aussie brand that has shipped over 100,000 beds to customers in Australia alone. It has amassed hundreds of 5-star customer reviews and earned several awards, all praising its products' quality. The Sleep Republic has gained so much popularity among Australian people that almost 20% of its sales come from repeat customers.
The Sleep Republic manufactures luxury mattresses with hybrid technology for the best sleeping experience – still, their beds cost lower than most high-end brands. Their mattresses combine various types of materials for the highest support and comfort. They have a gel-infused memory foam for cool and peaceful sleep, while the pocketed springs offer the best orthopaedic support.
Let's dive deeper into the spring and gel-based memory foam mattresses and how the Sleep Republic packs both technologies in a single mattress.
Spring Mattresses – Old But Still GOLD!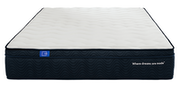 It's a very old technology used for bedding and even sofas dating back to the 1800s. Spring mattresses have various curved wires put into rows for the best body support. These are popular for having unparalleled support, especially for the back sleepers and/or heavy people. Furthermore, the gaps between coils in the springs create ample space for air to flow freely, keeping temperatures at bay. Some more benefits of this mattress type include:
Great firmness and support
Excellent ventilation that keeps the sleeper cool
Good level of bounciness
Springs spread to the edges of the bed, providing greater edge support
There are only two spring mattress types; pocket and open-coiled. Manufacturers most commonly use the latter one, but all sleep Republic mattresses come with the pocket-spring design. This is because it offers more support, and unlike the coils, the springs work individually, pillaring every part of the body.
The Sleep Republic leverages a high-quality spring system with around 2,250 springs inside a single mattress – 3x more than the coil quantity in other beds. Their pocket springs also offer 5-zone support for better orthopaedic health. Plus, the springs are installed at the perimeter of the mattress as well, ensuring the bed doesn't cater upon sitting on the edges.
Gel-Based Memory Foam – A Godsend for Aussies:
Memory foam came into the market more than 100 years after the invention of spring beds. And due to its ability to perfectly mould to the body and cradle pressure points for maximum comfort, it immediately gained exponential popularity.
However, in places with relatively warmer atmospheres like Australia, memory foam can cause a little discomfort to sleepers because of ventilation. Since it conforms to the body according to the rise in temperatures, people felt hot sleeping on it.
So to solve this, manufacturers put their heads together and came up with a brilliant idea of adding cooling gel to the foam. So they started adding gel beads to counter heat from memory foam and keep things cool – a blessing for Aussies.
The Sleep Republic uses gel technology with its memory foams, but it goes one step further. The company also injects air into the foam to increase airflow and further bring the temperatures down. The breathability and body pressure-relieving features of memory foam combined with cooling gel make for an excellent sleeping surface. Some more benefits of this combo are:
The foam moulds according to your natural spinal curve, ensuring it doesn't bend in an unhealthy posture
Limits movement transfer that reduces the vibrations and movements arising from the side of a restless sleeping partner
The gel keeps you cool all night long, especially during those hot and humid Australian nights
Here's How the Sleep Republic Packs Gel-Infused Memory Foam & Spring Base into one Mattress:
Most modern mattresses that come in a box are made with memory foam layers only. However, Sleep Republic adds a spring base to the gel memory foam, which makes it truly stand out from the competition. This hybrid provides sleepers with superior support, the right amount for the bounciness, and excellent comfort. Plus, it can easily be packed inside a box for easy delivery and moving.
Each mattress is built identical to the design Sleep Republic has laid out for its beds; here's what goes into them:
The top layer is a highly durable cover of silky cashmere, while the sides are covered by a 3D spacer fabric. This mesh material helps with ventilation.
The second layer is gel-based memory foam that offers support to the body, cradles pressure points, and keeps the sleeper cool.
The third layer is a latex-based foam that helps with weight distribution and absorbs pressure.
The last layer is of pocket springs that deliver consistent support to various parts of the body with great precision thanks to the 5-zone support technology.
The Sleep Republic has designed its mattresses to have medium-firm support because it's the best sleeping surface for most people. Plus, almost every hotel bed has the same firmness level. People of up to 230lbs can easily sleep on it in various positions, including on the sides and back.
Sleep Republic Mattress Size Review:
The brand offers a better range of sizes than most direct-to-consumer bed companies. With every mattress having a 31cm depth, here are the weight and dimensions:
Single:
Weight: 35kg
Dimensions: 92cm by 188cm
Spring Count: 1081
King Single:
Weight: 39kg
Dimensions: 107cm by 203cm
Spring Count: 1250
Long Single:
Weight: 37kg
Dimensions: 92cm by 203cm
Spring Count: 1100
Double:
Weight: 43kg
Dimensions: 137cm by 188cm
Spring Count: 1496
Queen:
Weight: 49kg
Dimensions: 152cm by 203cm
Spring Count: 1850
King:
Weight: 55kg
Dimensions: 183cm by 203cm
Spring Count: 2250
Let's Talk About the Packaging:
The Sleep Republic mattress comes packed in a box and will be delivered to your doorsteps like that. They first vacuum-seal the bed inside a protective case and then roll it up into a plastic liner for added protection. The company leverages compression procedures to safely pack your mattress inside the box and ships it from one of their Australian warehouses to the customer's home.
The package comes with a handle and wheels to assist in the transportation and movement of the mattress to its final destination – your bedroom. Since it is protected in several different layers, it will not get damaged even if the package receives dents.
Once you've placed the order, the mattress will arrive in a box along with a welcome pack. This pack will have some tools and instructions to help you take the bed out and set it up.
You can almost immediately use the mattress after taking it out of the box. But since it was vacuumed and compressed into the package, it might have some odour that'll go away in a few hours. Also, it will take 10-12 hours to a few days to fully expand back to its original size.
What's The Trial & Shipping Like?
You get free delivery across Australia with the Sleep Republic, and the best part is; some regions have same-day delivery if the order is placed before 11am, including:
Melbourne
Gold Coast
Adelaide
Sydney
Brisbane
Perth
For other Australian regions, you can expect the mattress to arrive in 2-5 working days. However, it can even take up to eight working days for remote areas.
You get a 100-night trial for the Sleep Republic mattress, and if you don't find it the right match for you, you can easily return it within this 100-day window. The return shipping is also free.
Here Are Some Other Sleep Republic Offerings:
Even though the company only makes one mattress, it offers heaps of accessories to take your sleeping experience to the next level. These include:
Pillow:
The Sleep Republic pillow is made of foam that leverages innovative cushioning technology for support and softness. It has a cover that's made of Tencel, an ultra-soft and eco-friendly material that's gentle on the skin and also absorbs moisture.
The pillows come in two sizes; 14cm for the side and 10cm for back and front sleepers. They are also backed by a 100-night trial.
Pro Base:
The mattress base comes with proper ventilation and is incredibly easy to assemble. Because of its 14 slats that are more than any other base, it offers extra support to the mattress.
Plus, these slats are 50% thicker, which also helps in preventing mattress flexing and burrowing.
Sheets:
You can also buy their 100% bamboo bed sheets which are eco-friendly, washable and incredibly breathable.
Each sheet set includes a flat sheet, two pillowcases, and a fitted sheet. Since it's made of bamboo, it absorbs and wicks away the moisture.
Dog Bed:
Yes, they make dog beds too! It's specifically designed to relieve pressure from joints and provide your furry friend with a comfortable surface. Thanks to the cooling gel memory foam in the bed, your pup will sleep cool.
Mattress Protector:
Endorsed by a non-profit U.S organization; National Sleep Foundation, the Sleep Republic protector, has anti-allergic and anti-dust mite properties, along with excellent stain resistance features.
Sleep Republic Comparison with Other Mattresses:
Casper vs. Sleep Republic:
Casper was the first brand to mass-produce mattresses in the box and introduce them to the market. However, they don't have pocket springs – only memory foam.
Their mattresses are also thinner compared to the Sleep Republic, with only 24cm depth compared to Sleep Republic's 31cm deep mattresses.
Nectar vs. Sleep Republic:
Both Sleep Republic and Nectar have the same medium level of firmness, but Nectar mattress only has a memory foam layer – no springs.
One thing that's unique about Nectar is its limited lifetime warranty and a generous 365-night trial.
Ecosa vs. Sleep Republic:
Ecosa is one of the few Aussie brands that have gained a lot of popularity in a short time. It has three firmness options, while you get only one with the Sleep Republic.
However, unlike Ecosa that only has gel-based memory foam and regular memory foam, Sleep Republic features a pocket spring base as well.
Both companies offer a 12-year warranty and have excellent customer satisfaction rates.
Sleeping Duck vs. Sleep Republic:
Both of them have hybrid mattresses that combine memory foam with pocket springs, but Sleeping Duck mattresses come in two firmness levels.
However, Sleep Republic costs less than Sleeping Duck mattresses and also has thicker mattresses, with 31cm depth compared to 30.5cm.
Koala vs. Sleep Republic:
Koala is another Aussie-favourite mattress brand, but their mattresses have open-cell memory foam instead of springs.
However, both brands have the same medium-firm level support, and both have cooling gel memory foam.
Frequently Asked Questions About Sleep Republic Mattress:
How to Care for Sleep Republic Mattress?
According to the Sleep Republic, you should put a mattress protector on top of your bed. Additionally, when directly cleaning the mattress, use a damp cloth to gently wipe the stains and marks immediately.
Do not use any soaps, chemicals, or solvents; only water will do the trick. Lastly, let the mattress fully dry before putting the protector or sheets back on.
Which Base Should I Use for My Sleep Republic Mattress?
Any stable and level base would work with the Sleep Republic mattress, granted the dimensions of both match.
Also, do not use any base with spring slats and the base should have good central support.
What's the Sleep Republic Mattress Warranty Period?
You get a 12-year warranty for the mattress quality or faulty materials.
Should I Regularly Flip the Mattress?
No, there's no need to flip the Sleep Republic mattress because only one side has the pillow top – flipping it would put the surface with the pillow top at the base.
However, you can rotate the mattress every 2-3 months to ensure it stays in great condition.
What Safety Certification Do Sleep Republic Mattresses Have?
The National Science Agency of Australia; Commonwealth Scientific & Industrial Research Organization has tested and certified the Sleep Republic mattress's cashmere cover as harmful-chemical free.
Moreover, the materials, foam emissions, and durability of Sleep Republic's gel-based memory foam are certified by CertiPUR-US.
Was this article helpful?