Any good nap or sleep requires comfort—preferably the one you experience in your double-sized bed.
Unfortunately, most of us don't get enough sleep, and those who do wake up with back pains and other health complications. If you're injured, pregnant, old, or experiencing medical challenges, you need a comfortable place to lay.
So what do you do? Where do you start?
Recliners are soft and comfortable sofas that lean when you lower your seat while keeping its anterior elevated. Its unique backrest feature is what you need right now.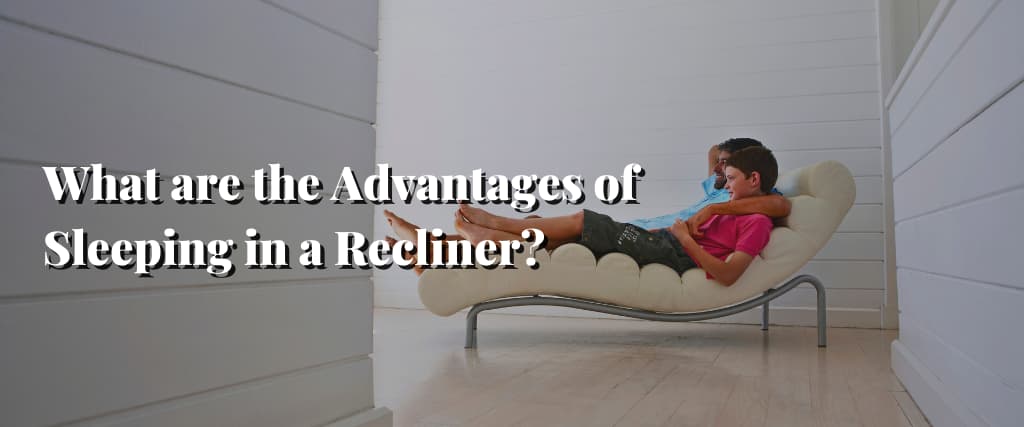 What are the Advantages of Sleeping in a Recliner?
If you fall asleep on your couch most of the time, then recliners will be a lifesaver as they relieve you of back pain experienced when sleeping or napping on regular sofas.
Below are some of the best recliners' advantages:
1. Relieves Back Pain
At some point, you fell asleep on the couch, and when you woke up, you headed straight to the hospital or called in your family doctor to examine your back pain.
However, you are assured of a healthy rest with recliners as it does not require you to sleep in the same position since it's big and adjustable.
Similarly, recliners reduce your spine's pressure as it's specifically made to offer superb lumbar succour. 
2. Increases Respiratory Function
Recliners have a great way of ensuring your respiratory system functions effectively. Your body's diaphragm requires adequate time and position for an effective contraction process: it moves downwards for the significant acquisition of fresh air when you inhale.
Similarly, those with sleep apnea challenges will realize how valuable recliners are; you won't experience any more respiratory problems since all your airways will be clear and ready for efficient airflow. Recliners put you in a great position where all your respiratory organs function properly.
3. Improves Blood Circulation
It has been proven that blood often gathers in your ankles and feet due to gravity throughout the day.
Apart from interrupting your body's circulatory organs, it also leads to swelling and constant unbearable pain. Fortunately, recliners can undo the damage when you rest in a comfortable position.
Relaxing with your foot up on a recliner will ensure that blood circulation goes back to its routine.
Similarly, it ensures that your circulatory system normally runs to avoid developing possible health issues such as heart attacks. Moreover, resting in a recliner will ensure efficient blood circulation throughout your entire body.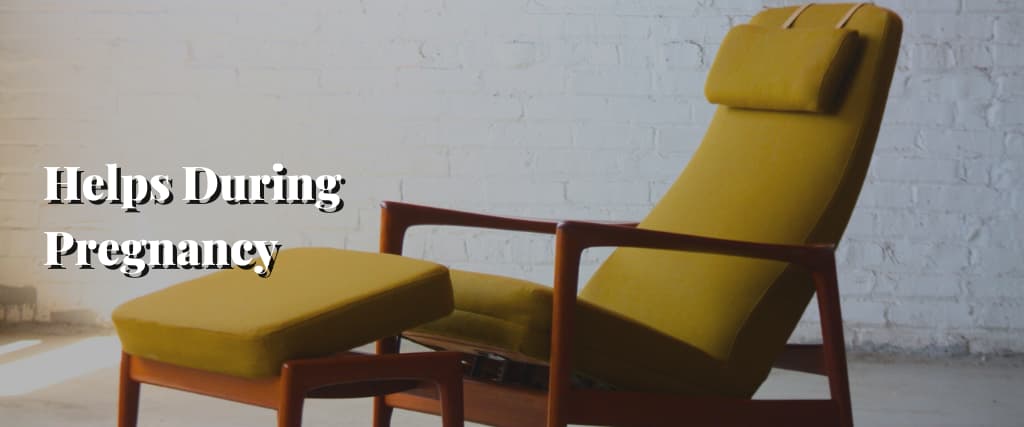 4. Helps During Pregnancy
Generally, women often complain about constant discomfort and back soreness and pain when women are pregnant.
This is usually the case when approaching the baby's delivery stage. If you're one of them or your wife is in this position, you need to get her a recliner seat to lay back to relieve the pain and pressure.
5. Helps with Acid Reflux
Are you a victim of your poor sphincter muscle relaxation?
If you are, consider getting yourself a recliner so that your stomach's acid does not go back to the esophagus, leading to gastroesophageal disease. Similarly, folks who have tried recliners have noted a decrease in the standard rate of heartburn.
6. Reduces Stress
We've all experienced stressful working days, or sometimes you're just bored and need to relax. Well, you need a recliner as it's the top stress reduction technique that's effective for your day-to-day life.
Recliners have a characteristic that ensures that you're in your comfort zone at all times to relieve you from constant stress.
The Best Recliners for Sleeping Reviewed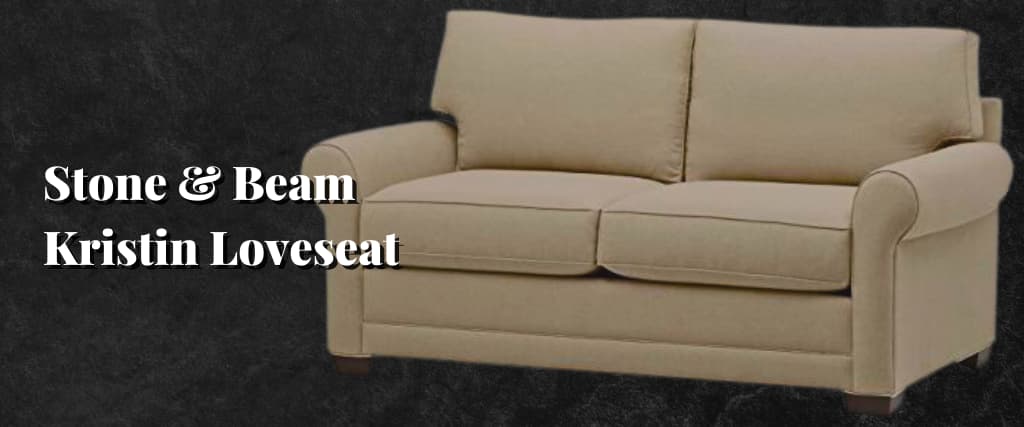 1. Stone & Beam Kristin Loveseat
The Loveseat should be at the top of every buyer's recliner's bucket list as it has a classy vintage finish to change your interior room style with its aesthetic touch.
Similarly, the Loveseat recliners can be adjusted to make a kind of a double-sized bed when you happen to have guests around, and your bedrooms and beds aren't enough.
The Kristin Loveseat measures 52 inches for standard ones, 58 inches for medium ones, and 64 inches for the complete set, making it the go-to recliner. This recliner is sufficient for accommodating two grown humans efficiently.
Similarly, the Stone and Beam recliners come with an unmatched blueprint that includes circular arms and a unique touch that's hard to find but matches various home styles.
It also has solidly built frames from laminate and plywood to guarantee longevity. You can have a long and relaxed rest with its ninety-five pounds weight.
Moreover, the Loveseat recliner has a squidgy polyester cover that you can clean effortlessly, so it's easy to keep your recliner seat fresh throughout. The soft textile covers your recliner and offers a unique finish to your living room with its elegant look.
Additionally, the Loveseat comes with a polyfoam to provide the ultimate comfort as you relax and read a magazine on your recliner.
This recliner's fabric is mushy enough to relieve you from back pains. Similarly, it comes with a double-sized mattress that requires a double-sized sheet for the best sleeping experience.
The best thing about Loveseat recliners is that they come with a three-year warranty to guarantee that your money doesn't go to waste. Moreover, it has a 30-day return phase so that if there are any malfunctions or faults, you can get a refund or get a new one.
Generally, the Kristin Loveseat recliner has what it takes to be your number one choice in terms of your home's interior style, space, and aesthetic look. Its price matches its functionally, so you don't need to worry about malfunctions.
Pros
You can wash its fabric easily.
Elegant design
You don't need an assembly
Cozy padding
It has a solid wooden frame
Cons
The Loveseat cushions are not durable.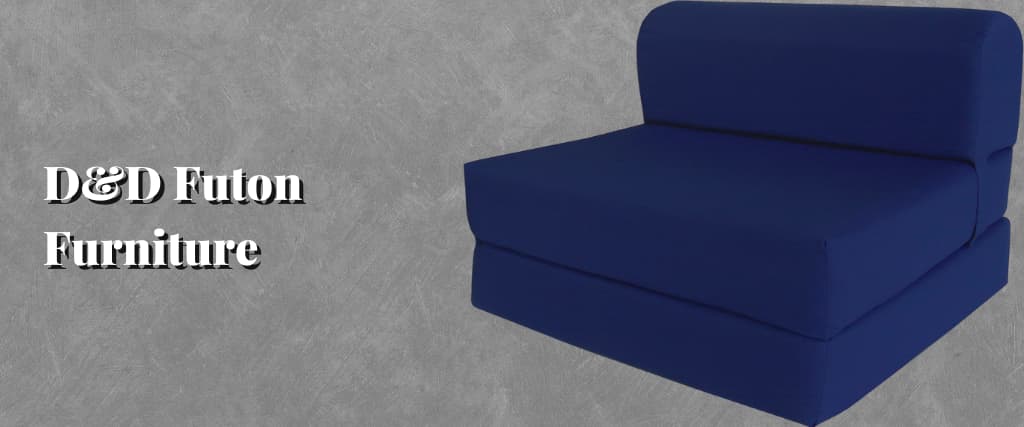 2.  D&D Futon Furniture 
The Futon recliner comes with a complex but unique design that perfectly fits most houses' interior design. The futon sofa has excellent characteristics, such as its relaxed feel, making it the ultimate replacement for your comfy bed.
The Futon classic recliner measures 32 by 23 by 12 inches when in its normal state but measures 40 by 6 by 32 inches when adjusted, making it the best bed replacement.
However, the D&D recliner doesn't come with a metal frame, which means it has a small weight of around 21 pounds. Consequently, the Futon recliner should be managed and handled with great care to last longer.
This unique recliner also comes with dense foam for the ultimate great comfort. Additionally, its fabrics are of an excellent standard made of polyester. The lack of a metal frame on the Futon sofa also means the couch keeps a safe distance from the ground.
Similarly, D & D's lack of frames outlook makes it easier for you to tuck the recliner and keep it until you next need it. Fortunately, the Futon is flexible as it can be an extra bed when you have guests, or you can also use it for your own leisure time when following up on your favourite series.
What makes the Futon classic even impressive is that you don't need to assemble it as it's brought to you when all the hard work has been done for you and your only thing remaining is to sit and relax on it.
Similarly, the mattress quality is unmatched as it has passed the Federal mattress standard.
Sadly, the Futon recliner is not the best fit for tall folks due to its limited length. Away from that, its fabrics, colour, and finishing touch are just what you need for a great resting experience.
Pros
You can fold it and set it aside
Great design
It has a dense foam
Not heavy
Cons
It doesn't fit tall folks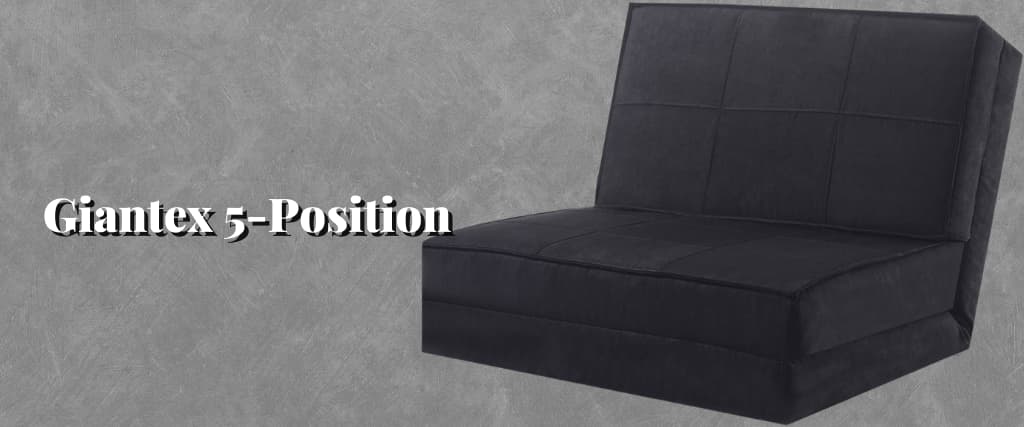 3.  Giantex 5-Position 
Giantex is another excellent example of how recliners can change your sleeping experience, as their ergonomic style makes them stand out. Its beautiful design and finishing touch make it the perfect fit for your aesthetic living room.
This sofa measures 28 by 21 by 23 inches, which is perfect for laying on when you're back from a tiresome day. It comes with an ultra-micro fibre fabric with dense foam, making it the best bed replacement.
Similarly, the 5-position chair comes with a metal spring to ensure your body doesn't touch the ground when you lay on it. Even though it has a solid frame, it still maintains its 17-pound weight, which gives you an easy time handling it when you're moving into a new house.
The Giantex recliner has been specially designed with kids and adults in mind. They've ensured that its fore section is a bit lower so that kids can climb quickly, making it the best resting sofa if you have a large family.
Moreover, with the Giantex recliner, you can be sure of great comfort as it comes with its unique 5-position feature that's a game-changer. You only need to alter it a bit into a suitable position you want.
Additionally, this recliner has passed the medical standard as its relaxed nature and adjustment features are suitable for minimizing back pains and relieving you from stress. What makes it the best recliner is that you don't have to assemble anything: it's ready for use out of the box.
Pros
It has a 5-positions feature
It has a solid frame
It has an amazing fabric
Ready for use out of the box( no assembling)
Suitable for kids due to its lower front end
Cons
Loose zipper
Difficult to get on the chair due to its design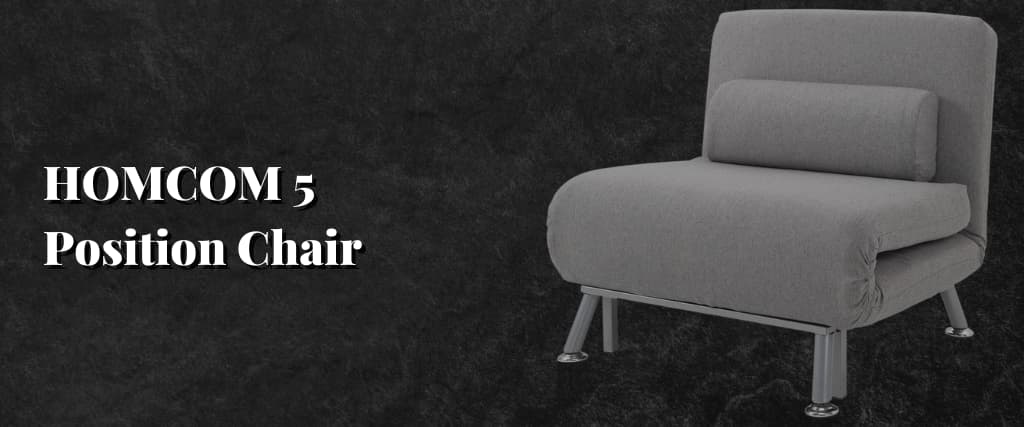 4.  HOMCOM 5 Position Chair
The HOMCOM exclusive is one of the best recliner sofas due to its unique features, style, and design that not only stands out but can fit in any room while still maintaining the room's aesthetic look.
This unique recliner is categorized in the minimalist section, with reasonably accent pillows and block cushions to relieve back pain. Moreover, it comes with a solid steel frame which is perfect for resting.
Similarly, the HOMCOM seat is just the right size as it does not occupy much of your living room space. It measures 23 by 73 by 10 inches when adjusted to serve as a bed.
Generally, the HOMCOM recliner weighs around 38 pounds, perfect for relocating it inside your house suitably. It has a good fabric that encloses the dese foam to provide great comfort and relieve you from a stressful day.
Similarly, this 5-position sofa comes with a solid armrest. It has an extra cushion for additional comfort and a relaxed experience.
The best part about the HOMCOM recliner seat is that its covers can be removed for proper maintenance and cleaning when you accidentally spill something on it or need a quick wash. Its concealed legs are perfect for holding the recliner in its normal position.
This chair does not require assembling as it's ready for use on delivery. It's suitable and the best way to have your guest relax when they pay you a night's visit and you don't have an extra bed.
Pros
It's not heavy
Solid frame
Saves on space
Can be cleaned
Great style
Cons
Its control and quality are not standard.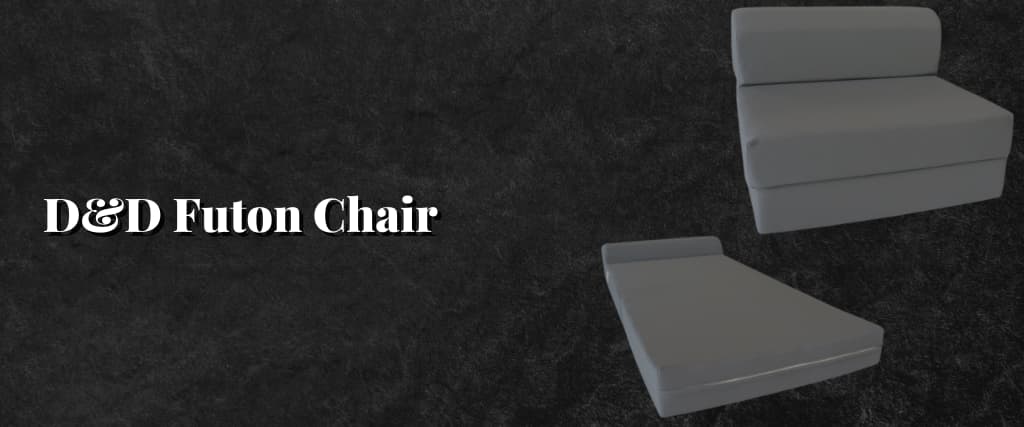 5.  D&D Futon Chair
The Futon is another great convertible seat that you can use for sitting and sleeping. It has unique features that are easy to apply. This recliner has no frame, so you don't have time to move them when you need to take a quick rest.
This great seat measures 70 by 32 by 6 inches when in its initial state but can be adjusted to serve a double-sized bed when you have a guest. Similarly, the no-frame characteristic ensures that it's easy to try in different house sections as it only weighs 21 pounds.
Similarly, the Futon recliner requires little space, given its simplistic design. This means that you can move it to any corner or room in your house where it fits well. It's also handy when you have guests.
Moreover, The Futon sofa comes with dense foam that ensures the seat is both durable and cozy for your night's rest. Similarly, its foam is of high quality, and it has passed the Federal Mattress Standard, which makes it the best for ultimate rest and back pain relief.
The D&D set has also been styled with polyester fabric that ensures every seat has a quality final touch. It's incredibly versatile and flexible since it doesn't have a frame that hinders its adjustment.
It's a quality seat that you can have in your lounge room, bedroom, or even in the kid's room for the ultimate resting experience.
Pros
It has a dense foam
Easy to set-up
Only weighs 21 pounds
Flexible
Unique design
Cons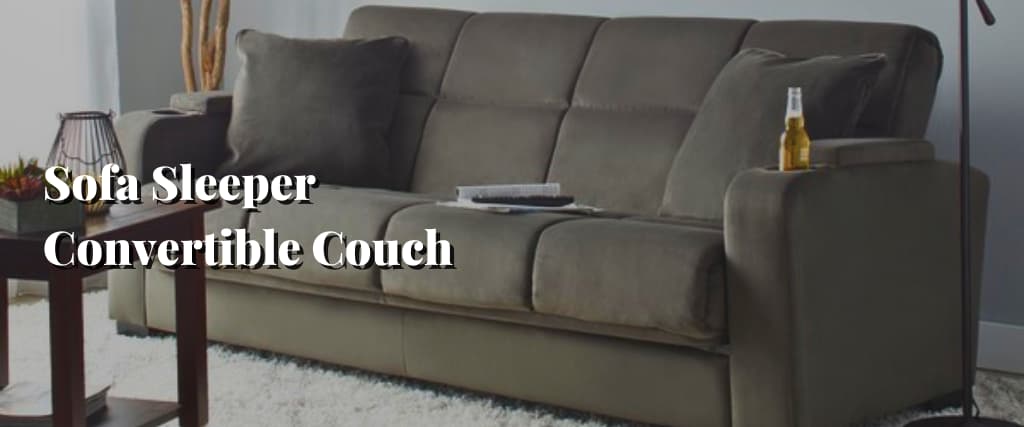 6.  Sofa Sleeper Convertible Couch
The Sleeper recliner seat has an exquisite design and elegant finish to match most living rooms. Its style matches most home interior designs and is an excellent fit for your house's aesthetic design.
It's a great chair that can easily fit in the available space and be enlarged at night to serve as a sleeping section.
The convertible sofa measures 36 by 54 by 30 inches in its normal state but significantly enlarges when adjusted to serve as a bed.
It has been built strong enough to hold at least one human being or up to two children who need the best place to rest.
The Sleeper recliner seat also comes with dense cushions with a relaxed back to provide the ultimate backrest with no health complications.
Some call this unique convertible chair a double-sized bed as it has a section that helps most homeowners when visitors show up.
Similarly, the sofa sleeper has a unique upholstery fabric design on almost the entire seat to give it a great outlook. This wonderful recliner also has a dirt-resistant fabric, so you won't spend much time wiping it.
Even though its fabric is upholstery, it has a soft and smooth surface, convenient for quality sleep. Its flexibility means that it can fit in most chilling parts of your house. You'll need an extra hand when moving it as it weighs 191 pounds.
Moreover, you can get this recliner seat in numerous styles and colours to match your home's theme. However, this will not be great for you if you're big-bodied due to its limited space.
Pros
Unique general look
Has an upholstery fabric design
No regular cleaning required
Saves on space
Cozy
Cons
It has a thin mattress.
Not a great deal for tall folks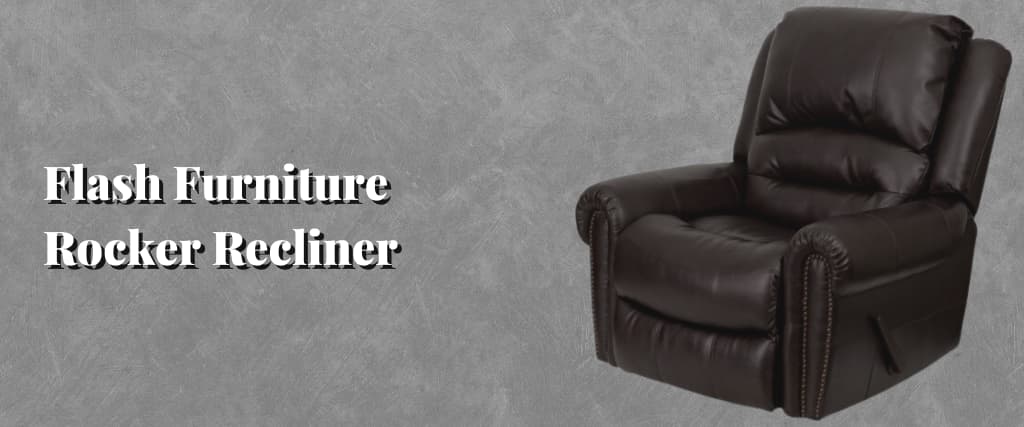 7. Flash Furniture Rocker Recliner
The Rocker convertible seat is the best deal for those who cherish traditional seat designs. Similarly, it not only has a cozy design but is reasonably priced so that you save a few dollars.
However, it still has some parts that both the traditional and modern designs have mixed, making it stand out from most single-designed recliners. It comes with an old-school leaver that helps you adjust the seat into a bed-like position so that you take a healthy rest.
Its smooth and soft texture is the best part as you don't have to worry about waking up with back pains. Furthermore, it has a dense cushion with solid arms for steadiness while on the seat.
Apart from that, its upholstery fabric brings out the best blend as it's a combination of leather and polyurethane for the ultimate rest break.
Similarly, the Sleeper seats have unique characteristics, such as the 5-foam that helps in support and comfort throughout your resting experience. Reclined or not reclined, the seat can still offer you tremendous support and comfort throughout your resting period.
However, the seat requires extra work as you have to assemble it once you receive it from the supplier. Mostly, the assembly will be done in two distinct parts.
Pros
Solid frame
Cozy upholstery
Dense cushion
Great design
Cons
8. Cortesi Home Savion Chair
The Cortesi comes with a new twist of complex yet modern and exciting design that matches its beautiful solid frames. It's built solidly to fit in most lounges regardless of the place you have at your sitting room, home office, and to a greater extent—your sleeping chamber.
This chair measures 31 by 34 by 36 inches in its normal state but measures 10 by 34 by 78 inches when reclined for enhanced quality rest. Moreover, it's not so heavy, weighing just 55 pounds, so you can move it from one corner of your house until you find a perfect spot for it.
Moreover, the Savion recliner has quality back support as it can recline to your preferred resting position. Its adjustable frames make it easier to adjust into a bed and back to a sofa. Similarly, you can adjust the Savion seat if you only want a one-end backrest.
This chair also comes with a tope-like fabric that highlights its beauty and elegance while featuring a brownish or cream pillow to support your backrest. Its solid armrest (with an upholstery material to top it up) ensures you're in a comfortable position at all times. It also has a large and wide resting surface, making it the go-to recliner when visitors show up for a late-night visit.
However, the Cortesi recliner also requires assembling but doesn't require any expertise to set up. As long as you know how to put up the bolts, the chair will be ready for use. Moreover, the seat package comes with its application tools, so you don't have to worry about spending extra cash on getting tools.
Pros
Easy to Assemble
Unique design
Can be cleaned
Superb back support
It's a versatile seat
Cons
9. Giantex 26.5″ Folding Arm Chair
The Giantex recliner has a simple style that suits many simple home designs. Giantex can improve every living room, bedroom, or any space in your house decor. And it features what you need for your backrest.
This folding arm seat measures 31 by 26 by 39 inches when it's in its initial state but can be stretched out to serve as a bed. However, it can only carry up to 330 Ibs, so having many people sleep on it will only wear it down.
The Giantex sofa also has 360-PP and only weighs 49 pounds, making it easier to try it in different spaces of your house until you find the perfect spot it'll fit. Similarly, it's a 5-position recliner for the desired comfort when guests visit you, and you don't have an extra bed.
This recliner can be adjusted from seat to bed and vice versa without much complication, making it one of the most preferred seats when you want to follow up a thrilling night movie. Additionally, the folding arm recliner saves on space, so you don't have to worry about the size of your living room.
Even though its cushions are one-coloured, they are still perfect for providing back support and lightening up your living room with their aesthetic design. This chair also comes with a unique fabric that provides additional comfort when you're resting. Even so, its upholstery fabric comes in many beautiful colours like blue and red to tone with your lounge's colours.
Generally, Giantex is an authentic recliner that serves its purpose well as it ensures the end of your back problems and the beginning of excellent resting comfort. It also comes with many unique features that are worth the price.
Moreover, the Giantex can easily be washed and cleaned as you can remove its cover. So you can save a few coins you'd have spent on cleaning services.
Quick note: you'll need to assemble a few parts of this chair on delivery before you can enjoy its benefits.
Pros
Can accommodate heavy users
Build on a solid frame
It comes with wheels for easy mobility
It features a high-standard design
It comes in various beautiful colours
Cons
Inefficient instructional manual
10. American Furniture Alliance
Even though this seat comes with limited features, its application is straightforward, and quality is not compromised. It's an excellent resting option to include either in your living room or bedroom (as long as you've got enough space).
This seat measures 23 by 24 by 28 inches when it's in its normal state and 12 by 64 by 24 inches when stretched out, weighing 10 pounds as it doesn't have a metal frame. It has an ultra-modern style perfect for succour recliners' adventure and exceptional indoor experiences.
When the chair is adjusted, it transforms into a double-sized bed, a massive resting option your kids will appreciate. Similarly, its distinctive design makes it the perfect play to lay your kids to bed after a long and tiresome afternoon of constant games.
This Alliance seat comes with poly-cotton and polyurethane foam, which guarantees that your kid will be resting in a soft, smooth, and cozy place. It also comes in numerous bright colours that are great for creating a happy sleeping environment for your kids.
Moreover, the American Furniture alliance has a double-sided fabric that's great for longevity as it's hard to get scratched or torn.
This sofa also comes with instructions to find the right chair combination when setting it up. The recliner also doesn't require huge space, and its weight makes it easier to move it around the house to see where it sits well.
Furthermore, this recliner can be wiped or cleaned when it gets dirty without much effort.
Pros
Dense foam
Easy to handle
It can be cleaned easily
Superb for children
Effortless to assemble
Cons
The seat does not maintain its shape
Not an excellent option for sitting
11. Intex Inflatable Pull-Out Chair
The Inflatable seat is creatively made furniture to feature coziness and versatility, making it one of the best recliner chairs. This magical recliner is an excellent fit for guest rooms or your cubicle where there's an urgency for a quick sleep.
The Intex sofa measures 8 by 9 by 17 inches when it's in its original state, with its water-resistant feature making it durable.
It only weighs 4 pounds, meaning you can move it around your house with ease until you find the right spot to place it.
What's more, the Intex seat can be stored and only brought out when you need to use it. All you'll have to do is remove the cushions to enjoy its double-sized mattress for the ultimate resting experience.
Moreover, the Inflatable recliner has waterproof features that stand out among many convertible seats. It has excellent backrest support and an armrest that ensures your body is in a perfect position when you're resting.
However, a few customers have shared their dissatisfaction with the Intel recliner as they claim the seat has a faulty air pump, so you'll have to budget for a new air pump. Apart from that, the seat functions well and go a long way in helping you have the perfect rest.
Pros
Easy to move around
Can be stored
Cozy
Cons
Has a faulty air pump
Bad customer service
It cannot serve you for long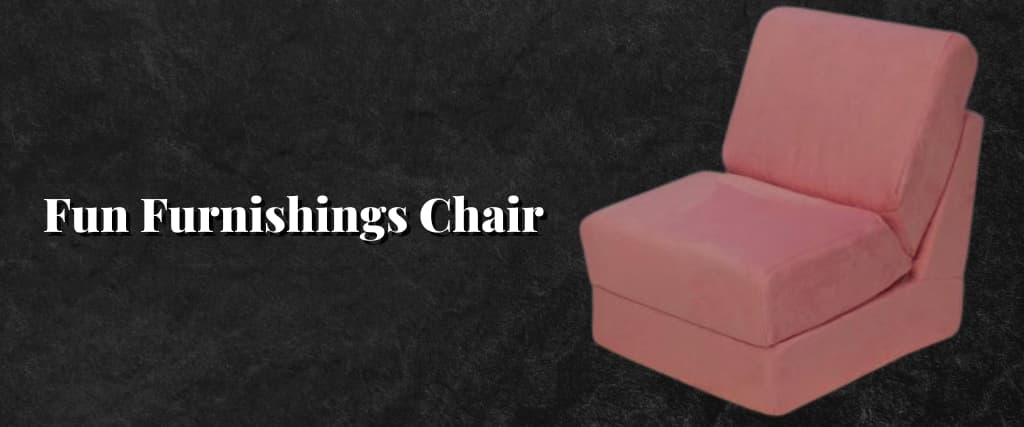 12. Fun Furnishings Chair 
If you're looking for the perfect recliner seat to hop on to and follow your best TV series, the Furnishings recliner should be your ideal choice.
The Fun seat measures 20 by 25 by 25 inches when it's not adjusted. Additionally, the chair weighs 10 lbs, making it easier to move it around until you can find a perfect spot to position it in your home.
Even though it doesn't have solid frames, its design is fabulous and perfectly matches most houses' incredible interior designs. The seat is also made of a durable polyester fabric that you can clean easily.
This seat comes with a dense foam to content your little one's pressure when they jump and play on it. Besides, this seat is the perfect spot to lay your kid after a long and tiresome day of playing.
The seat has not been specified for kids, but many customers have left reviews criticising the size of this recliner, stating that it's only perfect for children.
Pros
Suitable for kids
Easy to move around
No solid frames
Dense foam
Cons
Limited to only children
Pathetic return policy
It does not come with an armrests
Best Recliners For Sleeping – Frequently Asked Questions
What Is The Most Comfortable Recliner On The Market?
All recliners should offer excellent comfort—whether you intend to watch a film or need to have a rest. In other words, there should be a significant difference between a recliner and your standard seats.
While most brands have recliners that are a game-changer in terms of your resting duties, these recliners speak volumes in what they offer as far as comfort is concerned.
Let's have a look at some of them:
Barcalounger Relax & Restore Recliner
Giantex Manual Massage Chair
Signature Design by Ashley Kempten Reclining Sofa Black
BestMassage Wingback Convertible Chair
Homall Single Convertible Seat
Mac Motion Convertible Seats
MAGIC UNION Power Lift Massage Recliner Chair
Is It Ok To Sleep In A Recliner?
Sleeping on a recliner is a controversial subject that erupts a massive debate between those who've used it and enjoy it and those who believe that it's the source of most people's health challenges.
However, if you're pregnant or breastfeeding, spending an entire night in your convertible seat shouldn't be part of your sleeping routine. Even so, taking a rest on your recliner is far much better than long hours on your double-sized bed.
For example, recliners are best for those who suffer from heartburn or sleep apnea. Apart from recliners helping sort out medical conditions, they are also comfortable.
Why Do I Sleep Better In A Recliner Than A Bed?
When you're in the proper sleeping or resting position, your spinal alignment is set out perfectly, which helps your muscles relax thanks to recliners.
Apart from recliners being massively significant for you to have a calm and relaxed rest, it also plays a critical role in ensuring that your heart is in perfect condition. Recliners also limit the chances of heart conditions as it sets you up in the proper resting position that suits your heart.
Conclusion
Recliners are an excellent addition to your living room. They can limit the chances of some medical conditions and provide the best resting experience ever.
If you've been contemplating purchasing a new recliner, this post should clear up some doubts and help speed up your purchasing decision.
Was this article helpful?