Finding a high-quality camper mattress topper is crucial for a comfortable night's sleep on the road. Most caravan mattresses have squared-off corners at the top and rounded or curved corners at the bottom. Making a queen-size RV bed can be challenging due to the snug fit provided by the mattress and cabinets on each side of the bed.
A standard rectangular mattress topper does not alleviate the struggle of making the bed daily. Additionally, if your bedroom is as cramped as ours, you would want something light at the foot of the bed.
Sleeping in an appropriate posture while travelling can cause significant discomfort and stress. A good RV mattress topper is essential for those who frequently experience back and hip pain.
This post will provide all the necessary information to make an informed decision and have a good night's sleep on your journey through Australia or your next camping trip.
It covers everything you need to know about mattress toppers, from choosing the right one for your needs to maintaining it in good condition after purchase. Therefore, you can sleep peacefully, knowing your situation will not worsen while you rest.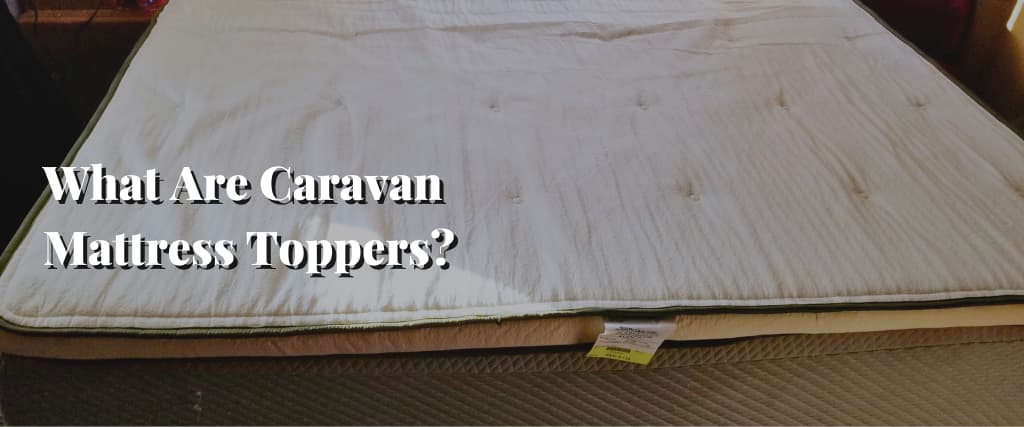 What Are Caravan Mattress Toppers?
A caravan mattress is a mattress that is designed to the dimensions and form of a standard caravan. You can find it in foam or latex, two materials known for their ability to cushion and support your body as you sleep. There are many sizes to choose from when shopping for a caravan mattress.
The designers of caravan mattresses aim to make it easier for travellers to get a good night's rest while on the road. They also strive to improve motion isolation to prevent disruptions from a partner's tossing and turning. Furthermore, they optimise airflow in caravan mattresses to enhance coolness and comfort.
The rounded corners and odd shapes of caravan mattresses mean they need more than standard mattress accessories like covers and toppers.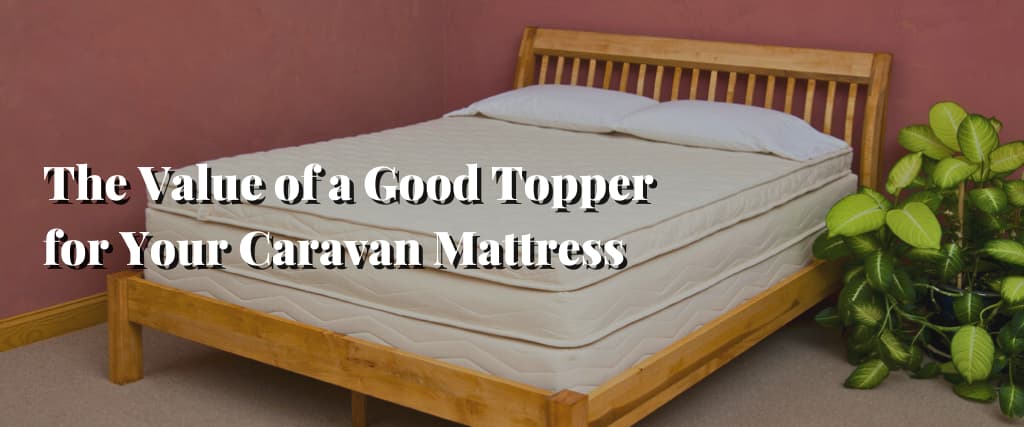 The Value of a Good Topper for Your Caravan Mattress
Having a high-quality caravan mattress topper has many advantages. Some of the benefits are as follows:
Improved Comfort: A better mattress topper can guarantee a more pleasant night's sleep by softening rough edges and adding support.
Increased Durability: The mattress is more resistant to wear and tear over time because of the added strength and stability that premium materials like foam, latex, or wool provide.
More Breathability: Mattress toppers frequently employ materials with breathable qualities that improve temperature management so you may sleep in a relaxed atmosphere.
Reduced Allergies: Certain mattress toppers are hypersensitive and dust-mite resistant, resulting in an atmosphere conducive to restful sleep for those with allergies.
Types of Caravan Mattress Toppers
Mattress toppers come in a variety of styles, each with its own set of advantages and characteristics. This guide will discuss the many options available to help you find the perfect mattress topper.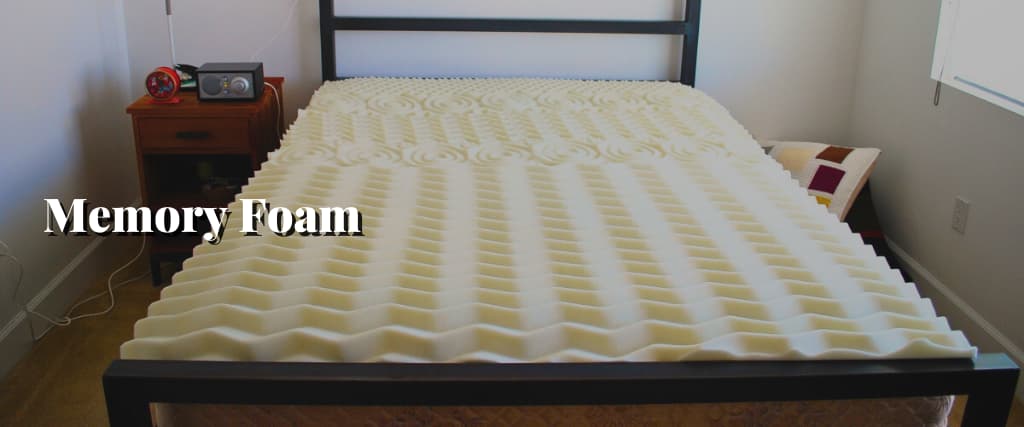 1. Memory Foam
Consider investing in a memory foam topper to increase comfort and support when sleeping in your caravan.
The viscoelastic foam it's built of will mould to your unique body to relieve pressure and keep you comfortably propped up as you sleep.
Moreover, the memory foam maintains a pleasant temperature by promoting airflow.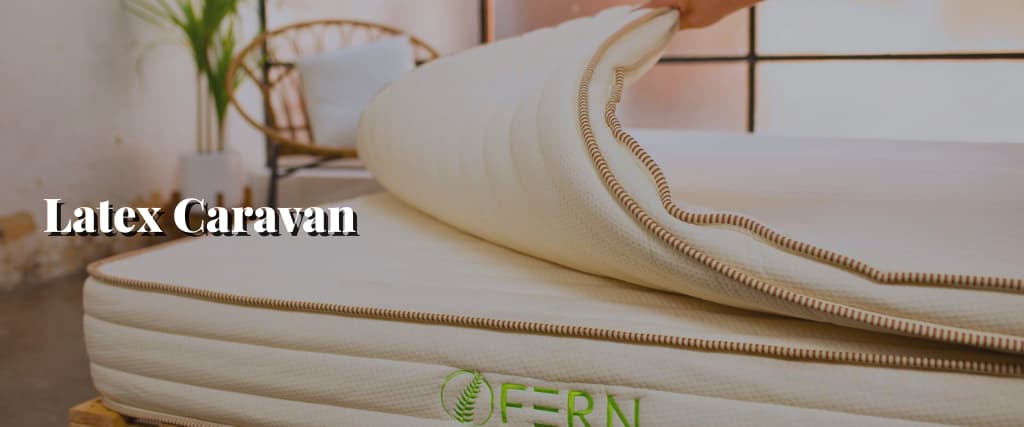 2. Latex Caravan
Caravan enthusiasts may select from a range of mattress toppers, including those constructed of latex rubber.
The foam's open cell structure conforms to your body while you sleep, reducing pressure points and making this mattress perfect for usage in a caravan.
The latex allows for a lot of air movement, which helps keep your body temperature stable.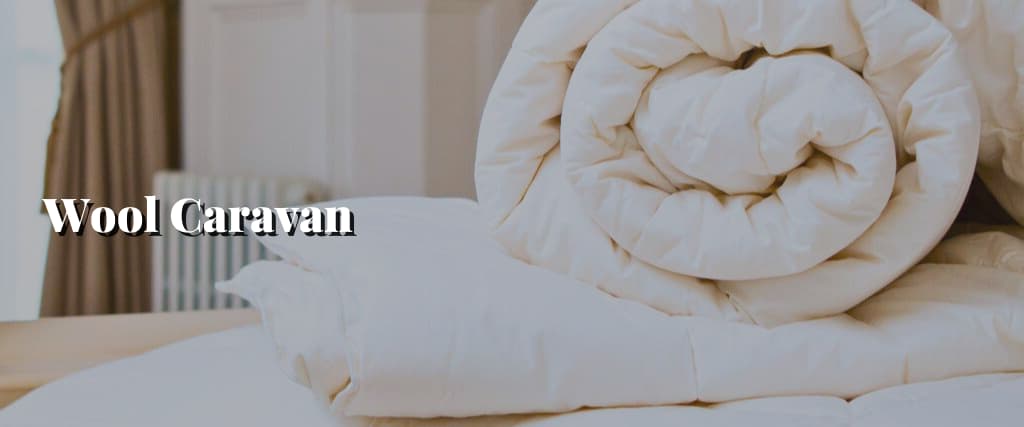 3. Wool Caravan
It is possible to get this Mattress Topper to put on top of your existing mattress to provide more cushioning and support while you sleep.
It's stuffed with wool batting, so it breathes well, providing a steady body temperature all night.
The wool filling also acts as a cushion, relieving pressure on specific areas of your body and allowing you a more restful night's sleep.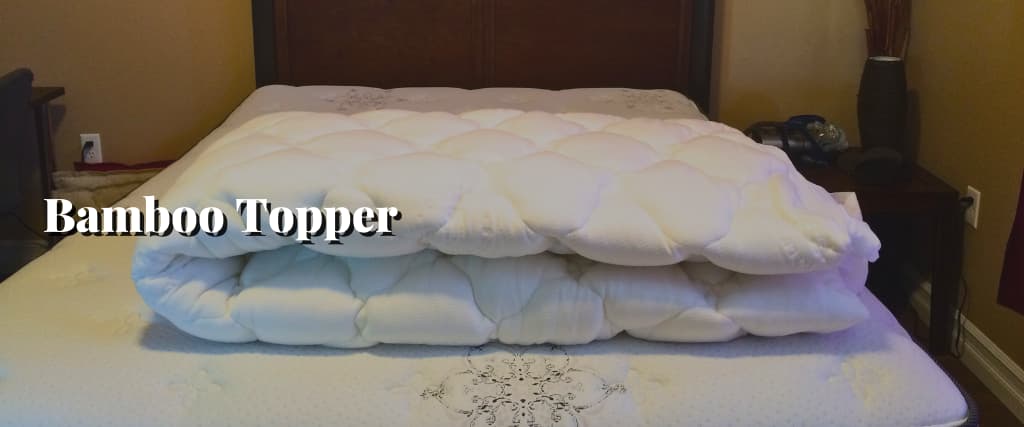 4. Bamboo Topper
The materials used to create this mattress topper combine several bamboo fibres. Because of this, the final product is incredibly fluffy and comfortable.
In contrast to traditional cotton or polyester options, bamboo mattress toppers allow for more effective moisture and heat dissipation, keeping you more comfortable and dry all night.
You may rest easy knowing that your bed is free of allergens thanks to the anti-fungal and natural anti-bacterial protection they give and the excellent air circulation they provide.
5. Egg Shell Topper
The firmness and comfort of eggshell campervan mattress toppers are unmatched. Their unique eggshell construction ensures sleepers feel supported and comfortable across the mattress.
The eggshell form minimises the pressure points that might cause muscular tension and pain while lying in one position for a long time. Eggshell toppers may get rather toasty, especially on steamy summer evenings.
Factors To Consider Before Choosing a Mattress Topper
Picking the correct mattress topper may significantly impact your nighttime experience regarding ease, health, and general well-being.
Selecting one that suits your requirements, tastes, and finances is essential. Mattress toppers come in a wide range of firmnesses and softnesses, so it's vital to consider your preferences before making a final decision.
These variables will lead you to the most suitable mattress topper.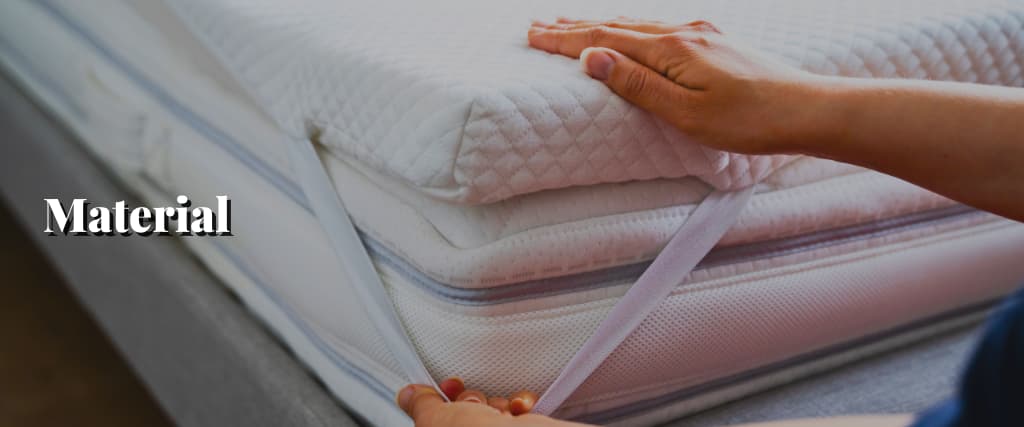 1. Material
The first thing to check for when looking for a mattress topper is the quality of the material. Memory foam, feather/wool, and synthetic materials are available.
The contouring memory foam topper will reduce the stress on your bones and joints, providing a perfect solution for muscle or joint pain.
These toppers, filled with feathers and wool, offer natural insulation and warmth, making them ideal for transitioning from warmer to colder weather.
Lastly, allergy patients often choose synthetic mattress toppers packed with hollow fibre or microfibre owing to these materials' hypoallergenic qualities. Although microfiber toppers are plush, hollow fibre is often the most supportive option.
This should give you a good idea of the many mattress topper materials available, but ultimately, it's better to try them out for yourself to choose which one is best for your needs.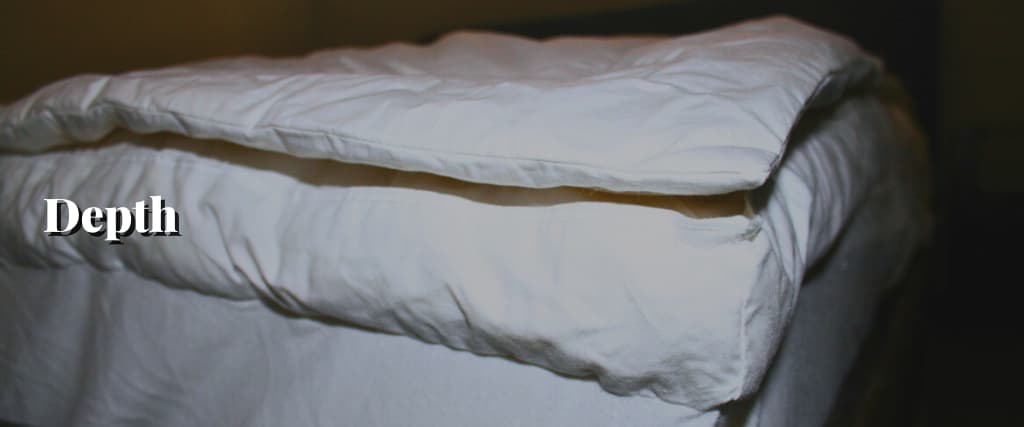 2. Depth
The thickness of a mattress topper is also significant since it will affect the level of support you get from the mattress.
Memory foam mattresses are often the plumpest, measuring 7 centimetres. Experts recommend thicker mattress toppers for those with joint problems, but remember that they may cause more heat in the bed than thinner ones.
Adding a mattress topper between 5 and 10 centimetres in thickness can significantly improve your mattress's comfort and softness.
3. Size
The mattress topper's size is also an essential factor to think about. While it may seem apparent, you must ensure that the mattress topper you choose will fit on top of your existing mattress.
Suppose you're searching for a mattress topper. It's a good idea to know the precise dimensions of your mattress and the size of the bed you sleep in (single, double, king, or super-king) since various manufacturers may make mattress toppers in varying lengths.
4. Body support
Think about how the mattress topper will affect your posture and alignment as you sleep. You should go for the "Goldilocks" of mattress toppers, which are neither too firm nor too soft, but the "just right" mattress topper will ultimately depend on your preferences.
For optimal relaxation and pain relief, your mattress topper must conform to your body's unique shape, and weight distribution supports your spine's natural curvature and absorbs pressure. ' If your mattress topper is too soft, you can end up slouching in your sleep, placing extra stress on your spine and hips. If it's too hard, you might have sore muscles and joints.
5. Price
Your available funds will unavoidably influence the decision between different mattress toppers. The price of a mattress topper may range from £20 for a thin polyester hollow fibre topper to £200 for a high-quality memory foam or down-type topper.
Spend what you're comfortable with since the price may vary depending on the filling you choose, but keep in mind that experts advise there may be a minor drop in quality if you choose a topping on the less expensive end of the spectrum.
6. Care
The cleanliness of your mattress topper is essential, so try to get one you can wash in a machine. Most mattress toppers may be washed like a duvet and should be cleaned once every three to six months to ensure they are healthy.
Mattress toppers filled with down or feathers can often be laundered in a washing machine, making them more low-maintenance. If you're looking for the most hands-off approach to cleaning, you should know that memory latex foam toppers can only be spot washed or vacuumed. If you suffer from allergies, pay close attention to the care label since you'll likely need to clean your topper more often.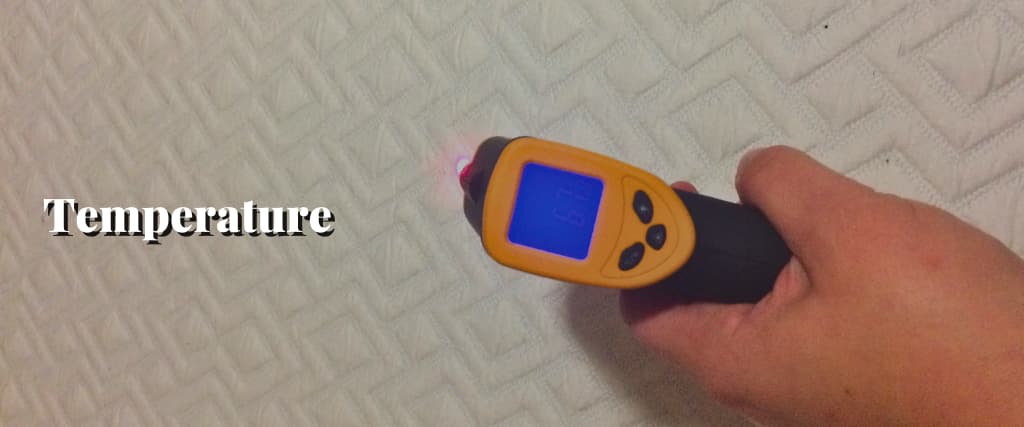 7. Temperature
Consider whether a temperature-controlling design is essential to you in a mattress topper. You'll be thankful you bought one of the top-rated cooling mattress pads when the next heat wave rolls around, but you'll find you can sleep more comfortably on it year-round.
Cooling mattress toppers use breathable materials like bamboo, charcoal, and graphite to reduce body heat and keep you comfortable throughout the night. If you need your sleeping environment to be more relaxed, consider spending a little extra on a cooling mattress topper.
How To Make Your Caravan Mattress More Comfortable
There are several methods to improve your caravan mattress's comfort once you've selected the proper one. If you want to optimise your convenience and have the finest night's sleep possible when caravanning, consider the following:
Consider purchasing a mattress topper to enhance your mattress's level of comfort and support. If your partner's motions tend to wake you up, a topper might help dampen that effect.
Choosing the correct pillows is essential to feel more at ease when sleeping. Whether you like to sleep on your back, side, or stomach, cushions are made specifically for each position.
Put a protector on your mattress. A mattress protector is an excellent tool for maintaining a clean, allergen-free sleeping surface. It also helps keep your bed fresh for longer.
Try using soft, comfy bedding to help you feel more at ease as you sleep. You should prefer sheets consisting of breathable fabrics such as cotton or bamboo.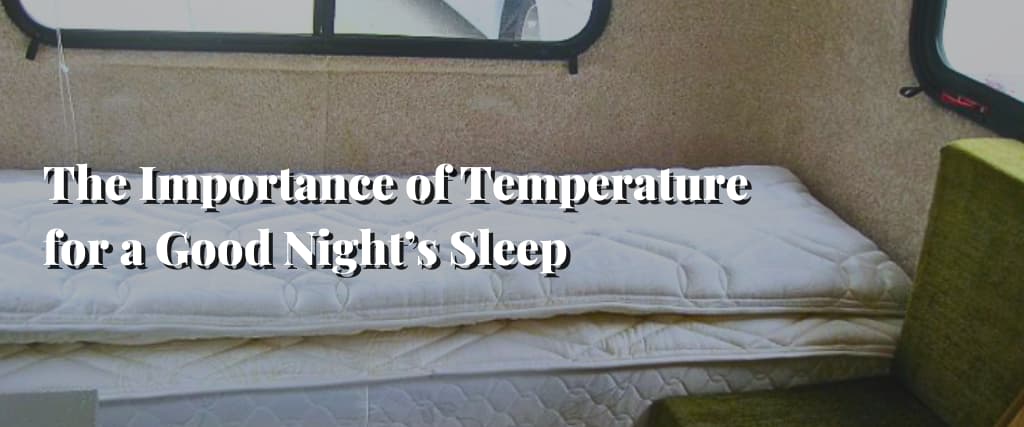 The Importance of Temperature for a Good Night's Sleep
The ambient temperature is one of the most influential factors in having a restful night's sleep. Extreme heat or cold might make it difficult to fall asleep and keep you from feeling at ease. You should, therefore, take care to maintain a comfortable sleeping temperature within your trailer.
High temperatures may disrupt sleep. You may use a fan to help you cool down by circulating the air around you. Moreover, you may open the windows or turn on the air conditioning if it's too hot.
An electric blanket or a portable heater might help you stay warm when the weather outside is chilly. Adding a mobile mattress topper will help insulate your bed and reduce heat loss while you sleep.
How To Maximize Air Circulation for a Comfortable Sleep in a Caravan
You can't get a good night's sleep in a trailer without decent ventilation. To improve ventilation, consider these suggestions:
Turn on the air conditioning or open the windows for fresh air. This may assist in maintaining ventilation and lessen the buildup of stale air.
A fan's ability to move air about the room and keep you cool is well-documented. A caravan-specific fan may be worth the investment.
Put in an exhaust fan; doing so will assist in preventing condensation and the growth of mould and mildew. You can also use these mattresses to keep the air in your caravan circulating.
Install an air conditioner to make your trailer more hospitable during hot weather. Moreover, it helps enhance air quality by decreasing humidity levels.
Essential Caravan Mattress Accessories
Several caravan mattress accessories may add to your comfort and quality of sleep. Listed below are some handy add-ons for your caravan mattress:
Add additional softness and support to your mattress with a mattress topper. There will be less motion between you and your partner as a result.
The appropriate pillows may completely transform your sleeping experience. Whether you like to sleep on your back, side, or stomach, cushions are made specifically for each position.
Protect your mattress from dust mites, grime, and other allergies with a mattress protector. It also helps keep your bed fresh for longer.
Plush, soft linens may significantly affect how well you sleep. You should prefer sheets consisting of breathable fabrics such as cotton or bamboo.
How To Choose the Right Caravan Mattress Size
You'll need a large enough caravan mattress to sleep comfortably. If you need some assistance deciding what size to choose, consider these guidelines:
To know what size mattress you need for your caravan, you must first measure the bed frame.
Review your nighttime routine: If you and your spouse have distinct sleeping patterns, you could invest in a king or queen-size bed.
A mattress's thickness determines how relaxed you feel, so choosing the perfect one is essential. Get a thicker mattress if you like a firmer surface. The general rule is that thinner mattresses are softer than their thicker counterparts.
Top 10 Caravan Mattress Toppers in Australia
1. Zeek Top Notch Topper
The Zeek Top Notch Topper is an excellent topper that blends comfort, usefulness, and value. It is the less-priced version of the well-known Zeek Whopper Topper and stands 5 cm tall.
This topping utilises an antibacterial and environmentally friendly bamboo cloth cover like the Zeek Whopper Topper. This is intended to keep you from becoming too hot and feels cool and breathable. It is simple to maintain this cover clean because it is easily detachable and hand washable.
The manufacturers encase a pressure-relieving gel memory foam layer in a bamboo cover. It will feel thick and spongy since the mattress topper has a light, silky feel. Partner disturbance shouldn't be an issue using this memory foam on a more significant mattress because it effectively isolates motion.
This topper features corner straps and a non-slip base to keep it in place. Instead of using it on the floor, we advise utilising one with a mattress.
Anybody seeking a quality mattress topper that is both reasonably priced and comfy should give this option some thought.
2. Naptime Topper
The Naptime Topper offers a plush, spongy texture and a substantial 8cm depth. Every mattress should see a dramatic improvement after using this topper, which may also be used as a spare bed on the floor.
This item's smooth, detachable bamboo knit cover feels solid and breathable. This cover, which is detachable and washable, should aid with temperature regulation.
A layer of "neo-cool-gel memory foam" and a sturdy i-core Transition® foam are both found inside this topper. The manufacturers intend for the transition foam to increase stability while also aiming to prevent overheating with the memory mattress layer.
These mattress layers have a great spongy sensation, as was already described, and they elegantly mould to the body. The top layer of the topper also includes a unique non-slip fabric below to prevent slipping or sliding.
3. Peace Lily Mattress Topper
This mattress topper is constructed entirely of natural latex, unlike most toppers on the market. You may get this topper in either a "firm" or a "luxury plush" choice.
As you might anticipate, the premium plush alternative has a 'cloud-like' softness while maintaining the characteristic latex bounce. There is enough depth in the complex and plush options, each 5 cm tall.
The cover for this topper is made of 100% organic cotton and is permeable. This is smooth and gentle, and GOTS has correctly verified it as non-toxic. This cotton cover will significantly enhance the comfort and durability of your current mattress.
This top dog in customer service has it all. You can ask for a refund if you're unhappy with it after the 100-night trial period. The company includes a 10-year guarantee and free delivery with the purchase.
This topper is an excellent option for individuals who value their health and the environment and want a high-end, long-lasting topper.
4. Onebed Topper
This mattress topper is 5 cm tall, soft, and comfy topper. It has a distinctive white and royal blue colour scheme, making it simple to recognise, just like the Onebed mattress line.
The cover of this topper is composed of 60% polyester and 40% viscose. This cover is smooth, porous, and simple to take off. The surface may be steam cleaned or spot cleaned after removal, but it cannot be machine washed.
The "Davina foam" layer enclosed by this cover is intended to improve responsiveness, comfort, and spinal alignment—moreover, the open cell structure of this foam aids in maximising cooling and evaporation.
This topper is soft and opulent in feel, making it ideal for anyone wishing to add even another layer of luxury to their current sleeping surface. This topper, like many others on the market, has topper features a non-slip surface beneath the surface to help stop movement and sliding.
The Onebed Topper is the only topper on the market that blends comfort, value, and usefulness.
5. Octasmart Plus Topper
Its mattress topper, which uses "Octaspring® technology," is distinctive and ground-breaking. This uses a system of foam springs to improve airflow and ventilation while constructing a responsive and pleasant resting surface.
'Smart Performance Cover,' another component of this topper, is soft and breathable. The product is simple to maintain clean because of its cover's detachable and washable nature.
A layer of memory foam is included beneath this top cover, which aids in improving comfort and body contouring. The next layer is Octaspring®, which Octasmart claims is seven times more absorbent than regular foam.
It's also important to note that the Octasmart® Plus Topper has three "smart zones" that work together to assist the shoulders, hips, and back to feel as comfortable and supported as possible. Our testing indicated a great combination of support and gentle pressure alleviation from these bright zones, which adapt to the shape of your body.
If you are unhappy with the Octasmart Plus Topper after an 80-night free trial period, you may return it for a refund.
6. Zeek Whopper Topper
As its name implies, the Zeek Whopper Topper is an enormous 7.5 cm deep and should give a thick layer of luxury to an existing bed or even the floor.
This topper has a high-quality bamboo cloth cover that is cool to the touch and absorbent. It is simple to maintain this cover clean because it is detachable and (hand) washable; for consumers who are concerned about their health, bamboo fabric's antibacterial qualities can aid in reducing the growth of germs and dust mites.
Gel memory foam is encased in this bamboo shell and provides gentle pressure relief. Moreover, it responds well so that it won't feel excessively spongy. Partner disturbance shouldn't be an issue if you use this memory foam on a bigger-size mattress because it effectively isolates movement.
This topper is helpful since it features corner straps to keep it in place and a non-slip base.
Anybody wishing to add a significant layer of luxury to their sleeping area should give this mattress topper some thought since it is excellent.
7. Ecoy Bamboo Mattress Topper
This mattress topper is a beautiful topper that is cozy and silky. A queen-size topper weighs 10.5kg, and all sizes sit 5 cm high.
The bamboo fibre that creates the topper's outer cover is supple and breathable. Due to its natural hypoallergenic properties, bamboo could reduce allergic reactions. Moreover, this cover may be taken off and lightly cleaned.
Its outer cover encloses a 5 cm layer of memory foam with gel infusion, which might aid in controlling body temperature. This foam is supple and springy and should significantly enhance the comfort of an existing mattress.
This mattress topper's handy straps may be tucked under each mattress corner. This should reduce partner disruption and keep the topper from shifting while sleeping.
The Ecoy Bamboo Mattress Topper is available in six sizes: double, single, queen, king, king single, double, queen, and super king.
8. Emma Flip Topper
This smartly designed mattress topper is part of the famous Emma bedding collection. This item stands 5cm tall and weighs 9.2kg in queen size.
This ingenious gadget lets you select between two hardness levels by flipping it over. Both sides are pleasant and sensitive, lacking the "spongy" sensation of other toppers we've tested.
The Emma Flip Topper comprises 99% linen and 1% spandex and includes a detachable and washable cover. This cover has 'UltraDry technology,' which keeps the sleeping surface cool and dry.
The hard side of HRXSupreme foam and the soft side of breathable "Airgocell® foam" are the two types of foam that make up this topper. If you're unhappy with the Emma Flip Topper after the 100-night trial period, you may return it for a refund.
9. Ecosa Topper
The famous Ecosa Mattress and its mattress topper are part of the well-known Ecosa bedding collection. This item weighs 10.6kgs in queen size and has a very standard 5cm height.
It feels substantial and supportive wearing this topper. This mattress topper will soften your mattress by 20%, so in addition to improving spinal support, it should add an extra layer of comfort.
This item contains a detachable, washable cover, just like several other toppers we examined.
G7 Gel Memory Foam makes up the majority of this topper's body. This foam includes a network of pin core pores and is impregnated with gel particles to improve airflow and ventilation.
This topper has unique "grippy" material on the bottom and elastic straps to help keep it in place. Its outstanding feature increases its usefulness and appeal.
The Ecosa Topper comes with a 10-year guarantee and is well-certified as non-toxic.
10. Newentor Mattress Topper
This mattress topper is a component of the popular Morpheus Pillow-brand Newentor bedding collection. It is available in a convenient little box with a 7 cm or a 5 cm depth and is supplied in one of those.
This topper has a detachable, washable, "eco-friendly" cover. The family may use this cover to provide a safe, skin-friendly sleeping surface.
An inner cover is placed between the top layer to help absorb moisture quickly to ensure a healthy and hygienic dwelling. This allows pet dander and germs to be kept at bay by keeping your home dry and porous.
This topper's primary body is made up of two foam layers. The initial is a layer of cooling and comfortable gel Visco memory foam. The softer side comprises this layer, which has a spongy texture.
A layer of high resilience density ergonomic support foam lies on the second (firmer) side.
Care and Maintenance Tips for Your Mattress Topper
Your caravan mattress toppers must be adequately cared for to remain in excellent shape. Here are some vital pointers for maintaining your topper:
Frequent cleaning will keep it looking clean by removing loose debris. Regular brushing or vacuuming is good. You can clean the spot with a moist cloth to remove tricky stains. The topping needs to be machine-washable.
Rotate frequently: Flip your bed topper once every few months to avoid uneven wear and extend the life of your product.
Spill prevention: You should buy a waterproof bedding protector to guard against unintentional spills. Moreover, it will help prevent dust and mould.
These care instructions are crucial because they ensure your topper is maintained clean and comfy through routine cleaning and safeguarded from wear and tear, ensuring you enjoy the finest possible sleep while camping in a caravan.
Related Questions
How Often Should a Caravan Bed Topper Be Replaced?
The lifespan of your caravan mattress topper largely depends on the level of care and attention it receives. Regular brushing, cleaning, and rotating every few months can help prolong its lifespan. A high-quality mattress topper should typically last between three and five years with proper care.
What Is the Best Material for a Caravan Mattress Topper?
Caravan memory foam topper is often considered to be one of the best materials for camper mattress toppers due to its excellent support and comfort properties, without adding excessive bulk. Additionally, cooling gel memory foam is an attractive option due to its ability to regulate temperature. Other alternatives include fillings made of latex, wool, and feathers.
Do I Need a Waterproof Protector for My Caravan Mattress Topper?
It is highly recommended that you consider investing in waterproof protection as it can effectively safeguard your valuable possession against accidents such as liquid spills or exposure to other substances that may cause irreparable damage.
How Can I Make My Caravan Mattress More Comfortable?
There are several ways to improve the comfort of your sleeping arrangements without spending too much money. For instance, you can flip your cushions over, add a duvet or sleeping mat, use an air mattress or mattress topper, or incorporate additional support cushions. Alternatively, you can invest in a new foam trailer mattress, which can be purchased at various prices, from budget-friendly to more expensive options.
What Is the Difference Between Memory Foam and Gel Memory Foam in a Mattress Topper?
Despite sharing some similarities, there are two distinct differences between gel memory foam and regular memory foam. First, gel memory foam is better at regulating body temperature and has more potent cooling properties than regular memory foam. Secondly, gel memory foam tends to recover slightly faster than ordinary memory foam.
What Goes on Top of a Mattress To Make It More Comfortable?
A mattress topper is a bedding accessory that provides an additional layer of material on top of your mattress, typically 1 to 4 inches thick. It allows you to customise the firmness of your sleeping surface, adding extra comfort to your current bed. If you prefer a softer sleeping surface, add a soft mattress topper to achieve that comfort level.
Bottom Line
The choice of mattress topper is crucial to ensure a good night's sleep while on a caravan trip. When purchasing a mattress topper, key factors include thickness, firmness or softness, and the type of material used. Additionally, regular maintenance and care will extend the lifespan of the mattress topper.
By following these guidelines, you can ensure that you will have a comfortable and restful sleep during your caravan travels.
Was this article helpful?